About two and a half years ago, I did an interview for Korea Guitar with Swedish guitarist Fredrik Pihl (click here to read it).  He has a new album out called Static Alteration.  It's a great guitar album, filled with lots of shred, lots of melody and a little Bumblefoot and Brett Garsed.  I loved his first album, Silhouettes, but Static Alteration is a step forward in this guitarist's journey.  The album just came out and I'm already looking forward to the next one.  You can check out Static Alteration at www.fredrikpihl.bandcamp.com.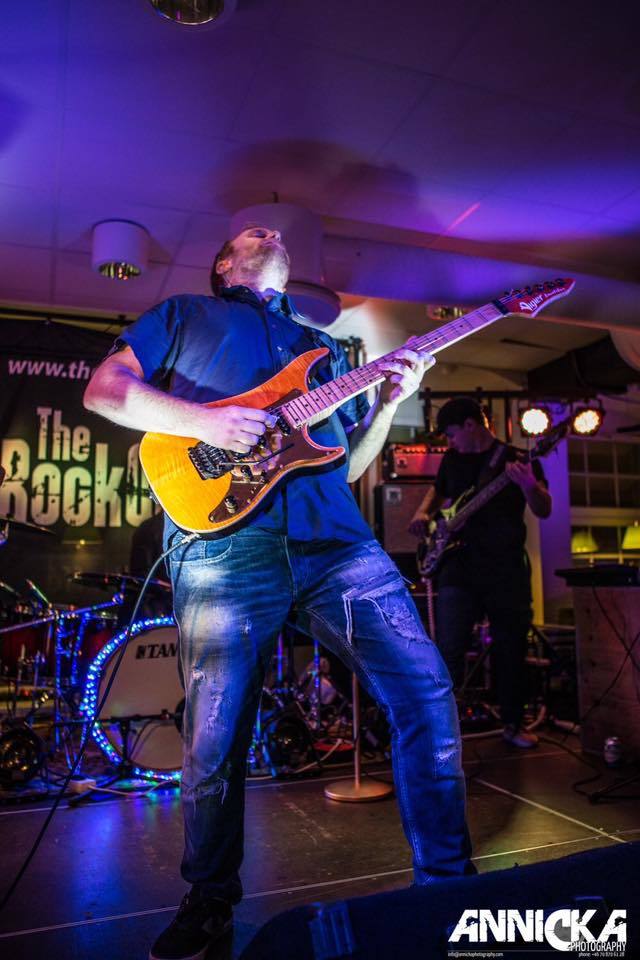 Let's Rock: It's been a long time since we've talked. How are you doing?
Fredrik Pihl: Hi Ken! Nice to hear from you, it's been a long time indeed! I'm alive and kicking here in Sweden, and I hope you are doing well too? Christmas is catching up… loads of good food and hanging with the people you like.
LR: I'm doing well, too. Thanks. I can't believe it's almost 2018. 2017 was a good year for you. You released a new album called Static Alteration. It's a great piece of work. Tell us about the recording, song writing, everything we need to know about the album?

FP: Well, thank you! I've put in quite a lot of work on this one. I started writing songs about 1,5 year ago. When I first started out I didn't have any
set plan on what the music was going to be like. All I knew was that I wanted it to be different from my previous album "Silhouettes". Spellbound was one of the first songs I wrote and it's quite melodic and catchy. From there I wrote about twelve songs, and eight of them ended up on the album. It's all about killing your darlings sometimes. Just because you wrote a song it doesn't mean that it's worthy of putting out. Some of the songs are melodic and quite straightforward while other songs are a bit more experimental.

Recording wise, everything except drums and bass was recorded in my home studio. I used my trusty Vigier guitars for all the lead and heavy rhythm stuff. I also used a Fender Strat for some of the clean tones. All guitars were recorded using my Axe FX II XL+ into Logic Pro X. I've uploaded some of my Axe FX presets on my website.
LR: Tell us about Vigier. It's not a really well-known name in guitars?
FP: They are a company based out of France. Patrice Vigier is the owner and mastermind behind these stunning instruments. I've been endorsing their guitars for about ten years now and they have never let me down once. They got some innovations that make them special. Their
10/90 system necks with 90% wood and 10% carbon make the necks consistent and stable, regardless of temperature, humidity etc. They use a zero fret, which evens out the sound balance between a fretted note and an open string. Their tremolos are resting on ball bearings instead of knives, which save the tremolo, and they are close to impossible to wear out.

They also make the fretless guitars that I love to use and abuse. It's a whole different way of expressing yourself. My favourite guitar is the Bumblefoot signature doubleneck, which has both a fretted and a fretless neck. I also use DiMarzio pickups in all my guitars.

LR: It's been about 6 years since your last album, Silhouettes. You've released some singles and appeared as a guest on other albums, but what took so long to make a new full-length album?

FP: I guess the time just felt right to do another album. I don't really know why it took me about six years to release my follow up album. I'll make sure that the next one won't take me another six years haha!

LR: You are good friends with Ron Bumblefoot Thal. How did this friendship start?

FP: We've known each other for a good 15 years. I found out about Ron's music through our mutual friend Mattias IA Eklundh. He played me a couple of Ron's songs and I was super impressed. Later I sent Ron an e-mail and in 2005 we finally got to meet for the first time. Since them we've met a numerous times. Not only is he a big influence of mine but I'm also happy to call him my friend. A great guy in so any ways!!
LR: One of the nicest 'rock stars' I've spoken with. I use quotations around rock stars because when you chat with him, it's like chatting with a buddy. Very down to earth.

FP: Yeah, he is simply such a warm and kind hearted human being.
LR: Ron kills it on Holly Hatten.  How did you manage to get him to record on the album?


FP: He lost a game of rock-paper-scissors and had to lay a solo on the song…. I wanted to do a little back and forth solo playing with him. At first I had laid down my tracks, and then I sent him the song to solo over. When I got his tracks I had to record new solos myself… haha. His solo parts were soooo good and crazy so I had to push myself to the extreme to try and catch up.

LR: Something I've always wondered: Where do the names for instrumental songs come from? The only one I could ever figure out was Iron Maiden's Losfer Words.

FP: Well, I think it's very different for every artist. As for myself, it can be about an experience, feeling or just a name that I think fits the song . Spellbound is about falling love. The song Nuances goes through a lot of different changes, and therefore earned its title that way. AHT is short for Allan Holdsworth tribute. I wrote that piece the same day I heard about his passing. I knew that I wanted to open up the whole album with that prelude. Allan was a big inspiration for so many of us.
LR: He was truly genius. What a terrible loss. What about his playing inspired you?
FP: Yeah, he was years ahead the rest of us. Unfortunately, he never got the recognition that he really deserved. Allan has influenced me in so many ways. Chord voicings and solo playing, legato technique, note choices and playing outside as well as composition. He was a master of music and the guitar.

LR: Speaking of influences, there's a nice little nod to Voodoo Chile at the end of Holly Hatten. How important is it for you to keep your influences a part of your music, while still having your own sound and style?

FP: Hahaha, that just happened on the go and wasn't really planned. Most of my solos on the album were improvised, except for all the melodic themes and melodies. I wasn't really sure whether to keep it or not but since the song is pretty crazy I thought it was fun way to end it.
Not adding any influence in your playing at all is probably impossible. I draw inspiration from so many music genres and styles. Eventually they morphed together and became my style of playing, which I don't really know how to define. I just love music and to play!

LR: Brett Garsed is also a guest on the album, playing on the title track. Tell us a little about him and how he came to play on the CD.

FP: Brett has always been one of my favourite players. His phrasing and melodic sense is beyond this world! Having him on the album is really cool. Basically I sent him the song to listen to. He liked it and agreed to do a guest solo.

LR: How will you promote the album? Are there plans to tour?

FP: Right now I'm in the beginning of promoting the album. Touring will be difficult, at least in Sweden since instrumental guitar music isn't very big. But I'm planning to arrange some clinics and workshops as well as promote it online through videos, livestreams etc. Hopefully we can do a live show sometime.

LR: How can Sweden not be a fan of instrumental music when they produced Yngwie, who is still going strong? Haha

FP: Yeah, Sweden has produced many great players. Of course there's Yngwie on top of the list, but also guys like Mattias IA Eklundh, Tommy Denander, Fredrik Thordendal, Per Nilsson, Georg "Jojje" Wadenius… the list goes on and on…
Although I think many of these players are more well known outside Sweden. It's a small country.

LR: How about a little love for the musicians on the album. Tell us about Gustav Nilsson who plays bass and drummer Markus Pettersson.

FP: They are both good friends of mine, and great musicians. Gustav and Markus really put their hearts and souls into this album. We will most surely record more music together in the future.

LR: I love that you're not just shredding on the album. There is a lot of shredding, but your melodies are tasty and melodic. Where does that style come from?

FP: Thank you! I've always enjoyed simple and catchy melodies. Even though my last album Silhouettes was far more progressive and avant-garde, there are many melodic moments on there as well. On the new album my aim was to write songs that non-guitar playing people could enjoy as well.

LR: Most people want to hear vocals when they listen to music. What's the most important thing to think about when recording instrumental songs? How do you keep it exciting for the non-guitar playing listener?

FP: Good question. I think my album will appeal mostly to guitar players and fans of instrumental music. The most important thing is to record music that you find interesting yourself. Since I'm not a singer I try to make the guitar sing instead. I guess that's when phrasing, vibrato and intonation plays a role.

I'm a big fan of vocal music as well, and I'm having plans to do something with vocals for my next recording. It's just in the blue-print phase as of now, so we'll have to wait and see what will happen.

LINKS
Official website: http://www.fredrikpihl.com/
Twitter: https://twitter.com/FredrikPihl
Youtube: https://www.youtube.com/user/guitarfred
Facebook: https://www.facebook.com/fpihl1