Since his first album, Not Of This Earth was released in 1987, Joe Satriani's guitar work has had people picking their jaws off the floor. His sixteenth and most recent disc, What Happens Next , recorded with Red Hot Chili Peppers and Chickenfoot drummer Chad Smith and Ex-Deep Purple/current Black County Communion bassist Glen Hughes, is having the same effect.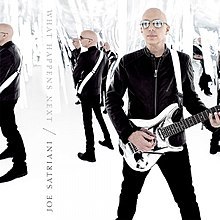 Satriani just wrapped up another G3 tour in Europe with Dream Theater' John Petrucci and the legendary Uli Jon Roth.  He's about to hit the road for a mini Canadian tour before heading back to Europe for a solo tour.  He was kind enough to answer twenty questions for Let's Rock…a true honor to have him on the site. 
1. Congratulations on What Happens Next. It's a fantastic album. You've described it as an 'internal artistic rebirth'. Why did you feel you needed a rebirth?
…The need for an "artistic rebirth" is a never-ending and always necessary creative approach to an artist's life. Although it's cathartic and a turbulent way to live, I enjoy the process, and the results.
2. My favorite tune on the new album is Super Funky Badass. I imagine that, playing with Glenn Hughes and Chad Smith, every tune could have been called Super Funky Badass. You've got the luxury of being able to play with anybody in the industry. Why did you recruit these two in particular and describe the recording process?
…I have a great chemistry with Chad, and I sensed his chemistry with Glenn, so, it seemed like a fun creative gamble that we would all create some fireworks in the studio. The gamble paid off. We had great fun working very hard in the studio and luckily created something quite special.
3. I read a quote of yours that said on What Happens Next, you wrote songs 'about a human being, two feet on the ground, heart pumping, with emotions, dreams, and hopes.' What's interesting is that most people wouldn't think that instrumental music is about anything. Without words, how do you manage to convey the idea in your head to a living breathing piece of music?
…I write each of my compositions about a specific subject. Each has its own meaning, story and imagery that informs every step I take creating it. I know my fans can feel that there is a story behind the notes, sounds and performances. However, instrumental music has a unique power in that it allows the listener to re-write the songs meaning to fit their unique situation. Ask yourself, "What does Beethoven's "Moonlight Sonata" mean to me?" See what I mean?
4. Most of your fans are guitar players, but you're also one of the few that has had success with non-players. What's the secret to writing an instrumental tune that will be exciting for the non-guitar playing listener?
…Melody, melody, melody, etc…
5. You just finished another G3 run with John Petrucci and Phil Collen in North America and Petrucci and Uli Jon Roth in Europe. You must be running out of players to bring out on the road after all these years. Who would you like to jam with that you haven't already played with?
… I keep asking Eddie Van Halen and Jeff Beck. Who knows, maybe one day they will say "Yes"!
6. With 16 studio albums to your credit, how do you choose which songs will be in your setlist on a nightly basis? Do you change the setlist up night to night?
…You go with the songs that feel right at the moment, and the songs that can work together because off their differences or similarities. We pretty much stick to the same set once we lock into a good one. That way, each night we have a chance to make it better and better.
7. You have a little Canadian tour coming up in a couple of weeks (starting May 25 in Montreal). How about a little love for your band? Who will you have backing you this time around?
… I'm so fortunate to have with me Mike Keneally on guitar and keyboards, Bryan Beller on bass, and the "new guy" Joe Travers on drums. They have a long history of playing together in Mike's band, so, they rock in such an intuitive way. Separately and together they are awesome musicians.
8. A three-part question. You toured Japan with Deep Purple in 1993, before Steve Morse joined the band.
i) Was Richie Blackmore a big influence on you when you were first learning guitar?
…Yes

ii) Were there any Deep Purple songs that gave you goosebumps or made you think, "Holy crap, I'm playing this song with Deep Purple?"
… Yes, all of them!
iii) How did you balance playing Blackmore's riffs in your own style?
…It was a 50/50 kind of thing. He had changed so much of his studio performances for the live shows, so, it seemed right to do the same.
9. I hate to ask this question, but I always do. What are your thoughts on the state of the music industry?
… The industry is always in a state of chaos, always has been. Just put on your seat belt and enjoy the ride!
10. You play a Joe Satriani signature Ibanez through a Joe Satriani Signature Peavey amp. Your guitar's pickups are Joe Satriani signature pickups. You design your own guitar straps. What else is in your rig that does or doesn't have your name on it that gives you your distinctive sound?
… Clarification: I play Joe Satriani signature Ibanez guitars through Joe Satriani signature "Marshall" amps (JVM410HJS). I also use my signature Vox Big Bad Wah pedal. My pedal board has a variety of pedals from various manufacturers too. (ed. note: Oops, Sorry about that.)
11. And, seriously, how cool is it to have all that signature gear?
… I'm very lucky to be able to work with some off the most creative engineers in the world on my own musical gear. It takes a lot of work but it's worth the effort.
Questions from Hannah
(Recently, I've started asking people questions from my daughter. She doesn't listen to rock. All she knows about each artist is a picture she has seen. Here are her questions.)
12. My dad shaves his head about once every two weeks. How often do you shave yours?
… Everyday.
13. Is it hard to play on stage with sunglasses?
… It's easier because the glasses shade your eyes from the bright stage lights.
14. How many instruments do you play?
… Five or six…
15. How many guitars do you have and why do you need so many?
… I currently have around 200. I don't really need all 200, but most were acquired while searching for the right sound or feel. It's like an artist having 200 brushes. The more brushes you have the more opportunities for creativity might be realized.
16. (She was born and raised in South Korea) Have you been to Korea? How did you like it and what Korean food did you try?
…I was in Seoul last year and had a great time. I enjoy a lot of Korean food here in San Francisco too. My favourite is still Bi Bim Bop.
17. What music do you listen to that might surprise people?
… I recently got into Greta Van Fleet. They remind me of the band I was in when I was in high school, we sounded just like them, only not as good!
18. How do you recover when you make a mistake live?
… Just keep going forward. Never stop, not even for a split second.
19. What do you like to do when you aren't playing music?
…Watch movies, read books, then go play my 200 guitars…
20. Are there any songs in your concerts where you get nervous about a solo because it's really difficult?
… All of them! They all require complete concentration, preparation and focus.
Canadian Tour Dates
For Ticket information, click here
​
MAY 25, 2018
MONTREAL, QC CA
MTELUS

MAY 26, 2018
ROUYN-NORANDA, QC CA
FESTIVAL DES GUITARES DU MONDE
SOLD OUT

MAY 27, 2018
ROUYN-NORANDA, QC CA
FESTIVAL DES GUITARES DU MONDE

MAY 30, 2018
CALGARY, AB CA
GREY EAGLE EVENT CENTRE

JUN 01, 2018
VANCOUVER, CA
THE COMMODORE BALLROOM

Don't forget to follow Let's Rock on Facebook