Jake Burns started punk mainstays Stiff Little Fingers way back in 1977. Hailing from Belfast, Northern Ireland, Burns and SLF released their first album, Inflammable Material in 1979 and quickly became a fan favorite in the UK. Their independent debut sold over 100,000 copies and reached number 14 on the UK Albums charts, making it the first indie album to ever chart in the UK.
Since then, the band has released 10 studio albums, the most recent, 2014's No Going Back reaching #1 on the UK Rock Album chart. The band has gone through several incantations, with Burns being the sole remaining original member. The current line-up of Burns on guitar and vocals, Ali McMordie on bass, Ian McCallum on guitar and drummer Steve Grantley will kick off a nearly month long tour of Canada on November 7 at Toronto's Horseshoe Tavern.
Burns called in from his home in Chicago to discuss all things SLF, including touring Canada, his first gig in the Great White North in the late 70s, being a political band and much more.  Check these guys out this month in Canada. Listen to the full interview below or listen to clips.
Full Interview
On touring Canada in 2018
Jake talks about how and why the band decided to tackle Canada for their 2018 tour with The Mahones
On SLF's First Canadian Tour
A fire at the El Mocambo in Toronto and playing the Commodore in Vancouver are just a couple of the memories Jake has of the first SLF Canadian Tour.
On Rory Gallagher and getting into punk
His first musical 'hero' and how he became a punk rocker.
On longevity and new a new SLF album
'Astonished' that the band is still touring 40 years after they began and working on new material.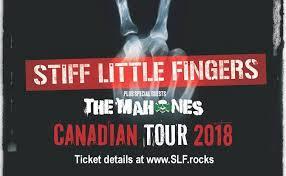 STIFF LITTLE FINGERS 2018 TOUR OF CANADA
*All dates with The Mahones as special guests

Wednesday Nov 07 Horseshoe Tavern Toronto, ON
Thursday Nov 08 London Music Hall, London, ON
Friday Nov 09 Horseshoe Tavern, Toronto, ON
Saturday Nov 10 Foufounes Électriques, Montreal, QC
Sunday Nov 11 Salle Multi Sunday, Québec, QC
Tuesday Nov 13 Marquee Ballroom, Halifax, NS
Wednesday Nov 14 Tide & Boar Room, Moncton, NB
Friday Nov 16 The 27 Club, Ottawa, ON
Saturday Nov 17 Townehouse Tavern, Sudbury, ON
Monday Nov 19 Crocks, Thunder Bay, ON
Wednesday Nov 21 Pyramid, Winnipeg, MB
Friday Nov 23 Dickens Pub, Calgary, AB
Saturday Nov 24 Starlite Room, Edmonton, AB
Monday, Nov 26 Wild Bill's, Banff, AB
Tuesday Nov 27 Hume Hotel & Spa, Nelson, BC
Thursday Nov 29 Rickshaw Theatre, Vancouver, BC
Visit www.slf.rocks for more info and ticket information.