KK Downing delivered the goods for heavy metal legends Judas Priest for the better part of 40 years. He recently released an autobiography called Heavy Duty: Days and Nights in Judas Priest which details his time with the band. It is a true rags to riches story that sees Ken overcome a very difficult childhood to become one of hard rocks premiere guitarists. (You can read Let's Rock's review of the book here.)
Image was something that Downing always had on his mind.  When asked which of his stage outfits he thought was the best, he went back to the beginning of the leather and studs look.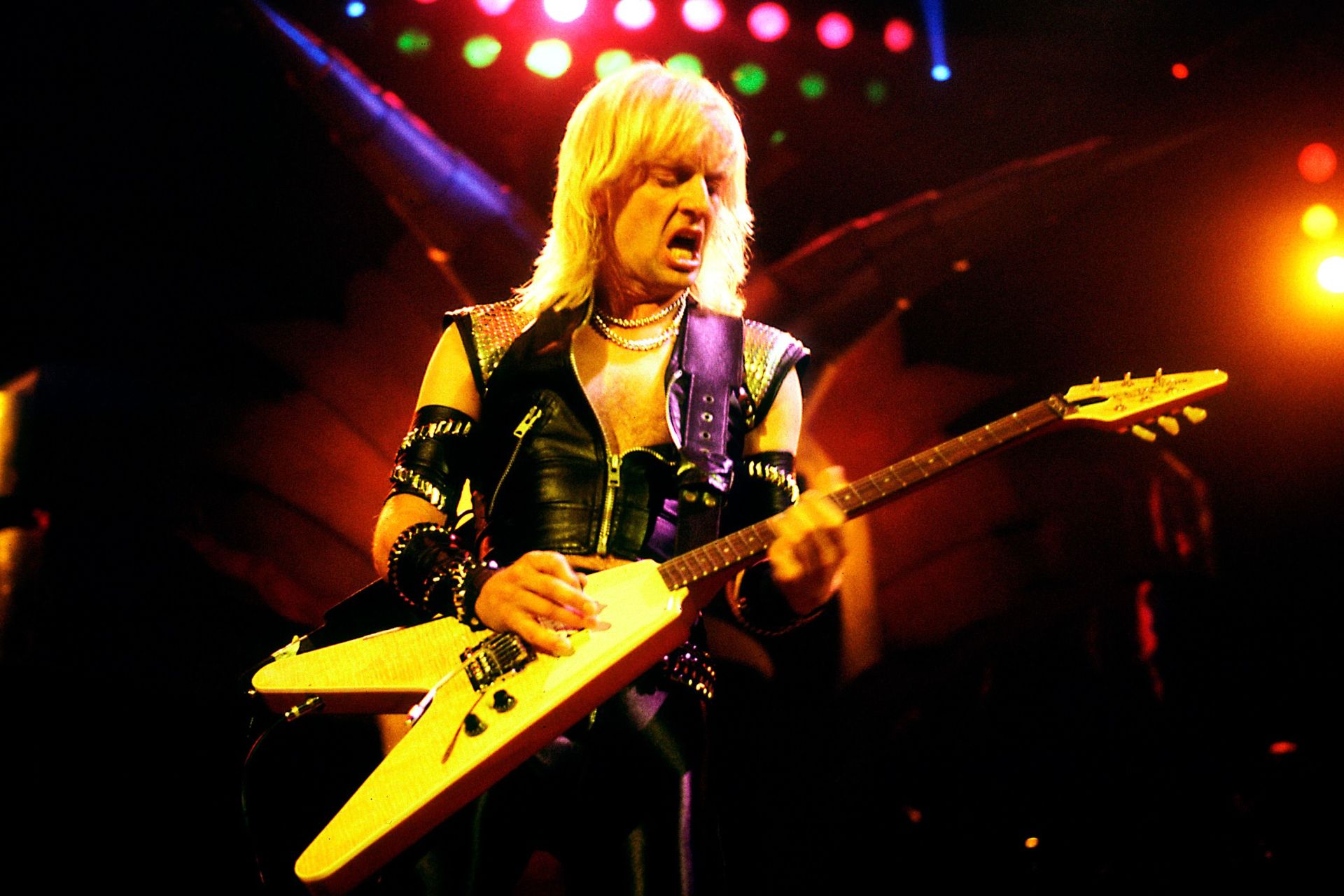 "I enjoyed the British Steel one. The last tour I did , 2010, was the British Steel tour where we did the whole album and I had all those stage clothes remade. That was kind of fun. It's kind of synonymous with metal cuz British Steel, 1980 was the first time that the whole band were clad in leather and studs, you know."
Downing retired from the band shortly after the tour in 2010 to focus on his golf course. Asked if he'd ever played a round of golf in his Judas Priest leathers, he laughed.
"No, mate. Nobody offered me enough money," he replied.
For me personally, a lifelong Priest fan and Flying V lover, one thing the book didn't touch on was KK's love for the iconic guitar. KK and the V go together like toast and butter and I was always curious why he chose the instrument.
"I honestly really don't know, you know," he answered. "All I can say is that back in the day there, the V that I bought was the pointed edge one, the 1967 issue, and they (Gibson) made about 111 of them. I saw some guys playing the Flying V, but only on stage, from a distance. And then I was able to see one in the shop and experience it first-hand. I was kind of a radical kid really. You know, I had radical ideas, musical ideas with everything, you know, image, material, playing. And I thought, this V has got to be mine because it's rare you know.
"This would be in the early 70s when I picked this 1967 one up. They did a run of 500 of the Medallion Vs in 1970 but I had never seen one of those. It was just something I took to really, like I took to water, I suppose. And it was 500 pounds. 500 pounds? That was like so much money. And they gave me 250 quid for my 1969 (Gibson) SG Standard, which was heartbreaking to see go. I don't know where the hell I got the money from but I thought, "I've got to have it." It was the whole thing. It just felt great really. And that's it. The rest is history."
There aren't any official numbers, but the Unleashed in the East album cover, with KK's flying V flying proud had to be the starting point for many rock star dreamers. It's such an incredible photo and one that has cemented the V in Heavy Metal history.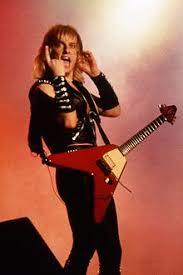 "Of course now, it's fair to say that the Flying V is absolutely synonymous with Heavy Metal and dual guitar attacks, isn't it really?"
Even Downing's guitar hero, Jimi Hendrix, famous for his inverted Fender Strat, played a V sometimes.
"Yeah, yeah. He had one. He had one of the 67s. I remember him with it. That's quite a precious guitar now. I'm not sure who's got that."
Judas Priest was always a band that seemed to change styles almost every album. They never followed the ACDC or Motorhead of never changing styles. I love both those bands, but when you bought one of their albums, you knew what you were getting. When you bought a Priest album, you never knew. The difference in styles from British Steel to it's follow-up Point of Entry was extreme, as was Defenders of the Faith to Turbo. According to KK, this was not a conscious effort.
"I think about it a lot and I'm thinking, we were very versatile and not afraid to push the boundaries of rock, metal, whatever we did. We just basically did what we did at the time, you know. I'd say that bands like ACDC who stayed very consistent, don't fans like that? Fans seem to like it, you know? It's strange to me. Obviously a great band…very successful, ACDC. But, like you say, you know what you're getting and I guess a lot of fans like that, but I like to think that people would commend us from bringing different aspects to the music."
But was there ever a fear of releasing different sounding albums? Was he ever worried about what the fans would think?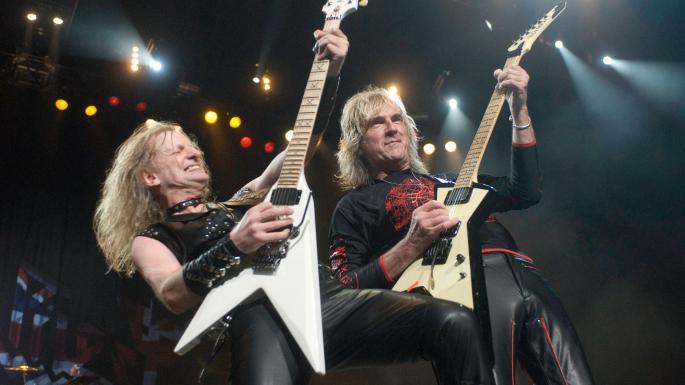 "No, cuz you get so close to it. As musicians, you get so close to your own music that you actually become deaf, dumb and blind. People say to, 'did you know that record was going to be as successful as it was?' I guarantee Pink Floyd, when they were making, let's say, Dark Side of the Moon had no idea it was going to be a smash. They just were doing the best that they could at that time, hoping it would be good enough."
One of the biggest surprises in Heavy Duty was the revelation that Downing and his twin guitar partner Glenn Tipton never really got along off
stage. It's incredible that they had such amazing chemistry on stage and in the studio.
"Well, you know, it was a long, long relationship and we made it work for that period of time. My mom and dad never stayed together and I've never been able to hold down a girlfriend. I mean, I'm still single now. (laughs) I have been in some quite long relationships, and I'm thinking it's quite hard to make it work. Here I am, literally married to four guys, you know. (laughs) And it's tough, all the little idiosyncrasies. I'm sure I got on those guys' nerves as well, you know, if you heard their side of the story.
"But things happen. It didn't suit me. I got fed up with and after you get to a certain age, a certain point, you think, 'well, that's it. I've had enough.' It is what it is. No two people on the planet are the same. If you put people in a cell, some people would be lucky if they last a day. So, it gets to be like that, but we did well. Like I said, irrespective of what's happened in the past, the present or the future, I respect my band mates. We've had a long journey. We've fought a lot of battles together and we lived a life together, you know, but everything has to come to an end and towards the end, things really started to get harder. You're getting older, the performances are not quite what they were, the stages get a bit smaller. And it seemed a little bit lackluster compared to what I was used to."
Rapid Fire Questions: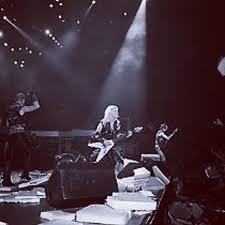 Is Priest still banned from Madison Square Garden?
"No, I think it's been lifted, but it hasn't been confirmed."
What was it like playing on a stage with all those chairs?
"Most of it was foam sponges from the chairs, so it was like a big trampoline. We were literally just laughing out loud, it was so funny. It was amusing. I'm glad to have been there. I'm glad it was us."
Do you still play?
"Yeah, yeah. I haven't been doing any live gigs, but I've done some jamming and obviously I play at home. I'm gonna start playing some more this winter, you know, knuckle down in my music room and see what comes out of it next spring."
Do you miss it?
"Uuhhhhmmm, a little bit. I miss it from the early to mid days, but not so much the latter days."
What are you most proud of from all your years in Judas Priest?
"I think just what was created. I'm proud of myself, Ken. I have to say it because I was a young kid with a rubbish start in life and I managed to get on to the world's biggest stages against all odds. It was incredible that a kid like me, with that upbringing, could be drawn to and adapt to something that was essentially one of the arts, music. Something artistic, creative, instead of robbing banks. (Laughs)
KK Downing is a true success story and Heavy Duty takes you on a 60 year journey that sees him overcome life's challenges to become the Flying V, metal maniac we all know and love.
You can listen to the full interview with KK Downing below. He delves deeper into the above topics as well as discussing the music industry, his reasons for leaving the band and much, much more.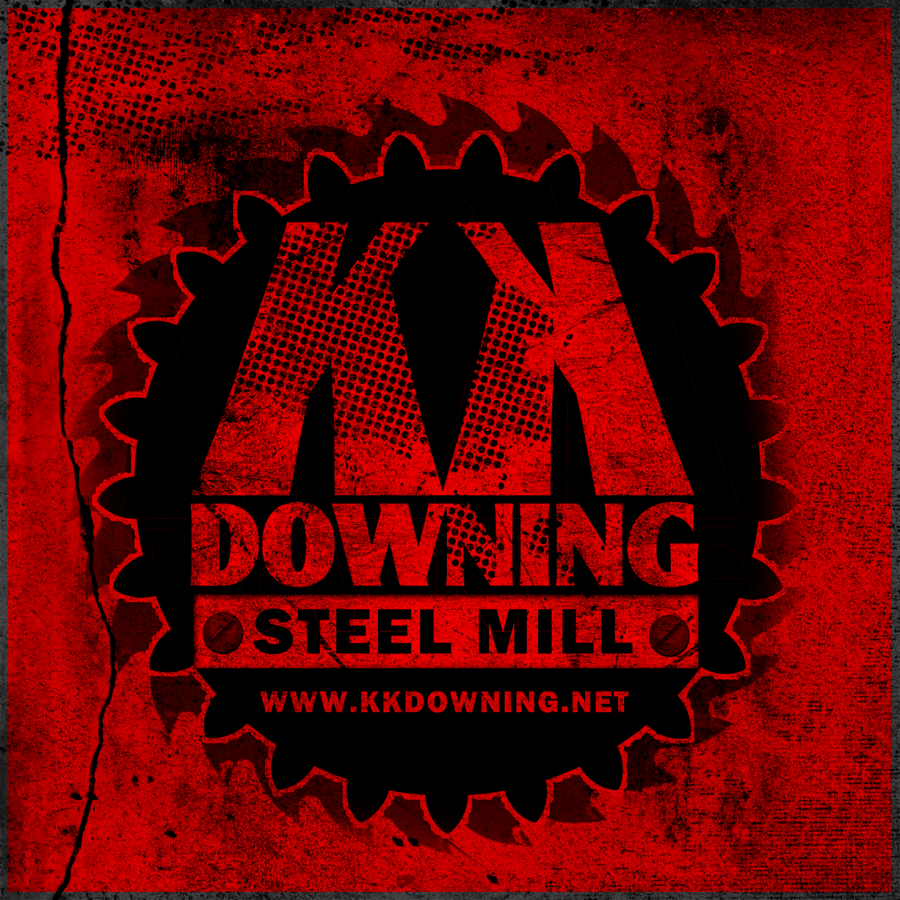 Official website: http://kkdowning.net/steelmill/
Facebook: https://www.facebook.com/kkdowningsteelmill/