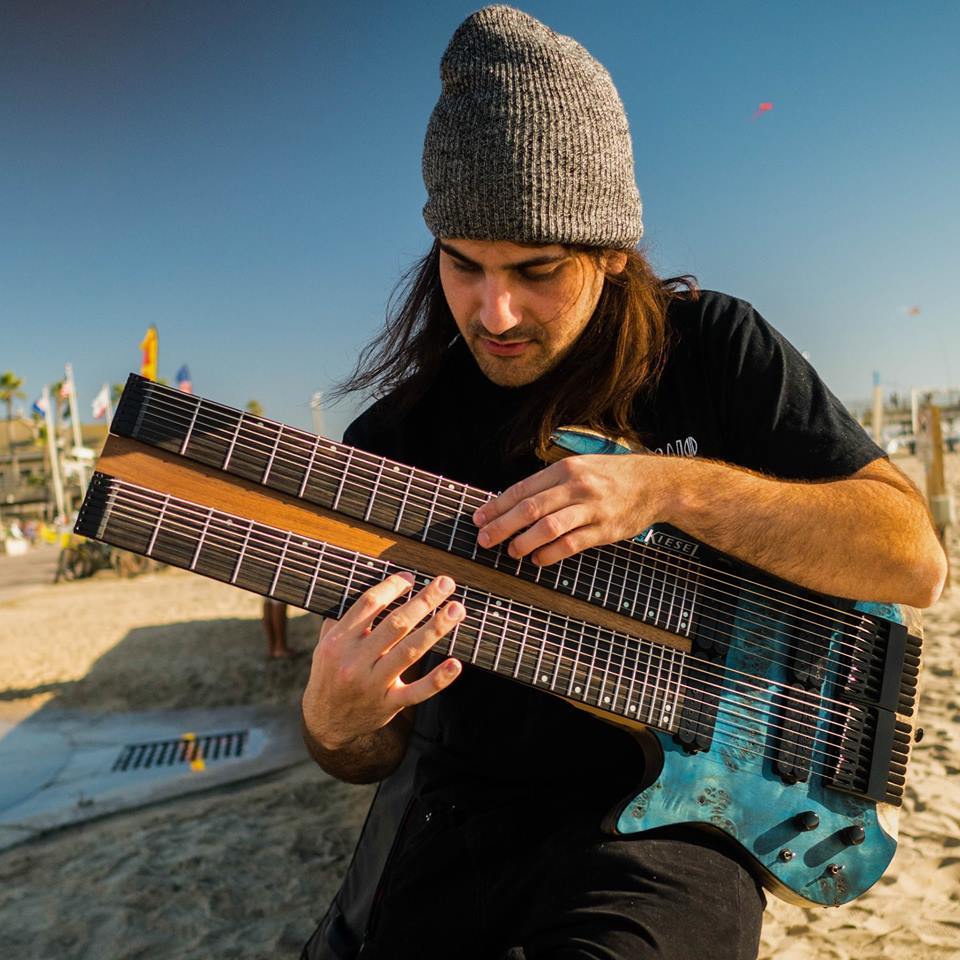 So, I'm at the Sons of Apollo show in Montreal on April 19.  Nowhere on the ticket did it mention an opening act.  When I walked into the Corona Theatre, there was a backdrop that said Felix Martin.  Having driven from Ottawa, I was bummed.  I didn't want an opening band since I had to make the 2 hour drive home right after the show.
My mind quickly changed when the lights went down and Felix stepped onto the stage with his self designed 16 string, double neck guitar. He has a style all his own and the sound coming from his fingers was beautiful to hear.
A Venezuelan born pioneer in electric guitar playing, this dude flat out rocked. Along with his band (bassist Javier Sepulveda and drummer Victor A. Carracedo), it was easy to see why he was chosen to play on this tour with Sons of Apollo. When a band of virtuosos (virtuosi?) goes on the road , it's good to have a virtuoso opening the show…And that is what Felix Martin is.
I reached out to Felix the day after the show and he was kind enough to answer these 21 questions.
(Note: this was an email interview. Some of the questions and answers are similar, but I wanted to keep all the questions in the interview)
1. Tell us a bit about how and when you got started on the guitar?
I started in small town in Venezuela, learning all by myself. There weren't any electric guitar players I could take lessons (from), nor internet or books. It was a really hard process, but at the same time it made think outside the box. I was about 13 years old.
2. What was your first guitar?
It was a cheap lefty 6 string Ibanez (like $150?)
3. Are you self taught or did you take lessons?
I was self thought pretty much all the time until I got to Berklee, where I studied music theory mostly.
4. Who were you influenced by?
Dream Theater, Ron Jarzombek, Venezuelan Music, Marty Friedman, Joe Satriani, Metallica, Stanley Jordan, classical music, jazz, etc!!
5. Do you play any other instruments?
I only play guitar. Maybe a little bass as well (I got a bass 2 years ago!)
6. How and why did you decide that 6 or 7 strings was not enough?
I played a lot of tapping, and it is easier to play it with 2 guitars (one fretboard per hand). It's all about having two guitars in one, sometimes I like to have two 7 strings or two 8 strings, depending if I need the bass notes for some percussive techniques or chords.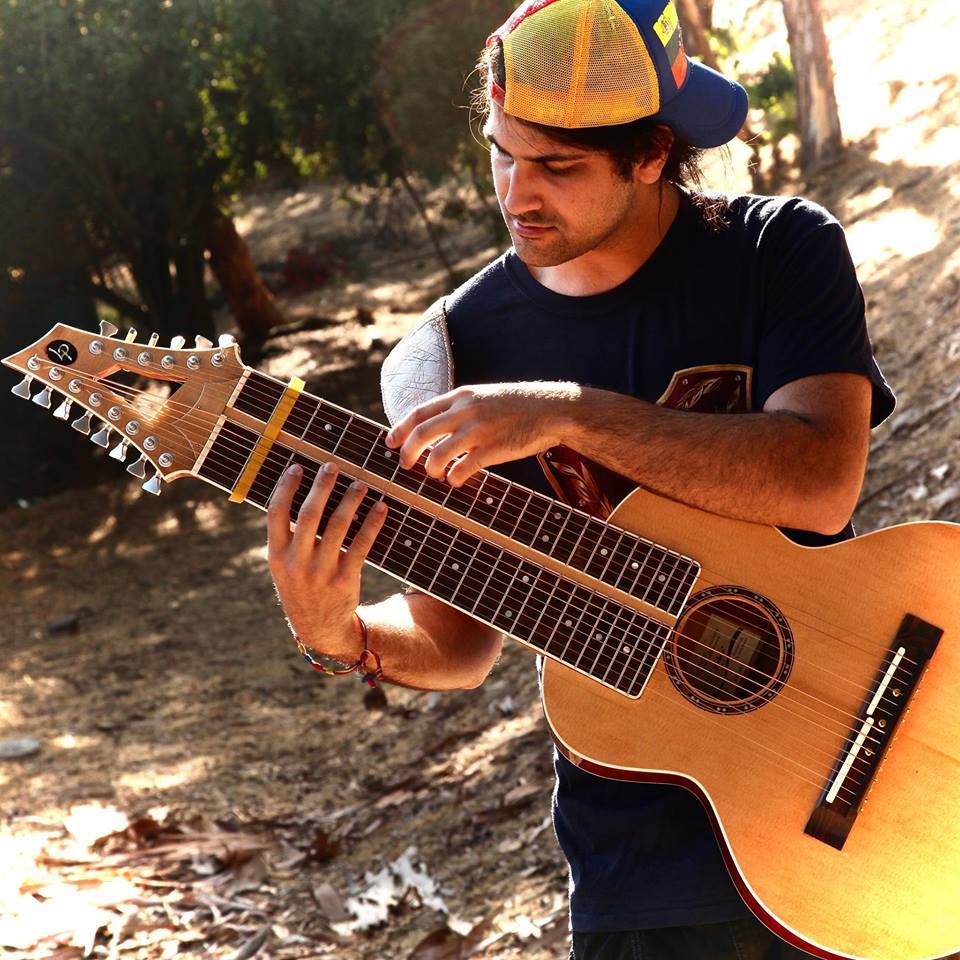 7.  Tell us about how a 13-year-old kid decided to invent a new guitar. 
It happened because I wanted to have one guitar per hand on a single guitar, like playing with two pianos. That was my technique and the way that my brain worked since the beginning. Classical guitar was always hard for me, and tapping felt natural. I don't want to say I invented a new
guitar because luthiers do a lot of the work. I'm the one who plays them, I don't even know how to change a pickup!!. JP Laplante made me most of my guitars at the beginning. I give him credit, as well as all the luthiers that worked before and after.
8. Did your technique come from your guitar, or did your guitar come from your technique?
My technique came first, because before having these guitars I used to play tapping on a single guitar (like Stanley Jordan, but not as good as him of course) and then with two guitars simultaneously (like with a regular Ibanez and a Fender at the same time). Then the guitars came because I needed something that was going to be easier to play.
9. How much does your guitar weigh?
I think like a Les Paul or a bass.
10. Is each neck tuned the same and what tuning do you use?
They are tuned the same, and I always play standard guitar tuning.
11. Has the music scene in LA changed your musical direction?
Not much honestly, I come from a background of progressive metal and Venezuelan music, Jazz etc. I always try to keep my music sincere and play what I feel, not being influenced by a market, etc.
12. How did you meet your bandmates, since they are all from different countries?
The drummer went to Berklee with me, and then I auditioned him in Los Angeles. The bassist went to one of my shows in Denver and we became friends. I simply asked him to do a tour with me and (he)accepted. I knew he could play all the bass lines on this challenging music.
13. Talk about what it's like touring with Sons Of Apollo, musicians who have influenced you so much.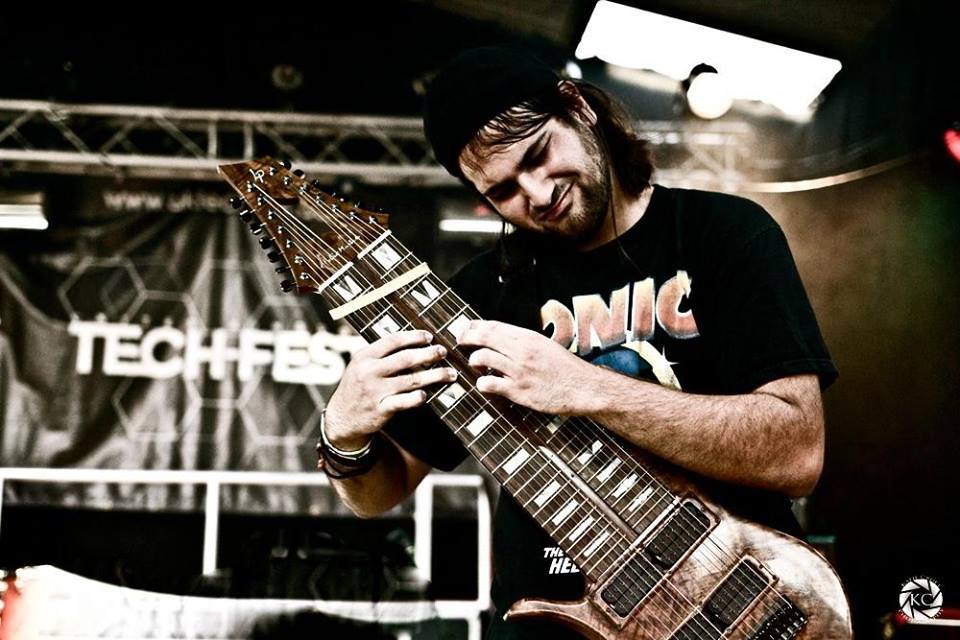 It has been two shows already and I have been having an amazing time. I feel honored to be opening for my influences. Crazy thing when you see your name below theirs on posters. Especially Derek, Portnoy and Sheehan. I know their careers so well. I'll always be grateful.
14. Where did you get the idea of mixing so many musical genres (Rock, metal, Jazz, Progressive, World, Latin, Fusion)?
I grew up playing Venezuelan and Latin music . Then I learned a lot of jazz and world fusion at Berklee. Progressive Metal is my main style, so it all kinda feels natural and makes a little sense.
15. I saw your show in Montreal, and you mentioned that in one of the songs, you incorporated a Venezuelan folk song. It was beautiful. How influential is Venezuelan music to your style?
I owe all my guitar technique to Venezuelan music, it's just the way I learned, by playing traditional music into tapping. I'm planning to make a full album of this.
16. The harp is prominent in Venezuelan music. Did this play a part in designing your guitar?
Not at all. Venezuelan music is often played with arp, but I play tapping.
17. What do you do outside of music?
I like to go hiking.
18. Do you still play a traditional 6 string guitar or do you find it limiting?
Sometimes. Remember my guitar is still two regular guitars in one. I can just play the first fretboard and it's a regular guitar.
19. For the gear heads, what's in your rig?
Right now I'm using a Line 6 Helix, with a few Earthquaker pedals.
20. How's life on the road? How are the crowds accepting you?
I love it! We are having the best crowds on this tour! Couldn't be more grateful.
21. A question from my daughter: Who is your favorite Disney princess and why?
Elsa from frozen. I watched Frozen about 5 times by myself. Hahaha.
Felix Martin
http://www.felixmartin.net/
https://www.facebook.com/felixmartinmusic
http://www.youtube.com/felixmartine
https://twitter.com/felixmartin14
http://instagram.com/felixmartinmusic