This past week, I experienced something that every 'journalist' fears. I performed an amazing interview with one of my guitar heroes. Thirty minutes of awesomeness. It was perhaps my most personal interview and possibly my best. I was literally shaking after I hung up the phone. This has happened only two other times in my 'career' as an interviewer. The first happened when I called Steve Vai and the second was after and 30 minute chat with Lawrence Gowan of Styx.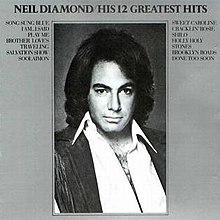 Many, many years ago, I set out on a four day, cross country trip with my Uncle Larry (aka Strawberry), my brother Rick and my cousins Rob and Jeff.  In Strawberry's Volkswagon camper we traveled from Ottawa through the Northern United States and into Edmonton, Alberta. We were armed with only 2 cassettes: Neil Diamond's Greatest Hits (for Strawberry) and Def Leppard's Pyromania (for the four teenagers).
After four long, sweaty July days, we arrived at my Grandparent's house in Edmonton. I think it was my brother who picked up the newspaper and found the ad. "Def Leppard. Live at Northlands Coliseum. Tonight."
Shockingly, my mom, who had flown out to Edmonton, thus avoiding four days of sweaty teens and a Def Lepparded out brother, allowed us to go. We ran down to the Bonnie Doon Mall and purchased four tickets for the show at the Northlands Colisseum. Surprisingly, Strawberry didn't want to go.
Long story short, we made it to the arena for our first concert ever. (At least it was the first for my brother and I. Not sure about Rob and Jeff) Uriah Heep opened the show, and as much as I now love them, I didn't want to see them that night. It was all about the Leps for me.
I won't bore you with the concert details, because I can't remember any. I spent the whole night trying to pick my jaw up off the floor. The energy, the volume, the sounds, (the smells?) set the course for my life. I realize this sounds cliche, but for me, it was the start of a long and beautiful love affair with Rock and Roll. (Fellow Let's Rockian reviewer Paul Eastwood: "Ken's life choice would have been drastically different if Neil Diamond had played Edmonton that night")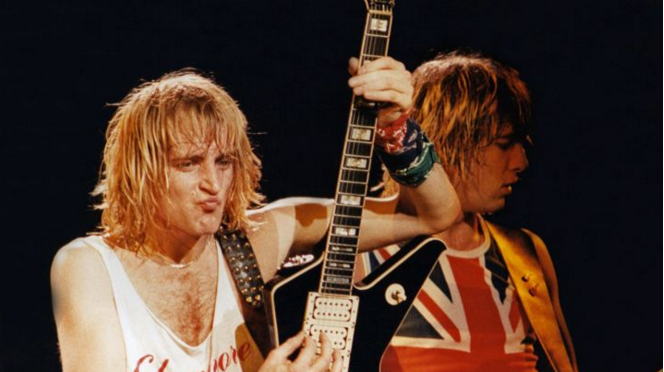 Fast forward to 2016. I started a website called Korea Guitar as a hobby to take away some of the stress of studying for a Master's degree. Basically, I wanted to interview some musician friends and put their stories on a WordPress site.
I decided to send out interview requests to famous rock stars. Only two replied. KK Downing of Judas Priest and Steve Stevens, Billy Idol's incredible guitarist. The first request I sent out was to Def Leppard. It didn't bother or surprise me that I didn't receive a reply. Why would Def Leppard want to talk to a dude who just wanted to take a break from studying?
Long story short, the website gained momentum, and I got to interview dozens of incredible musicians including Mike Portnoy, Steve Morse, Joe Satriani, Richie Kotzen and many, many more. I never gave up on the hope of interviewing someone from Def Leppard. But nothing happened.
About a year and a half ago, I once again reached out to Phil Collen's publicist (who also handles Joe Satriani) and was graciously granted a phone interview with Phil. At the time, the band was on tour and Phil had a baby and the interview kept getting postponed. No problem. Totally understandable.
Then, when the 2019 Canadian tour was announced, I was lucky enough to finally secure a time for the interview with Mr. Collen.
Tuesday, March 5, 2019. 9 AM Ottawa time, 6 AM California time.
This was a big one. This man is one of the main reasons I love Rock music and play electric guitar. Phil Collen and Def Leppard are riding high these days. They recently finished a sold out stadium tour of North America with Journey, Phil has a new son, the band were elected into the Rock and Roll Hall of Fame, they announced a new end of summer residency (their second) in Las Vegas, and they are going to play in 11 consecutive Canadian dates in the summer.
We discussed all of these topics, which branched out into talking about his performances with Joe Satriani's G3 tour, the difference between warming up and practicing before a show, how they will choose their set for Vegas and the reasons they haven't done a Canadian tour in ages (Rock of Ages?) We also talked about his new job title of Producer, after having taken the helm for Tesla's newest album, Shock.
When I hung up the phone, I had a 'that just happened' moment. The first thing I did was send Paul, whom I had been texting before the interview as well, a text message that stated how I was feeling.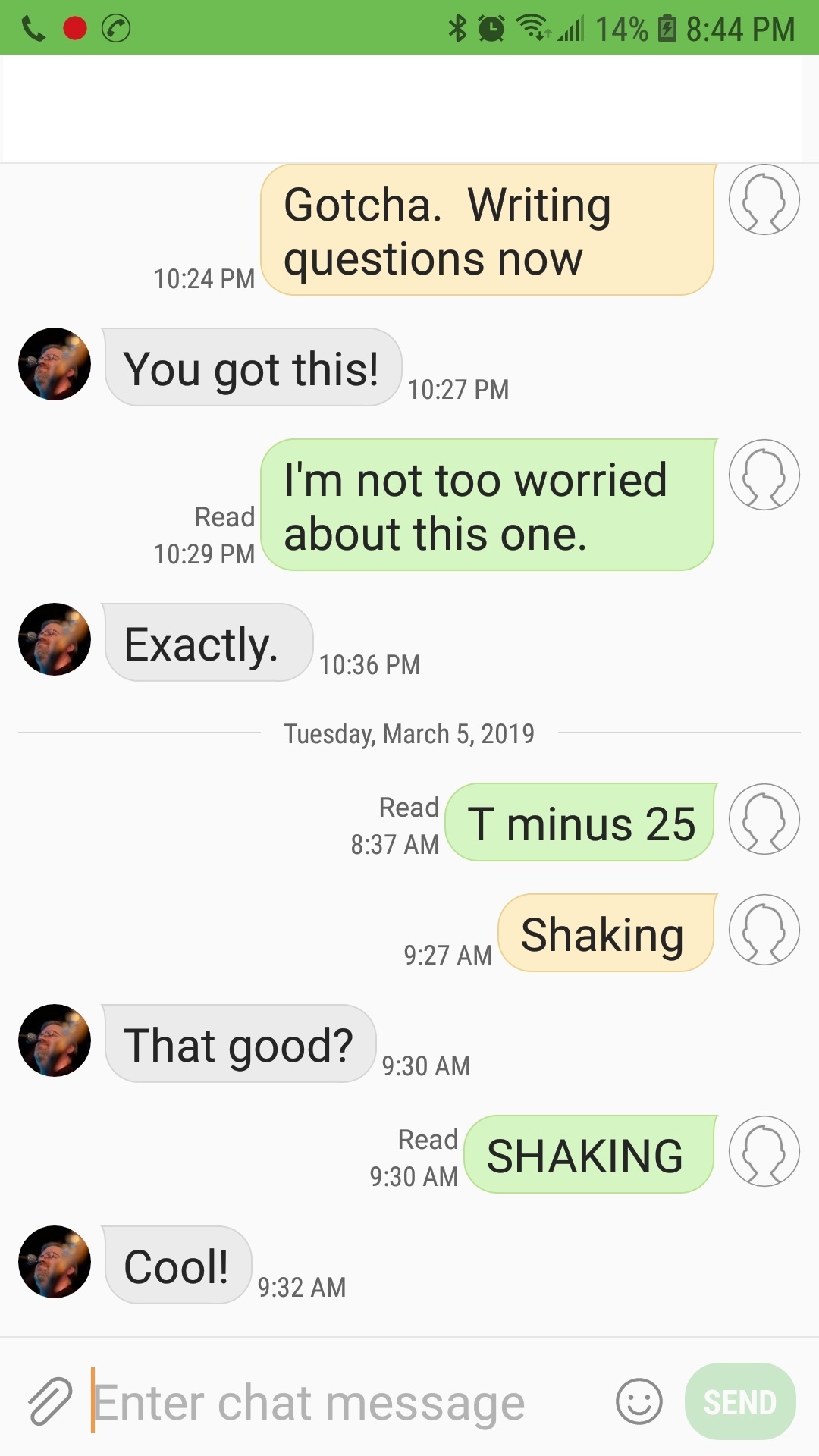 This was one of my proudest moments. After years of perseverance, it had finally happened. I should mention that the reason I wasn't worried about the interview is due to the fact that I had been preparing for it for 4 years and was completely confident. However, the highest of highs quickly became the lowest of lows. As I downloaded the interview and began editing…silence. The next message to Paul accurately describes my exact feelings at that moment.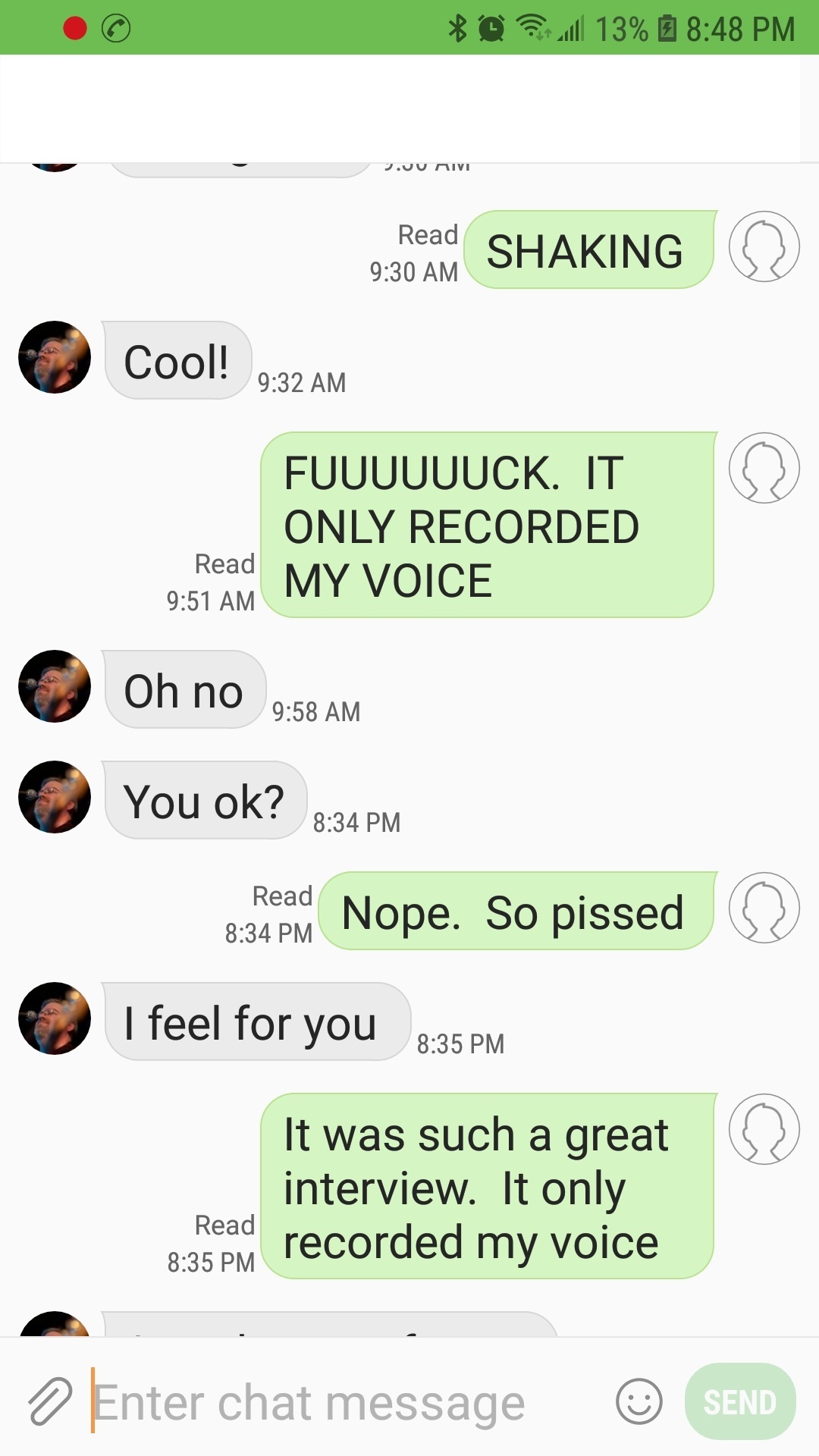 There are no words to describe my disappointment, embarrassment and despondence. The interview was lost.
My first thought, when I heard the silence, was, "Shit, I have to contact the publicist and let them know I screwed up." I can't even imagine the amount of work it takes to prepare these interviews on their side. Getting a famous rock star to agree to spend 30 minutes on the phone with some knucklehead in Ottawa seems like quite a challenge. Think about it…Phil Collen took 30 minutes out of his day to chat with me. I'm sure he has better things to do. And at that moment, I had to tell them that his time was wasted.
Though I realize that technical problems arise quite often, this doesn't make me feel any better. After a couple of days thinking that it was a lost cause, I decided, with the help of Paul, to tackle the story in a different way.  This one would have to be from the memories of the interview.  There is no way I would disrespect one of my musical idols' time and effort by letting everything go to waste. Because this was such an important moment for me, I will do my best to relate to you the details of our conversation.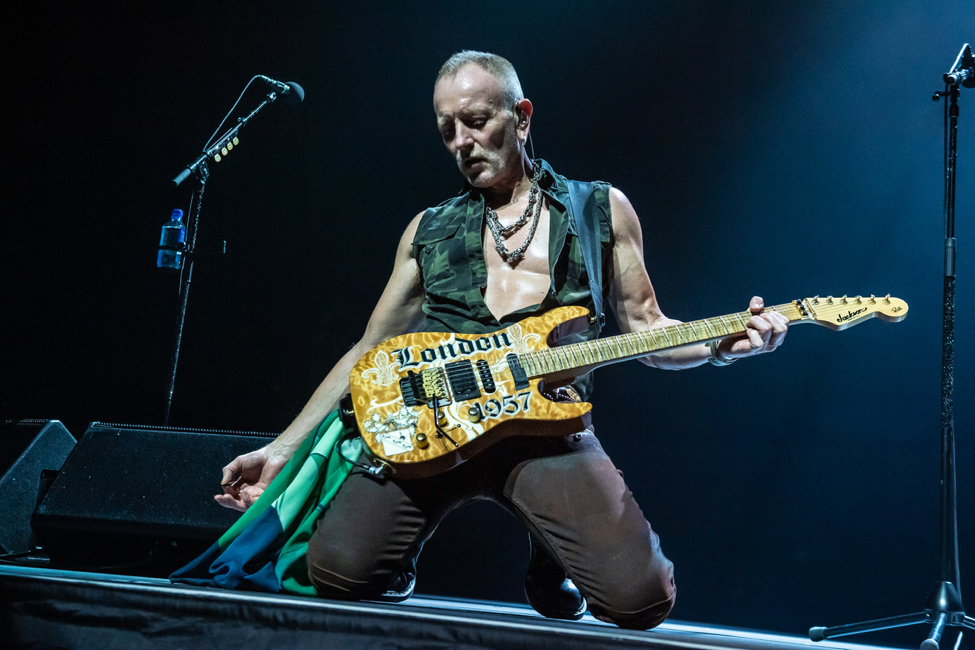 Here are some of the highlights from the interview…all paraphrased of course.
On what it means to be inducted into the RnR Hall of Fame
Def Leppard will be inducted into the RRHOF on March 29, 2019. Phil was very proud of the fact that the band made it in, but did mention that it wasn't as big a deal for the members of the band as it was for the fans. Legendary Queen guitarist Brian May will induct them on their special night. When I mentioned to him that having Mr. May induct them may be a bigger honor than getting into the Hall itself, he told me I may be right. May, he said, was such an incredibly nice guy and such an underrated guitar player.
On Producing the New Tesla album, Shock
The members of Def Leppard and Tesla have been friends ever since they toured together on 1988's Hysteria tour where Tesla was the opening act in support of Mechanical Resonance, their debut release. Shock was produced by Collen and was released on March 8th. Phil said producing the album wasn't really that difficult as he had learned a lot from working with great producers such as Mutt Lange. The members of Tesla were easy to work with and had come in with a ton of great song ideas. He's very proud of Shock and is incredibly pleased that Tesla will be joining the Canadian tour this summer.
On touring Canada in the summer of 2019
The show in Ottawa on July 19th will be my fourth Def Leppard concert. After the aforementioned Pyromania tour in 83, I also caught the Hysteria tour in 88 and the Adrenalize tour in 93. The band didn't play in Korea while I lived there, so I'm looking forward to being re-adrenalized. Phil can't remember the last time the band did a full-on cross Canada tour. He did admit that his friend in Edmonton always got on him about playing more shows in the Great White North than just Toronto and Vancouver. The band has always had fond memories in Canada and is looking forward to rockin' the country with Tesla.
On their Las Vegas Residency in August
This is a huge deal for the band and Phil definitely has fond memories of their last stay in Vegas. He spoke about how strange it was to sleep in the same bed and play in the same venue night after night, how they would have to alter the setlist for each show to please the fans who would see them on more than one occasion. The band hasn't decided on the set for the upcoming residency, but he did mention that there would be some deep cuts. After hearing the story of my drive to Edmonton with just a Neil Diamond cassette and Pyromania, he mentioned jokingly that maybe they should play a Neil Diamond song in Vegas.
On what he focuses on while on stage
I have always wondered what is going on in the mind of a musician as they stand on a stage in front of tens of thousands of people. How do they do it? In a recent interview I read with Def Leppard guitar player, Vivian Campbell, he mentioned that one of his problems was watching the fans a little too much, reading signs and T-shirts. Phil completely understands and did admit that he had the same problem for a while. He mentioned that singer Joe Elliot would sometimes sing the words that were on a sign instead of the actual lyrics to the song. Phil says he is now more 'in the zone' than ever before and that the less he thinks about what he has to do, the better he plays. He always wondered if his heart rate went up when he went on stage and decided to test it at the Rock In Rio Festival in Brazil. In front of 90,000 people, his heart rate was unchanged. This is what it means to be in 'the zone'.
On the difference between warming up and practicing
Now, this is the topic I wish I remembered more about. Basically, Phil mentioned that while he was on the G3 Tour with Joe Satriani and John Petrucci, Joe helped him discover how to warm up before a show as opposed to ripping scales in the dressing room. This difference allowed Phil to be less burnt out when he hit the stage. He spoke of his trainer, (who's name has escaped me) an ex kick-boxing champion who used to take a nap before he would get in the ring and kick the crap out of somebody. While Phil didn't mention if he naps before Def Leppard concerts he did say that he now does more to relax before rockin' out.
It was a great chat with a true rock star. And it's lost.
A very special thanks and huge apology to the entire publicity team at Mad Ink PR and especially to Mr. Collen. Hopefully our paths will cross again. Until that time, I wish you nothing but continued success as you prepare for your induction, Canadian tour and Vegas residency.
Another incredibly huge shout out to Paul, who kicked my ass and told me that this was too big to just forget about. It's always good to have good people on your team.
Mr. Collen,
There will be a Tim Horton's coffee and Beavertail waiting for you in Ottawa when you come to town on July 19th.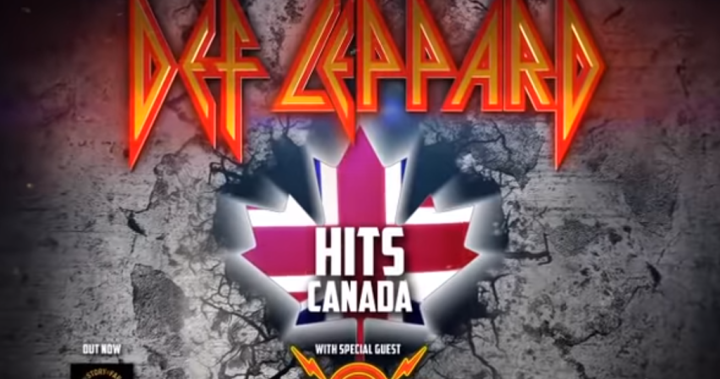 DEF LEPPARD HITS CANADA (WITH SPECIAL GUEST TESLA)
JUL 12TH – SCOTIABANK CENTRE – HALIFAX, NS, CANADA
JUL  13TH – AVENIR CENTRE – MONCTON, NB, CANADA 
JUL 15TH – CENTRE VIDEOTRON – QUEBEC CITY, QC, CANADA
JUL 17TH – BELL CENTRE – MONTRÉAL, QC, CANADA
JUL 19TH – CANADIAN TIRE CENTRE – OTTAWA, ON, CANADA
JUL 20TH – FIRSTONTARIO CENTRE – HAMILTON, ON, CANADA
JUL 22ND – BUDWEISER GARDENS – LONDON, ONTARIO, CANADA
JUL 25TH – BELL MTS PLACE – WINNIPEG, MB, CANADA
JUL 27TH – SASKTEL CENTRE – SASKATOON, SASKATCHEWAN, CANADA
JUL 29TH – ROGERS PLACE – EDMONTON, AB, CANADA
JUL 31ST –  SCOTIABANK SADDLEDOME – CALGARY, ALBERTA, CANADA