There's nothing like seeing a couple Canadian legends on a beautiful summer evening.  The Kemptville Live Music Festival served up the perfect dose of Canadiana on the opening night of the festival.  Classic rock staples David Wilcox and Kim Mitchell absolutely tore it up on Thursday evening in a show that had everyone singing along, reminiscing, and just flat out enjoying themselves.
Kemptville Live is an annual music festival in the picturesque town of…wait for it…Kemptville, located about 40 minutes south of Ottawa. This year, Mitchell, Wilcox, Steve Earle, George Thorogood, April Wine and Chilliwack will all rock the stage this weekend. There could be no better way than to open the weekend with David and Kim.
On a personal note, I haven't seen Kim Mitchell since the summer of 2002 and I've never seen Wilcox so this was destined to be an epic evening.
After a spirited set from the Dimestore Playboys, co-headliner David Wilcox took over the stage, and take it over very well he did.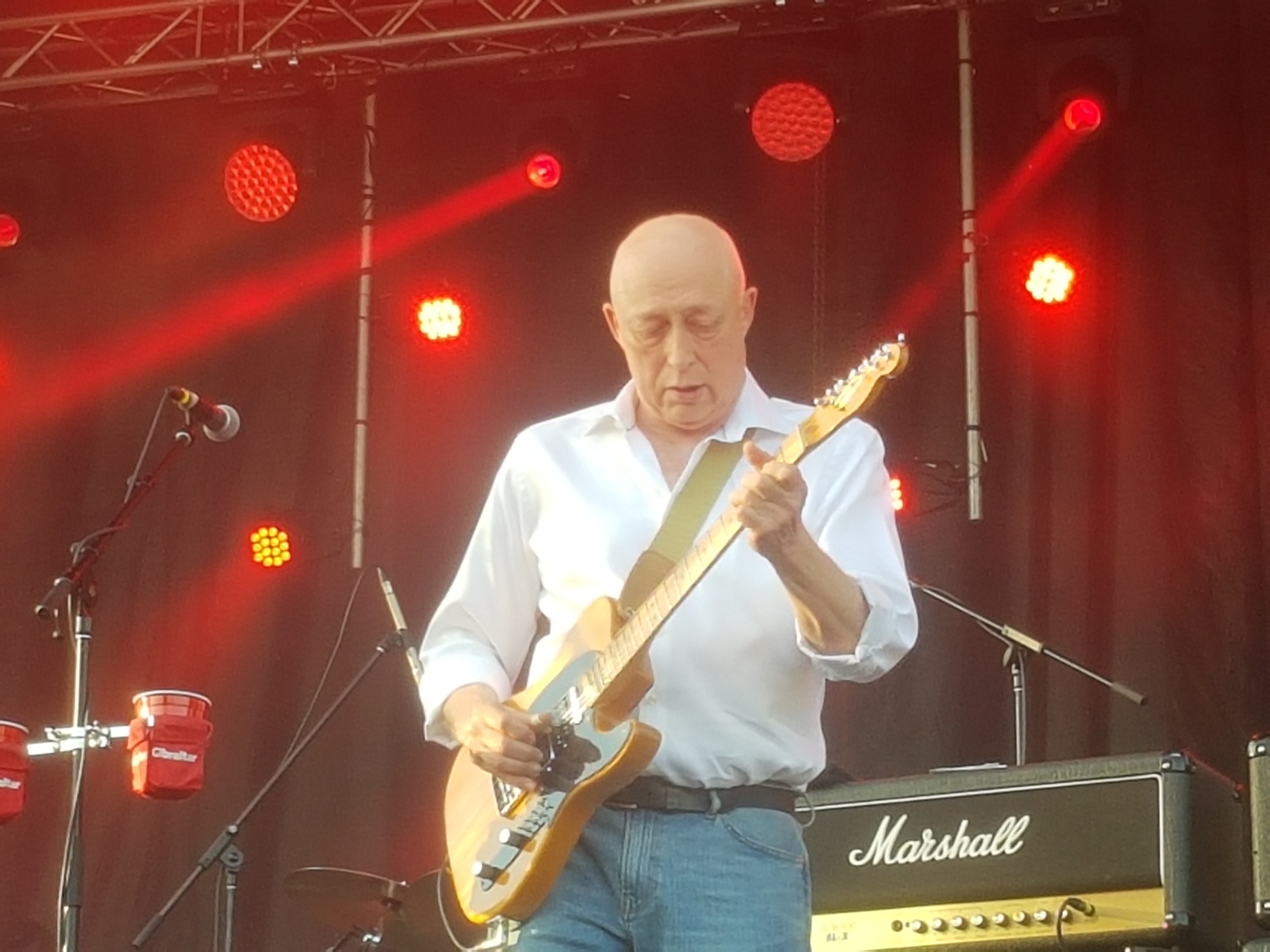 Wilcox has been making music for the better part of 50 years. On Thursday, he played all the hits you'd expect.  Do The Bearcat, Downtown Came Uptown, Bad Apple, Hot Hot Papa, My Eyes Keep Me In Trouble, Layin' Pipe were all played with incredible energy and guitar mastery.  Riverboat Fantasy was perhaps the song of the night, with the entire crowd singing along to the very memorable chorus. 
Armed with his trademark telecaster, Wilcox put on a clinic with his unique style of of guitar playing. This is not a traditional guitar hero. Wilcox sounds like no one else. Add to that the sheer joy he seems to emit when playing and you have yourself a fantastic hour and a half of classic rock/blues. This could have been the closing set to a great day, but there was still another living legend…the inimitable Kim Mitchell.
There are certain things I missed while living in Korea for 18 years. Hockey, good beer, and Kim Mitchell shows in the summer.  The beauty of a Kim Mitchell concert is that everyone in the crowd is there for the same reason…to interact and party with like-minded punters. After a discussion about the possible opening song with my fellow Let's Rockian Paul Eastwood grew to include nearby Mitchellites, Kim popped out with a rippin' version of Lager And Ale. ("I hope she'll nod at this drunken bar slob.")
As always, the ever present Kim sidekick and Ottawa native Peter Fredette on bass, handled background vocals with his usual mastery including lead vox on Akimbo Alogo's That's A Man.
The setlist was a walk down Mitchell and Max Webster lane. Rocklandwonderland, Easy To Tame, All We Are and the biggest surprise of the evening, Lemon Wedge were all played with typical Kim aplomb.. The last time I saw Kim, he shied away from the Max Webster material, but on Thursday, it was an extremely Max-heavy set.  Diamonds Diamonds, High Class In Borrowed Shoes, Waterline (What?!?!?), Check, Paradise Skies were all performed flawlessly.
Kim was in fine form both vocally and guitar chop-wise. He's got amazing feel for his instrument and everything seems so effortless. I can't recall the drummer's name (Kim mentioned that he was a graduate of Berkley) but this dude was an amazing addition to the band.  Solid is an understatement. 
Diesel fumes from a generator caused a rare 10 minute delay, but they saved the best for last. Patio Lanterns, All We Are (with absolutely incredible vocals by Fredette (this dude can sing)), Go For Soda and the ultimate show-ender, I Am A Wild Party.
Local radio personality Cosmo of CHEZ 106 asserted that this evening was "Cosmo Day". Kim Mitchell and David Wilcox vehemently proved him wrong…this was "Mitchell/Wilcox Day".
Side-note
Front and centre in the crowd was a family of four. Mom, dad and their two sons. Kudos to the parents for introducing their kids to some great classic rock. I asked the boys if they would be interested in writing a review for Let's Rock. They were thrilled to do it. The following review is unedited. The joy in their eyes and then in their words shows that these little dudes know what's important. They even got to meet Wilcox after the gig. Thanks, Andrew.

This is my second year attending the Kemptville Music festival, and I wouldn't be going without my Dad. He was the one that got me into this music and him and I share a musical bond together. 
Thursday evenings main performers David Wilcox and Kim Mitchell were amazing. 
David Wilcox was great and his tone is incredible. The way he played my favourite song "Bad Apple" was awesome. Watching him play his guitar is unreal, he can make that guitar do anything.  After the show I got to meet the legend himself and get his autograph. He is a really nice guy and I hope to see him again.
Kim Mitchell, was incredible! I wanted to see him last year but unfortunately he had to take a break. This was the year…..he's a mean, lean singing machine! His comedic side really showed and I loved the way he got everyone and I mean everyone to stand up  to "Go for a Soda".
I should also mention the Max Webster songs they played was fantastic as well. My dad was very happy to hear Paradise Skies.

This is the highlight of my summer, and I can't wait for the rest of the weekend performers.
Andrew Crozier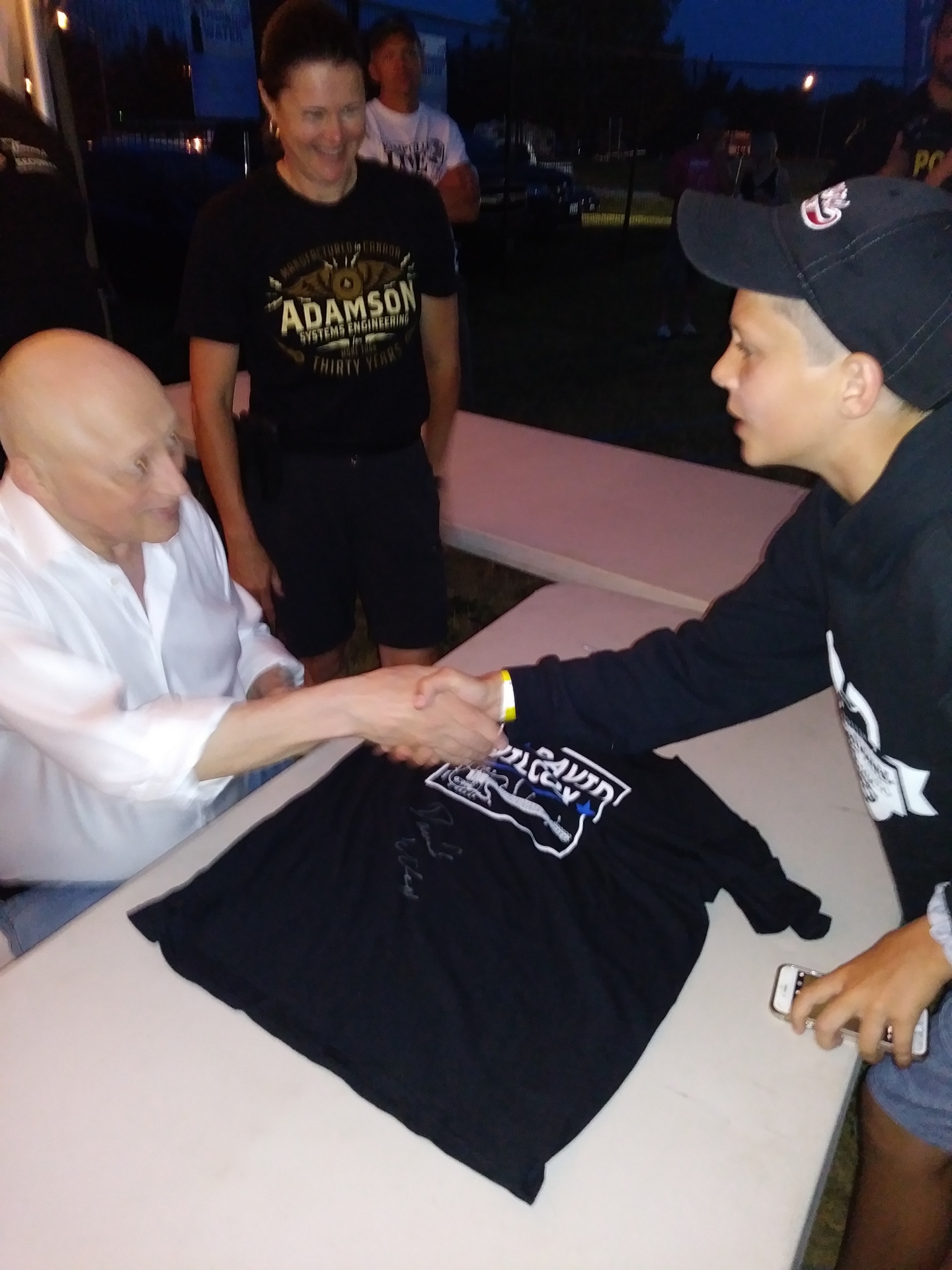 Kim Mitchell Setlist
Kemptville Live Music Festival
Thursday, July 18, 2019
Lager And Ale
Rocklandwonderland
Rock & Roll Duty
That's a Man
Diamonds Diamonds
(Max Webster song)
High Class in Borrowed Shoes
(Max Webster song)
Waterline
(Max Webster song)
Lemon Wedge
Check
(Max Webster song)
Easy to Tame
Paradise Skies
(Max Webster song)
Patio Lanterns
All We Are
Go for Soda
Encore:
I Am a Wild Party