What can be said about Michael Schenker that hasn't already been said? This man is a major influence on many of the greatest guitarists of our generation. From the Scorpions to MSG to UFO, Temple of Rock and now Michael Schenker Fest, the man has done it all. A true master of the instrument.
Following the success of Michael Schenker Fest's Resurrection album, the group will release their second album, Revelation on August 23. He kicks off the second leg of the Resurrection North American tour at the Whiskey A Go Go in Los Angeles and April 15. This is a gig not to be missed.
Enjoy this incredibly special interview where Schenker talks about coming full circle from his very first show at the Whiskey at the age of 18 to playing there again this month, the sudden and tragic passing of Fest drummer Ted McKenna, the school of life, why he doesn't cut his strings at the headstock and much more.
THE FULL INTERVIEW
On Ted McKenna
"As you probably already know, our dear friend and great drummer, Ted McKenna, passed away on the 19th of January. That was a big slap in the face. (It's) impossible to even figure out how to deal with it because one moment he was there and the next moment he was gone. He walked into a hospital, thinking he was going to come out an hour later, a routine operation…and he never comes back. It's a really sad way to go. Because we were in the middle of make a new album, and Ted was scheduled for February 24th and we have the tour coming up, the second leg of the American tour, North America and Canada, it's like, how are we going to do this? So, after a while, Simon Philips came to mind and Bodo Schopf. They are both ex-MSG. Simon Philips is a total drummer and used to be with Jeff Beck and did the first Michael Schenker Group album. Bodo Schopf is the McAuley-Schenker Group drummer.
We figured out that Simon wasn't available for touring, so he did 10 songs on the new album and Bodo three and then Bodo took over the live gigs. It's a handful, being a 150 minute show and 32 songs and then all the thirteen songs for the album, for one drummer in a short amount of time, it's very hard.  So, Simon started doing his drums and I took Bodo to the UK and then rehearsed our butts off getting ready for America and Canada.  We are ready to rock!"
On The Whiskey a Go Go
"April 16th, 17th is Whiskey A Go Go, where everything started. I started there.  I think my first concert when I was 18 years old in the UFO there. The cycle is completely closed.  I mean full cycle. (I'm) going all the way back to the beginning.  It's funny. I think the first concert was at the Whiskey and the next one was a big contrast, Winterland.  I can't remember who we played with and six thousand people were holding lights.  It was incredible.  My first experience in America.  What a contrast because the Whiskey A Go Go is so small, you can almost reach the other side of the room when you're on stage. (laughs) So, we're gonna stay there three nights and it will be an extreme experience for us with eight people on stage, and an extreme experience for the audiences.  Some famous groups do this sometimes, just for the heck of it. It's because it's so extreme, it could be incredible for the audience, for the hardcore fans to have such a close view of that whole thing.  It's a lot of fun, I tell you.  It's a long show, but goes by very, very fast."
On getting 4 different singers to work together
"When the conditions are right, things run smoothly.  When the conditions are right for it to rain, then it will rain. It's something that had to happen at this point in time. It's something that's meant to be.  After Temple of Rock, we had a break and I was thinking, what can I do next? I realized that I hadn't performed with original singers forever.  And I thought this is what I need to do right now. This is now something really interesting…We have a mixture now of past and current and it's a really, really nice part of my life. 
On the School of Life
"After I had finished the middle years, the school of life, learning who I am. I have two tattoos on my back…One says 'Born To Be Free' and one is 'Born To Overcome'. When I wrote Into The Arena after Strangers In The Night and The Scorpions with Love Drive, it was time to go Into the Arena, the battlefield, the real life. Learn about stuff that, at the end of the day, will give realization and breakthroughs and so on. that's what I did in my middle years. And because of that…I actually got everything out of my system. The middle years, I was granted to experience fame very early in life. I never was chasing anything. I never competed with anybody. I never wanted to be famous. I just had fun playing guitar but I ended up, people saying to me, 'Michael Schenker is God', and I went 'What? I don't know what to do with that.' And that was the time when I finished , in the period of eight years, to develop from Lonesome Crow all the way up to Love Drive, like 8 or 9 albums or whatever, and I wrote Into The Arena. And Into the Arena was the introduction to the battlefield. (laughs)
And then I went through life and learned to overcome things. I knew what it was like to be famous..Because of that I was able to go through life, relax and do the real work in the school of life without having to wonder or worry about anything.  As a result, instead of going for gold and money and fame and whatever is up there, I got fulfillment instead because I carried on with my vision.  I got everything out of my system.  I did electric instrumentals, acoustic instrumentals.  I did anything you can imagine or that I wanted to do you know. Solos and cover versions.  I tell you, it was so much fun. I could never have done it with Scorpions or UFO or any of the other people who asked me. It would have been disastrous. they would have hated me. (laughs) So, it needed to be done this way and  as a result, I have created a cake and now I get a lot of icing. and while the others were reaching for the icing, they forgot to create the cake and now they have the icing and no cake."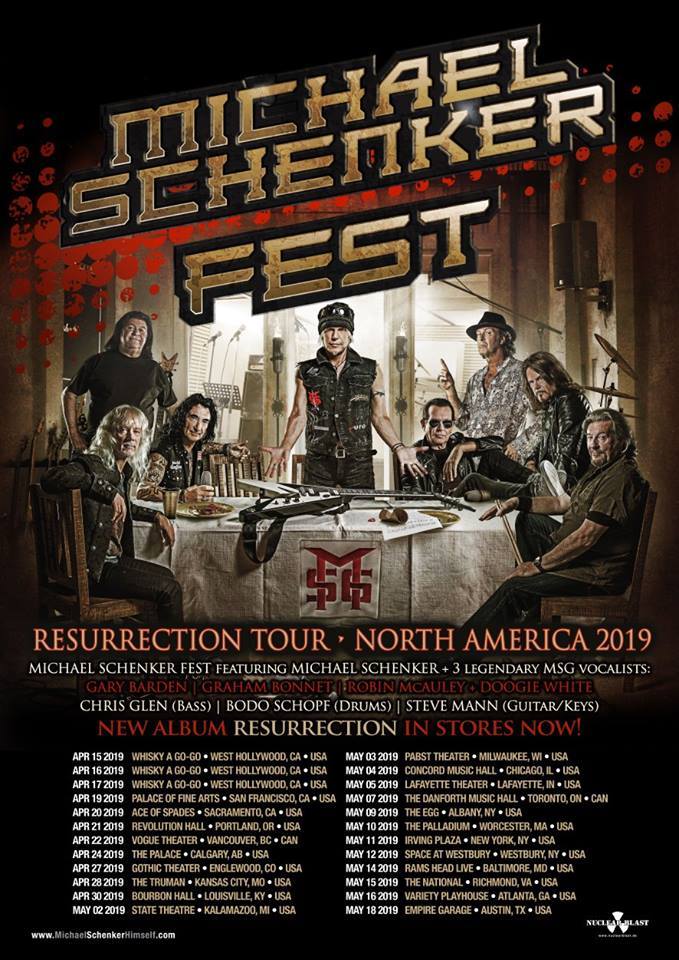 TOUR DATES
4/15/2019 Whisky A Go Go – West Hollywood, CA
4/16/2019 Whisky A Go Go – West Hollywood, CA
4/17/2019 Whisky A Go Go – West Hollywood, CA
4/19/2019 Palace of Fine Arts – San Francisco, CA
4/20/2019 Ace of Spades – Sacramento, CA
4/21/2019 Revolution Hall – Portland, OR
4/22/2019 Vogue Theatre – Vancouver, BC
4/24/2019 The Palace (formerly Flames Central) – Calgary, AB CANADA
4/27/2019 Gothic Theatre – Englewood, CO
4/28/2019 The Truman – Kansas City, MO
4/30/2019 Bourbon Hall – Louisville, KY
5/03/2019 The Pabst Theater – Milwaukee, WI
5/04/2019 Concord Music Hall – Chicago, IL
5/05/2019 Piere's – Fort Wayne, IN
5/07/2019 Danforth Music Hall – Toronto, ON
5/09/2019 The Egg – Albany, NY
5/10/2019 The Palladium – Worcester, MA
5/11/2019 Irving Plaza – New York City, NY
5/12/2019 The Space at Westbury – Westbury, NY
5/14/2019 Ram's Head Live – Baltimore, MD
5/15/2019 The National – Richmond, VA
5/16/2019 Variety Playhouse – Atlanta, GA
5/18/2019 Empire Garage – Austin, TX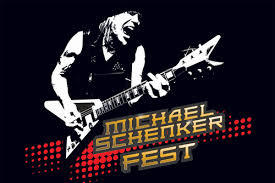 LINKS
Official Site: http://michaelschenkerhimself.com