Merry MMXX-Mas!!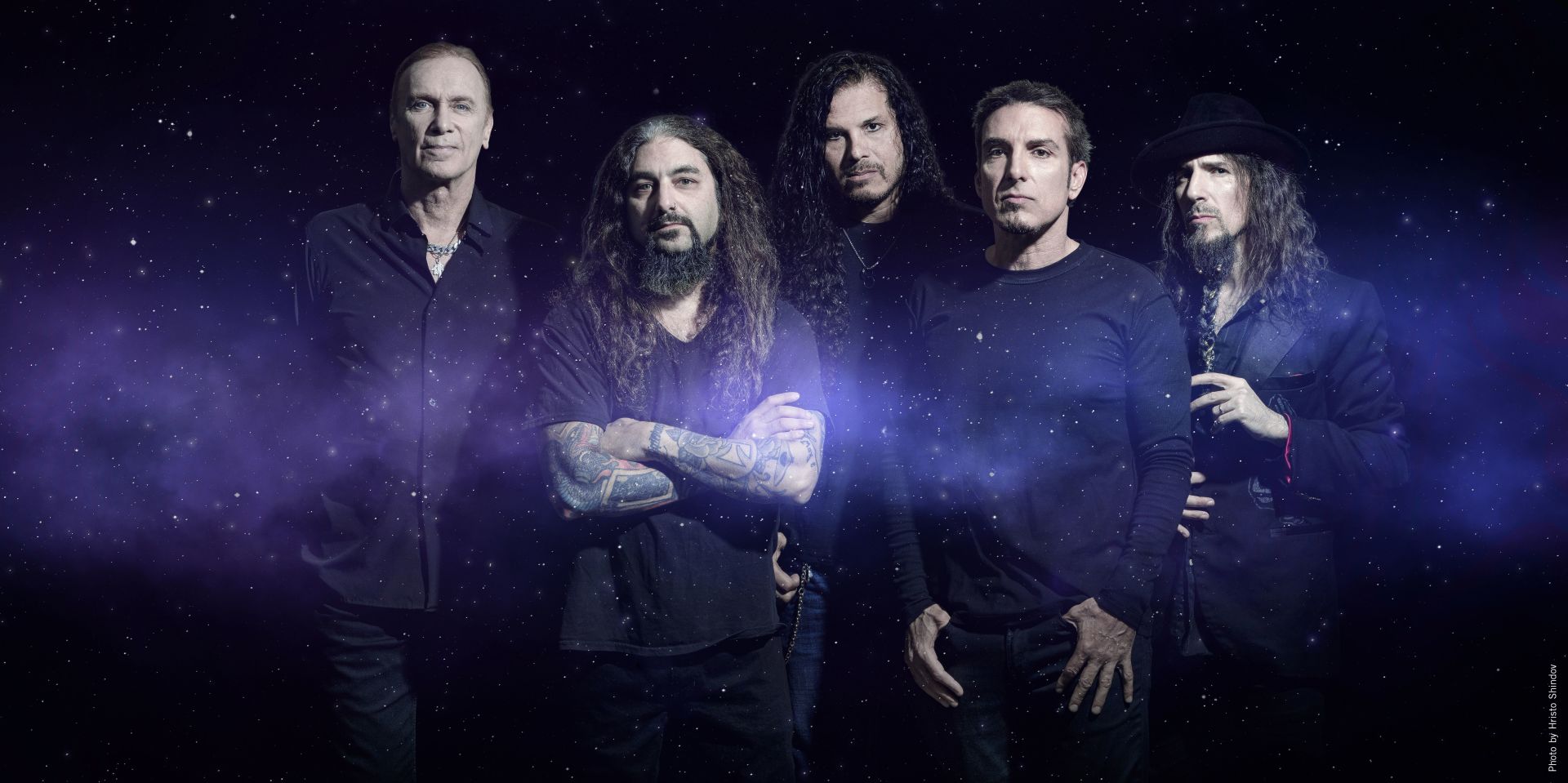 Sons Of Apollo is back! Did they ever go away? Since the release of their debut album, Psychotic Symphony, in 2017, the five members of SOA have been involved in countless projects:
-If I recall correctly, drummer Mike Portnoy has released about 36 albums.
-Bassist Billy Sheehan has toured the world with Mr. Big and Winery Dogs.
-Guitarist Ron Thal has amazed guitarists around the world with solo performances (with an absolutely epic one-man version of Rush's La Villa Strangiato in Ottawa, which may be my favourite concert moment of the year).
-Singer Jeff Scott Soto has toured the world with his solo band and melted faces with Trans-Siberian Orchestra.
-Keyboardist Derek Sherinian has kept a lower profile but has been offering up his key skills to lucky bands through online contests.
That doesn't even include the 83-date Psychotic Symphony World Tour that resulted in a live album recorded in Bulgaria with the Plovdiv Psychotic Symphony.
MMXX drops on January 17, 2020
(If this is your first time visiting Let's Rock, we do album reviews a little differently than other sites. We keep it light and fun. I hang out with the family dog, Gizmo, and listen to the album straight through, typing comments as I go. It's a first reaction to the album. For me, as a music fan, there's nothing better than a first listen to an album I've been dying to hear.)

HERE WE GO!
1. Goodbye Divinity
Sherinian gets the ball rolling with some guitar-like keyboard riffing. Is it called riffing if it's on a keyboard? Regardless, I'm just waiting for a monstrous drum fill from Portnoy. It'll come. I'm just learning to play the drums and this guy is incredibly inspiring. I suck, but…Oh, there it is. So, I WAS learning to play the drums…haha.
This is some tight riffing. Damn, this band could not have picked a better and more suitable vocalist. Soto fits this band like a glove. He's perfect for SOA. Now, I'm waiting for Bumblefoot's first guitar solo, so I can quit playing that instrument as well. Sherinian takes the first solo. I hope I'm not offending anyone here, but it's like 70s Styx on speed, which is good for me.
Ooooh, super sexy riff after the keyboard solo. Sheehan and Bumble are great together. Wow. Guitar solo…here we go. Yep, exactly what you'd expect from a Ron Thal solo. Brilliant playing.
This is a barn burner of an opening track. Holy crap, that was fun.
2. Wither to Black
Wow, heavy. Great guitar sound. This could be a single. I know we're only 2 days into 2020, but this is the guitar solo of the year so far. That had everything in it. Man, oh man, I'm looking forward to Feb.3 in Montreal. I want Portnoy to teach me the ba duh boom drum technique. I don't know what it's called, but he's a master. So far, so good. SOA has developed some serious chemistry after all those tour dates. Great stuff.
3. Asphyxiation
Cool riff. Double bass. There seems to be a pattern going on here. Keyboard solo first, and it's good. Soon, Thal will blow minds. Quick breakdown before the solo? Yep. Awesome riff. Go, Billy, go! Solo (awesome) and back to breakdown riff. Oh my God, what was that. Rewind. Good Lord! 3:49-3:57. Yikes. If I hadn't been listening to these guys for years, I'd have thought that was a sped up tape. My legs are tired just listening to the bass drums in this tune. Wonderful. (I'm a fan. Can you tell?)
4. Desolate July
Very nice piano intro. Sons of Aballad. I think guitar and bass might be tuned down to Z flat. It sounds so low. Gizmo is shaking. Keys solo. Nice. Bumblesolo. Great. Very different kind of song for SOA, but it fits. Not at all out of place. This Soto kid can sing. There's so much power and emotion in his voice. Just awesome. Very cool ending. I'm not a power ballad kind of guy, but this was nice.
5. King Of Delusion
Another great piano intro. Derek needs to do more of these. He's great. WOAH. I just got hit in the face by a ton of SOA. Amazing sound when the band comes in. The contrast between the beautiful piano and the brutal riffage drove Gizmo from the room. Kind of an Ozzy vibe.
This is leading into something epic…oh, more nice piano. This is awesome.
Piano and drums breakdown. What the hell is going on? Please extend this jam in concert. Full on plowin' after the solo. I'm gonna need a nap after this song.
HOLY SHIT! This is now my new favourite SOA song. Mind boggling.
6. Fall To Ascend
Cool drum intro. This is a drum clinic, masqueraded as a 5 minute song. Not taking anything away from the rest of the band, but the drum really stand out on this song. Until Bumblefoot's solo that is. Nice one. Sherinian Solo, always good. Sheehan is a rock. Yeah, just another great song.
7. Resurrection Day
I just heard that Neil Peart of Rush has passed away. A truly sad day for Rock and Roll. This song has a slow plodding rhythm. I like it. I'm kind of focused on drums right now. Cool solo section. Cool riff-Thal-Sherinian-Sheehan-Thal-Sherinian-Sheehan-back to cool riff. Master Portnoy just rippin' it. I know I sound like a broken record, but it's just good solid rock and roll from incredibly talented musicians.
8. New World Today
Before I even hit play on this one, it should be noted that there are really only two bands who can keep my attention on songs that are longer than ten minutes: Iron Maiden and Rush. I'm in no way saying that other bands don't have great long songs, but I look forward to those marathon tunes by Maiden and Rush.
Looking at this one before it starts, it clocks in at 15:51 but I have no doubt, this one will keep my attention. Here we go:
Fantastic solo from Bumble at the beginning. Tasty. A very spacy intro that leads into a typical heavier riff. Ooh, there's some classic sounding keyboards in there. Very Deep Purple sounding. So far so good. Gizmo is even back.
Very nice instrumental section. Damn, they're tight. Slow it right down for a cool little breather. This will be epic live. Sherinian solo. Sometimes hard to tell if the keys are keys or guitar. I like this. Bumblefoot is great, one of the best ever, but when he slows down a little, he's even more mesmerizing. Such amazing feel and emotion.
Oh, yeah, there's a singer in this band. Haha. It's been so long since I heard him, I was shocked when he came back in. That did not seem like 16 minutes. Amazing. Gizmo just gave me the look of approval.
I now have three bands that can hold my attention for more that 10 minutes. Well done, gentlemen.
BOTTOM LINE
Here's the thing, for me at least. MMXX is exactly what you'd expect from Sons Of Apollo. There's absolutely nothing wrong with that. It's like Rush…sorry, I've got Peart on my mind. You knew when you got a new Rush album that there would be amazing drumming, incredible bass riffs and Lifeson's chordal mastery. It didn't matter which era of Rush you were listening to, those drums, that bass and those chords were a guarantee. With SOA, you know you're gonna get absolutely fantastic musician ship with heavy riffs. It's exactly what I expected and exactly what I wanted. It's perfect prog-metal. Heavy yet unbelievably musical.
MMXX is a perfect sequel to Psychotic Symphony. Sheehan, Thal, Portnoy, Soto and Sherinian have delivered an album that will most definitely force you to continually lift your jaw off the floor. Not only was it great to listen to, it was an honour to add my goofy two-cents to the review world.
See you in Montreal.
Pre-orders are currently available, with digital pre-orders on iTunes and Amazon receiving an immediate download of"Goodbye Divinity." Pre-order now here: https://soa.lnk.to/MMXX
U.S.fans can pre-save the album on streaming services and be in with a chance of winning digital subscriptions to Modern Drummer and Bass Player magazines, a signed REMO drumhead, and two tickets to an upcoming U.S. tour date. Head here to enter: https://soa.lnk.to/Pre-Save

MMXX Track Listing
1.Goodbye Divinity (7:16)
2.Wither To Black (4:48)
3.Asphyxiation (5:09)
4.Desolate July (6:11)
5.King Of Delusion (8:49)
6.Fall To Ascend (5:07)
7.Resurrection Day (5:51)
8.New World Today (16:38)