Eric Steckel recorded his first album, A Few Degrees Warmer, when he was just 11 years old. Since then, he has released a boatload of albums, including 2018's Polyphonic Prayer, which features Eric playing every instrument aside from the drums. He was 'discovered' by the great John Mayall in 2003 and toured with the legend in Europe at the age of 13. He has played his brand of 'bluesmetal' to adoring audiences in 25 countries and counting. Just back from a European tour, Eric was kind enough to answer Let's Rock's 20 Questions. Check this dude out. He's a monster on guitar with some of the best tone in the biz.
1. Thanks so much for doing this. Let's go way back to the beginning. What was the "WOW" moment that made you pick up a guitar?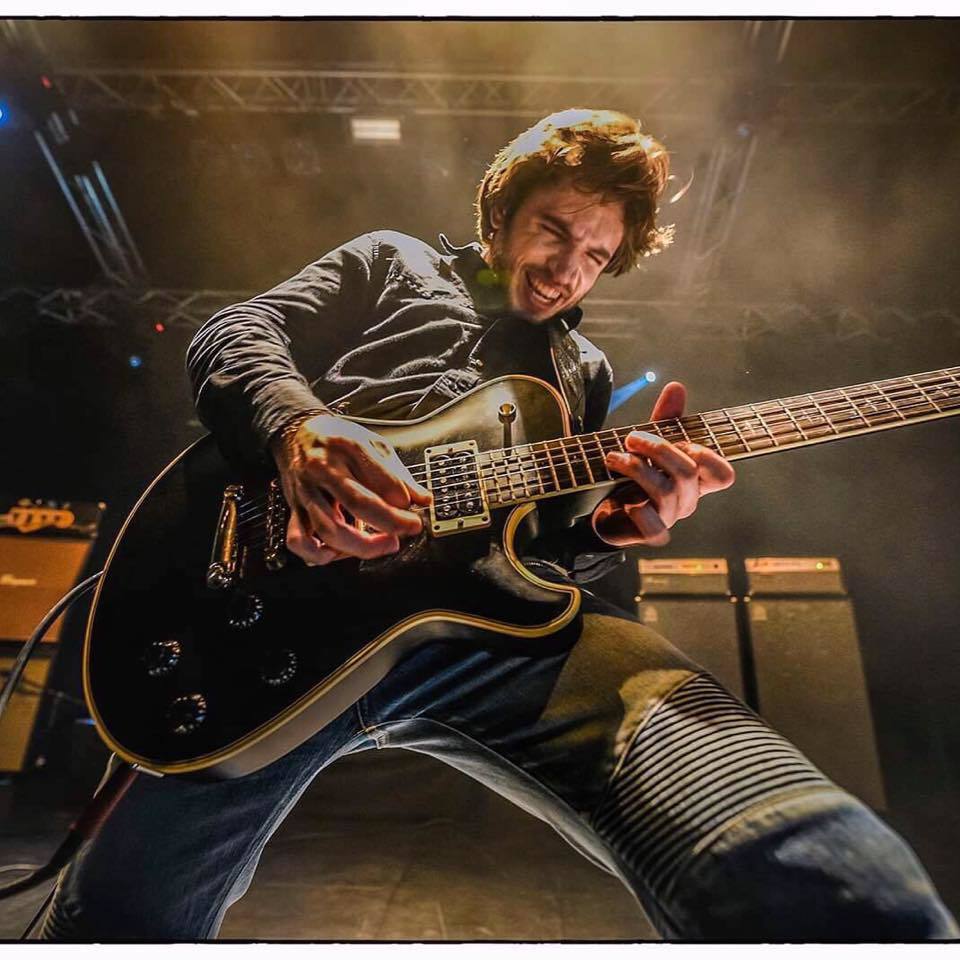 Thanks for having me! From an extremely early age (in the stroller!) my parents would take me to rock concerts in the town where I grew up (Philly), so by the time I could walk and talk on my own, I was seeing bands at local and regional festivals and loud music and guitars were just a natural part of my upbringing. I always felt at a young age I could do it, but when my Uncle Dave bought me my first Strat at age 8, the floodgates really opened and I couldn't put it down.
2. Can you remember the first gig you ever played? How did it go?
Yes, I remember it quite well. I was 9 years old, one year after I received my first Strat. It was an outdoor arts festival in Bethlehem, Pennsylvania near where I grew up and I was paid $100 for a 60 minute set. I remember feeling so natural and at home on the stage and knew at that moment this was who I was and what I wanted to do for a living. The audience response was great and inspired me even more to push myself and still to this day I react based on the audience's energy.
3. You released your first album when you were 11 years old. I was playing with Lego at that age. Haha. Tell us about how you went from Legos to guitar wizard at such a young age.
Ha! Yes, well I think for me it was just the fact that I was an old soul even at such a young age and didn't realize it until much, much later. I always wanted to make music and would get frustrated when my friends of the same age only wanted to play outside or play video games or something. I was always wanting to do "grown up" stuff like write songs and practice guitar and keys and I didn't realize at the time that I was so different for my age. The support and encouragement of my parents to be myself and do my thing led me to touring so young and advancing so quickly in my career and craft.
4. It's no secret that John Mayall was a huge supporter of your music. How did that whole connection start and what has he meant to your career?
That's right. John is my mentor and someone I owe my entire career to. I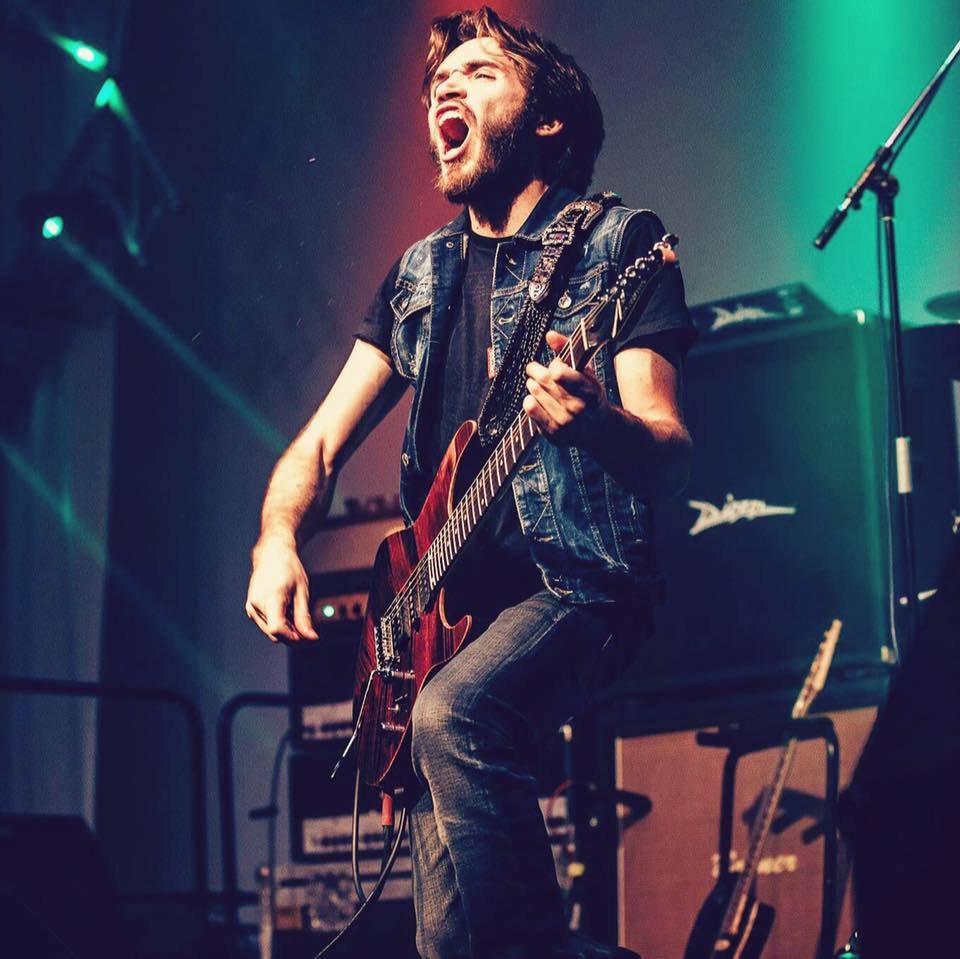 met him when I was 13 years old in Sarasota, Florida at a festival we were both playing. I was opening in the 12 noon slot and John was headlining at the 9pm slot. However, luckily for me, he arrived in his tour bus around 12:30 to get his credentials from the backstage and check in with the festival's hospitality. Legend has it he told his bandmates he was gonna go check out this "guy" that he was hearing on stage. He proceeded to walk to the front of the stage only to find a 4 foot little kid with a huge Stratocaster playing grown up blues licks and he couldn't believe what he was seeing. He immediately tracked down my dad backstage and asked his permission to take me on tour in Europe with him the following year. This led me to tour Europe in 2014 with John and play on his 2005 "Road Dogs" album.
5. One of the things I've really noticed about your posts on Facebook is the tone. My God, the tone. It's shiver inducing. For all the gearheads out there, what the hell are you playing to get that beast of a sound?
Thank you! I'm using almost exclusively one of my signature guitars with a company called Knaggs Guitars from Maryland. I have a model with them called a Kenai T/S and I have a few versions (with another cool Shelby Cobra Blue being built as I type) that I use regularly on tour and in studio. I run these straight into Bogner and/or Diezel amp heads with only a delay pedal in the amp's FX loop. I don't believe in running big pedal boards or degrading the signal flow too much so I keep it very simple: guitar, cable, amp.
6. Listening to Polyphonic Prayer as I write this. What impresses me most about the tunes is your ability to change styles so effortlessly (or at least it sounds effortless). Where do these different styles come from?
That album is definitely my most diverse to date. I think the reason for this is because I don't only listen to guitar music or blues music. I expand my palette quite a bit, especially when driving or flying. I listen to everything from dance music to prog rock to country to techno and everything in between. This comes out in my Blues/Rock playing and songwriting and it makes for very diverse albums which I'm proud of.
7. It's nice that you focus on both singing and guitar playing. You obviously have the chops to do all instrumental albums like Vai, Satch, etc. What comes easier to you…singing or guitar playing?
Yeah, I guess traditional guitar instrumental albums get a bit stale to my ears after awhile so I've always felt that even though I play long solos, there has to be a vocal hook in there somewhere to really land the song. It's just my opinion. There are many brilliant instrumental musicians out there who pack houses playing only their instrument, but for me I need some vocal to keep my interest peaked.
8. What have you learned about the music industry since your first album?
Wow! How many pages can I send you? Only kidding….but the industry has changed so much since the early 90's when I broke out on the scene and started making records. Back then smartphones and social media did not exist and record labels still wielded some power. Now, things are completely different and artists now are harnessing all of these promotional tools themselves and networking on their own. It's both good and bad. It's good for the talented and hard working artists, and bad for the folks who have to filter through all the junk out there now to find these hard working and talented artists. Now everyone has a voice and everyone can promote themselves for free, so fans are constantly hounded with self-promotion. But I still believe in the old adage, "the cream rises to the top!"
9 a) You just finished a pretty extensive tour of Europe. How did it go?
That's correct! I always love touring overseas and this is my 20th+ tour of the continent of Europe now. They're always great, but this last one was a huge step up in size of venue and audience which is so flattering after two decades of hard work and sacrifice.
9 b) How do European crowds differ from North American crowds?
The biggest difference is how they value live music and the arts in general. I think America is more of a staying-in culture whereas Europe is still a going-out culture. That's what hurts American artists touring in their own country sometimes, is the lack of people wanting to go out to the venues. In Europe, the average artist plays for more people than back home in the states. But I still love touring my own country and my largest fan base is still right here in the good old USA. I've also recently started touring Australia which blew my mind at how much they value the arts down there!
10. You've played in over 25 countries. Where have you not played that you would love to visit?
Japan is next on the agenda, and I'm auditioning some booking agents overt there to find just the right one to begin a partnership with. Also I sell lots of albums in Brazil but have never toured there yet, so that is next on the agenda. My ultimate goal is to play in countries we Westerner's typically find unsafe or hostile. I want to see how music can bring us together and create peace. It's on my bucket list.
11. You use the term Bluesmetal to describe your sound. Basically, blues on steroids. These days, which genre, do you find yourself listening to?
Typically, both! I can go from listening to Albert King belt out "As the Years go Passing By" and then cue up some Killswitch Engage or Memphis May Fire right afterwards. I love this blend of the two genres and it really comes out in my own playing how much I love the Blues and heavy metal.
12. There's a Canadian legend named Kim Mitchell who sang, in his song Diary For Rock N Roll Men: "Sometimes we got lemon twist lips" referring to the faces guitarists make when they play. Santana is famous for it. You also get the lemon twist lips when you play. Where does this come from? Is it part of the show or does it just flow out when you play?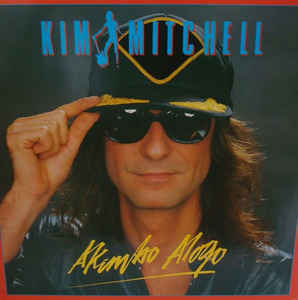 Kim Mitchell is killer! One of my favorites. And yes I agree. I just make those faces involuntarily. Some folks hate it, but it's just part of the show and not intentional and coached to me by a manager or agent. I just really feel every note and that's how my body reacts to the tone.
13. A few fun questions from my daughter, who doesn't listen to rock music at all. What's the best part of touring? What's the worst?
Best part is seeing the world without having to pay for expensive vacations, worst part is lack of sleep and not having the food you are used to eating back home.
14. How many guitars do you have?
I've scaled my collection back when I signed exclusive to Knaggs Guitars and developed my signature. I'm down to less than 10 guitars now and less than 10 amps as well. Simple.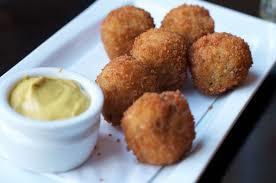 15. What's the craziest food you've eaten on tour?
Bitterballen, a Dutch snack food!
16. Did anything embarrassing ever happen to you on stage?
I don't have any really embarrassing stories, like falling off stage or anything, but I've had fans try to talk to me in the middle of songs before, as if it's a conversation! Very strange.
17. What do you focus on when you play on stage?
I actually try to turn my brain off and just let the music flow, when I focus too much I end up playing too choppy and not smooth.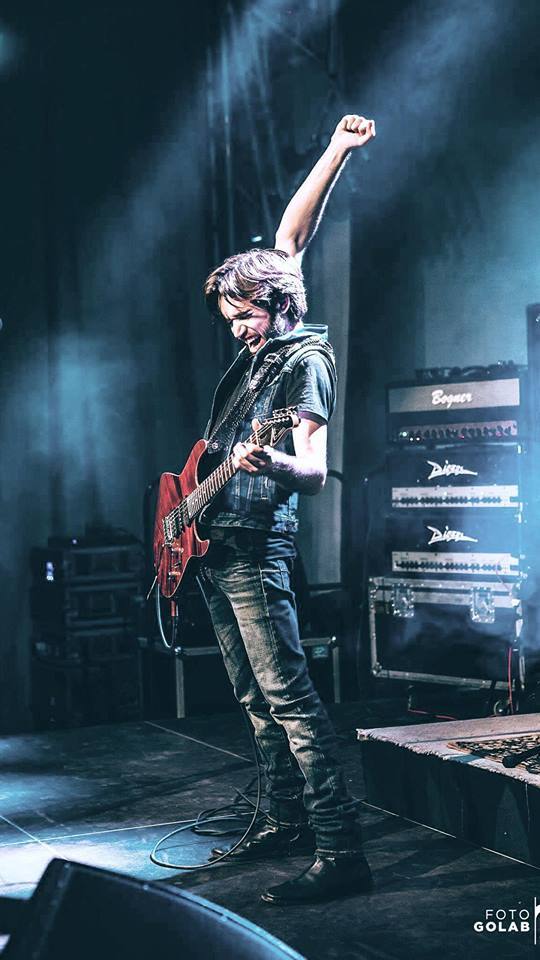 18. What music do you listen to that would surprise your fans?
Probably the furthest thing from what I play would be a group from England called Gorillaz, I love listening to their stuff when I'm driving around Los Angeles in my car. Electronic pop/dance, but great songs and writing.
19. (My daughter was born and raised in South Korea) Have you ever been to South Korea? If so, what did you think?
Korea is one place I have not been yet, but would absolutely love to! Spread the word, and I'll be there!
20. What do you like to do when you aren't playing guitar or making music?
My other passion is German cars. When I'm not onstage, you can find me on Mulholland Drive in a BMW car driving way too fast. 🙂
LINKS
Official Site: https://ericsteckel.com/
Facebook: http://www.facebook.com/eric.m.steckel
Instagram: http://instagram.com/ericsteckelofficial
Youtube: https://www.youtube.com/results?search_query=eric+steckel
iTunes: https://itunes.apple.com/us/artist/eric-steckel/id271016267