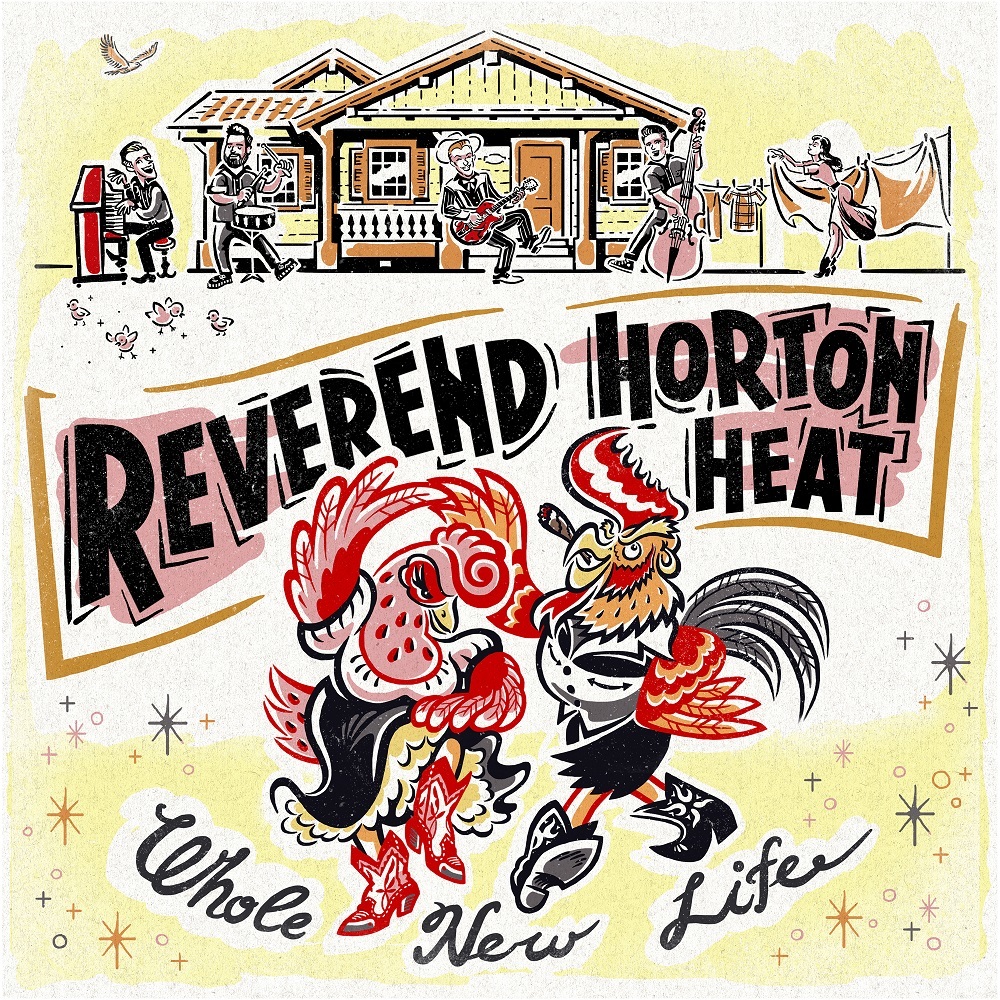 On March 30, 2018, I had the pleasure of taking in a Reverend Horton Heat gig in Ottawa, Canada at the Brass Monkey. On a disgustingly hot evening (with an incredible opening set from Igor and The Red Elvises, fellow Let's Rockian Paul Eastwood's new favorite band), The Rev, Jim Heath managed to turn the Heat up even more. It was a truly impressive night of Psychobilly Rock. I was already a fan, but that night in March made me a diehard.
Today, I received a promo copy of the new Reverend Horton Heat album, Whole New Life, an album I've been looking forward to since I heard they were recording. If this is your first time visiting Let's Rock, I do album reviews a little differently than other sites. I lay down with the family dog, Gizmo, and listen to the album straight through, typing comments as I go. It's a first reaction to the album. For me, as a music fan, there's nothing better than a first listen to an album I've been dying to hear.
Here We Go:
Track 1- Whole New Life
I've heard this one before. It's been shared on social media. Jim sounds great. His voice is a little gruffer (Is that a word?) than on previous releases, but still sounds great. I hope that sweltering night in Ottawa didn't hurt his voice. He gets such a great guitar tone. Piano solo by Matt Jordan makes this song a true honky tonkin rocker. Great opening track. It's the Rev. And that's a good thing.
Track 2 – Hog Tying Woman
"Woo" This has got a very cool, slow twelve bar blues thing happening. I've always loved Heath's solos. Never a bad note. "Got a hog tying woman, She's hog tied me." Nice. One thing that always amazes me about RHH is the fact that there seems to be so much happening in every song. This one, near the end, feels like there are 20 people playing. It's such a cool sound. Maybe there are 20 people playing. Studio magic. Regardless, it sounds badass.
Track 3 – Hate To See You Cry
Amazing riff. Drummer RJ Contreras is rock solid. This dude can play. He's loud in the mix on this one. This is so Rev. Every track so far could be on any RHH album. Solo time…Such great feel. (Can you tell I'm a fan?) Had the pleasure of meeting Jimbo after the show in Ottawa. Great guy. It's very cool listening to him on this album. He's got a great sound, very tight, in the pocket bass playing that is fundamental to the sound of the band. I'm digging this so far.
Track 4 – Got It In My Pocket
Gizmo just jumped to her feet as this one started. This is an upbeat rocker. I have always loved the fast Rev tunes and this one has Jim all over it. It's so hard to describe this music. It's got elements of so many different genres. Blues, rockabilly, punk, country…And the band just makes it all fit together so seamlessly. Gizmo is laying down again, but looking around the room trying to figure out what's going on. That song right there is an absolute barn burner
Track 5 – Don't Let Go Of Me
Kind of a creepy intro on this one. Do I detect a little Leslie effect? Definitely some Leslie in the solo. Such a distinctive guitar sound. Haven't heard a piano solo since the first tune. This is the same group of musicians that performed in Ottawa. They have obviously built up some chemistry together. This is tight.
Track 6 – Ride Before The Fall
Picturing a western movie at the beginning of this song. As a guitar fan/player, it's nice to hear someone not worried about blistering, technical solos. This one is an instrumental and Jim just plays for the song, not the 'wow, look at me rip on my guitar' factor. Gizmo just left the room. I love this album. I guess she doesn't. Wonderful.
Track 7 – Tchoupitoulas Street
Very 50s-ish. Piano is prominent in this one. This dude Matt Jordan can play. (and is one of the nicest dudes I've ever met) I remember standing outside the venue last March, listening to Matt practice in the trailer before the show. Some absolutely mesmerizing ragtime piano came out of that trailer that night. This track shows off Jordan's talents. I wonder where Tchoupitoulas street is?
Track 8 – Sunrise Through the Power Lines
Cool intro riff. There's absolutely nothing flashy about this album so far. It's just good, fun rock and roll from a tight band that knows exactly how to do this music thing. This one is not bad. Not my favorite so far, but the solo is great. Good solid drumming, but it's not grabbing me the way the other ones did. Not bad, though.
Track 9 – Wonky
Boogie shuffle. Very bluesy. That guitar tone. I truly believe that Jim Heath doesn't get the respect he deserves as a guitar 'hero'. He's fantastic and this song is all about the guitar. Blistering solo, into a great 12 bar blues breakdown. Back on track with Wonky. I want to see that one live. Hey, Rev, how about another Ottawa gig to support this album?
Track 10 – Perfect
This is a Perfect representation of the Rev. 2:25 of in your face rockabilly. Great riffing. Good sense of humor. Fun, upbeat. Can't help but bop your head to this song. I remember seeing these guys open for Soundgarden in the early 90s. This song is exactly what I remember seeing and hearing that night. Great tune.
Track 11 – Viva Las Vegas
I LOVE ELVIS. I take it very seriously when someone covers THE KING! ZZ Top did a great version of Viva Las Vegas. They bluesified a classic. Reverend Horton Heat have rockabillied a classic. I don't know if bluesified and rockabillied are real words, and I don't care. The point is, this is fun. A great version of a great, classic song. Kudos.
The Bottom Line
If you like Reverend Horton Heat, you'll love this album. It's a good old fashioned rockin' good time. The musicians are top notch. The songs are well put together. Jim sounds fantastic. Jimbo is Jimbo…solid, steady and in control. RJ is a beast. Matt is an incredible addition to the trio. His piano playing adds a wonderful new layer to the RHH sound.
If you don't like Reverend Horton Heat…Shame on you.  This album should change your way of thinking.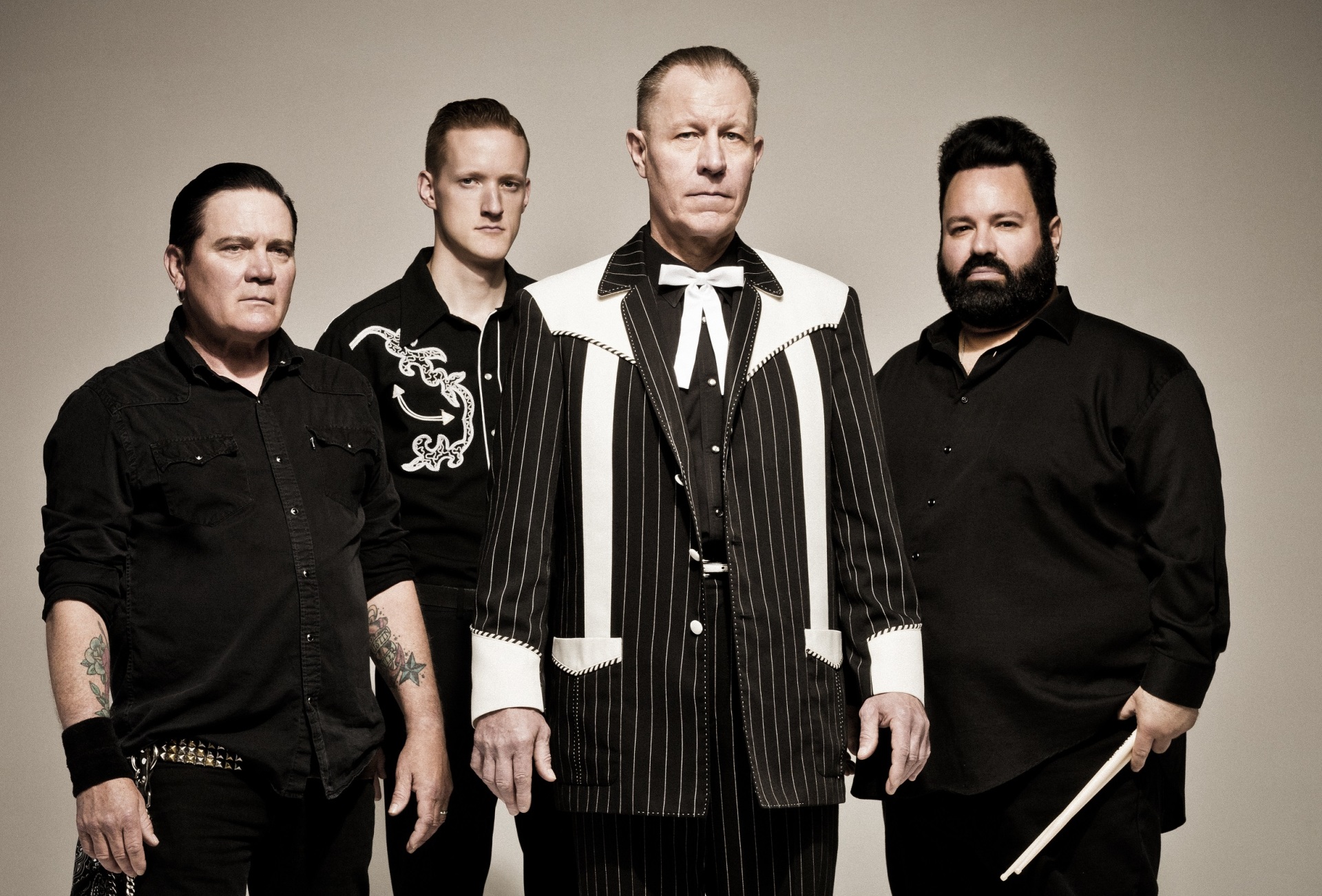 Reverend Horton Heat: (from l-r) Jimbo Wallace, Matt Jordan (the only time you will ever see him without a smile), Jim Heath and RJ Contreras
The Players
Jim Heath – Lead vocals, guitar
Jimbo Wallace – Standup bass
RJ Contreras – Drums
Matt Jordan – Piano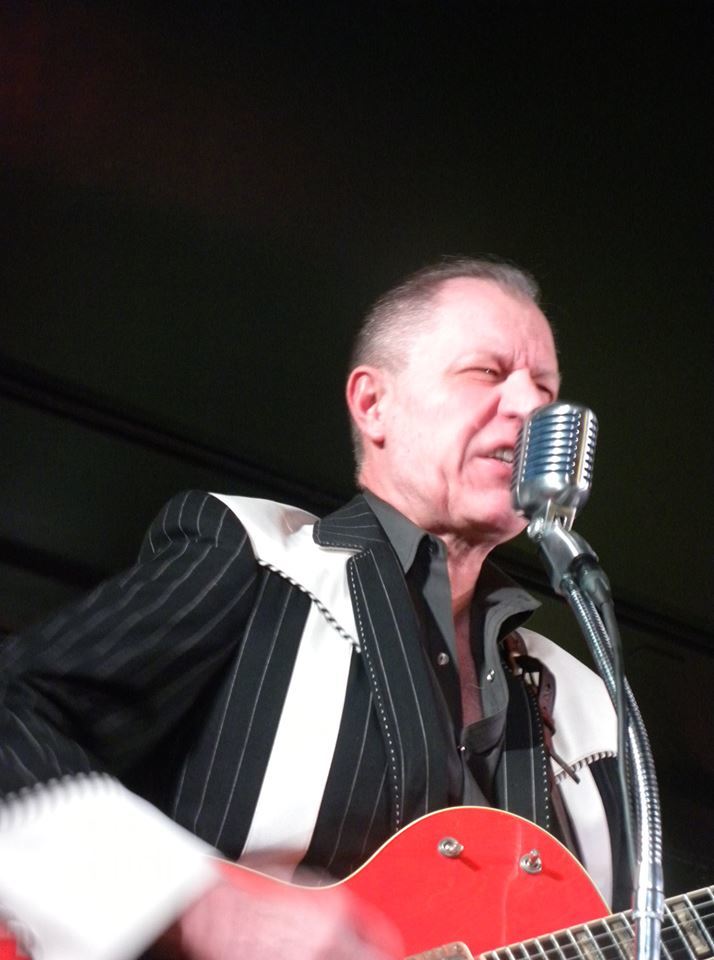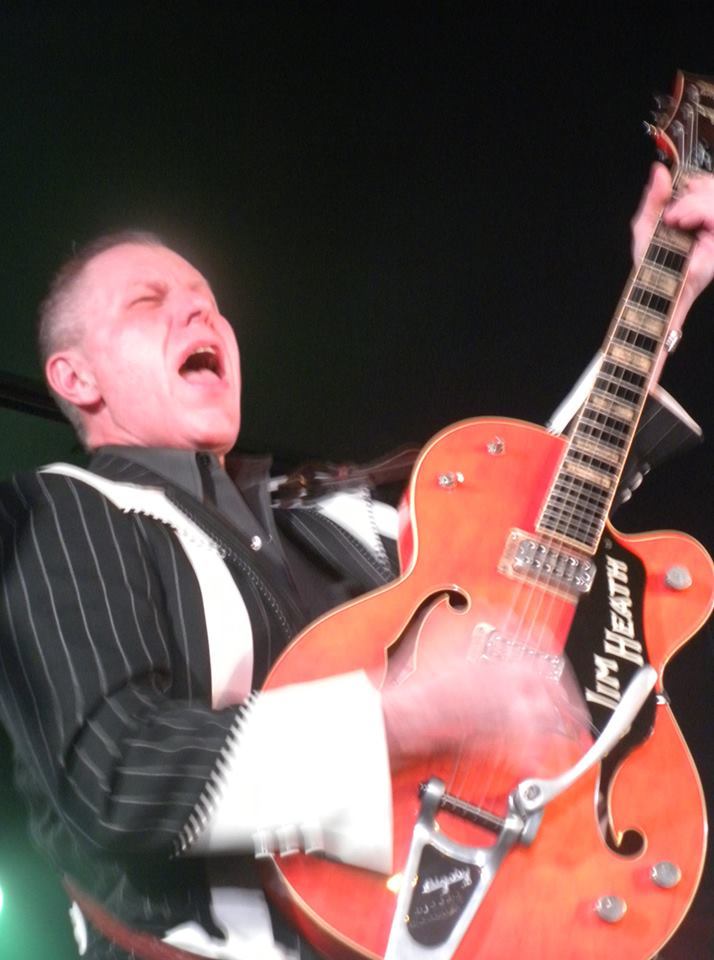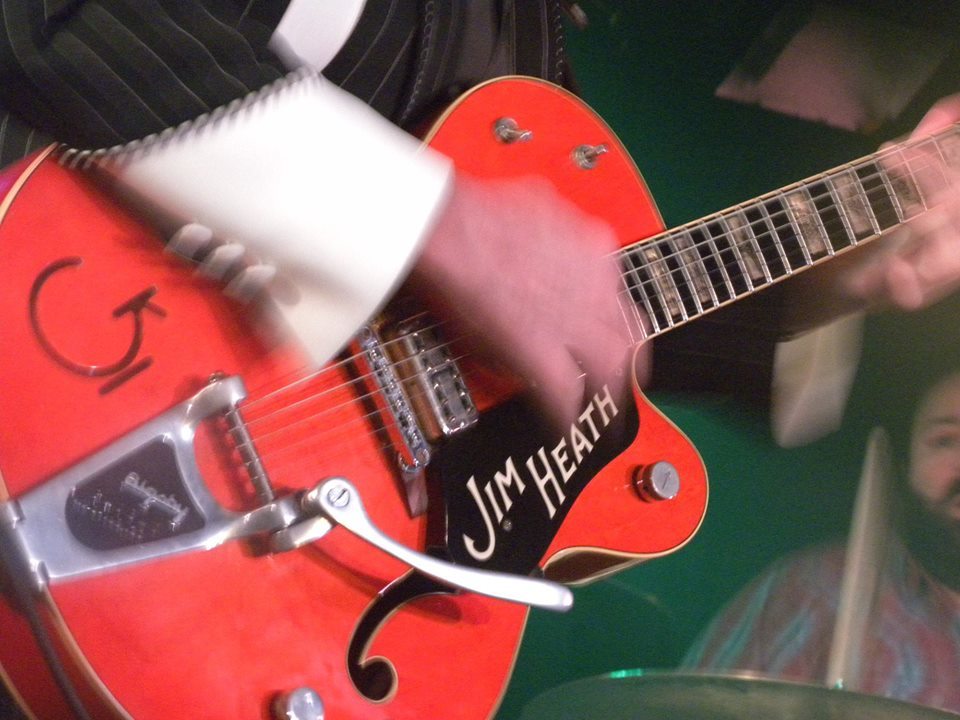 Photos by Ken Vantour, from March 30, 2018, at the Brass Monkey, Ottawa, Ontario