Framing Hanley are back with a brand new album called ENVY, their first albumin 6 years. It will be released via Thermal Entertainment on February 21, 2020.

The band has already released three singles from the album: Puzzle Pieces, Baggage Claim and Throwing Knives. Puzzle Pieces has already surpassed 12 million streams on Spotify alone.

The band released three albums prior to a brief break up in 2015. The Moment (2007), A Promise To Burn (2010) and The Sum Of Who We Are (2014) have sold over 200,000 albums, reached 1.5 million single downloads and been streamed over 150 million times. Each album charted in the Billboard Top 200 and official music videos have surpassed 40 million views. Radio hits have included Hear Me Now, Lollipop, You Stupid Girl, Collide and Criminal. The band had toured coast-to-coast in North America and has had several successful European and Australian tours.
I'm looking forward to this one. Here We Go!!!
(If this is your first time visiting Let's Rock, we do album reviews a little differently than other sites.  We keep it light and fun. I hang
out with the family dog, Gizmo, and listen to the album straight through, typing comments as I go. It's a first reaction to the album.  For me, as a music fan, there's nothing better than a first listen to an album I've been dying to hear.)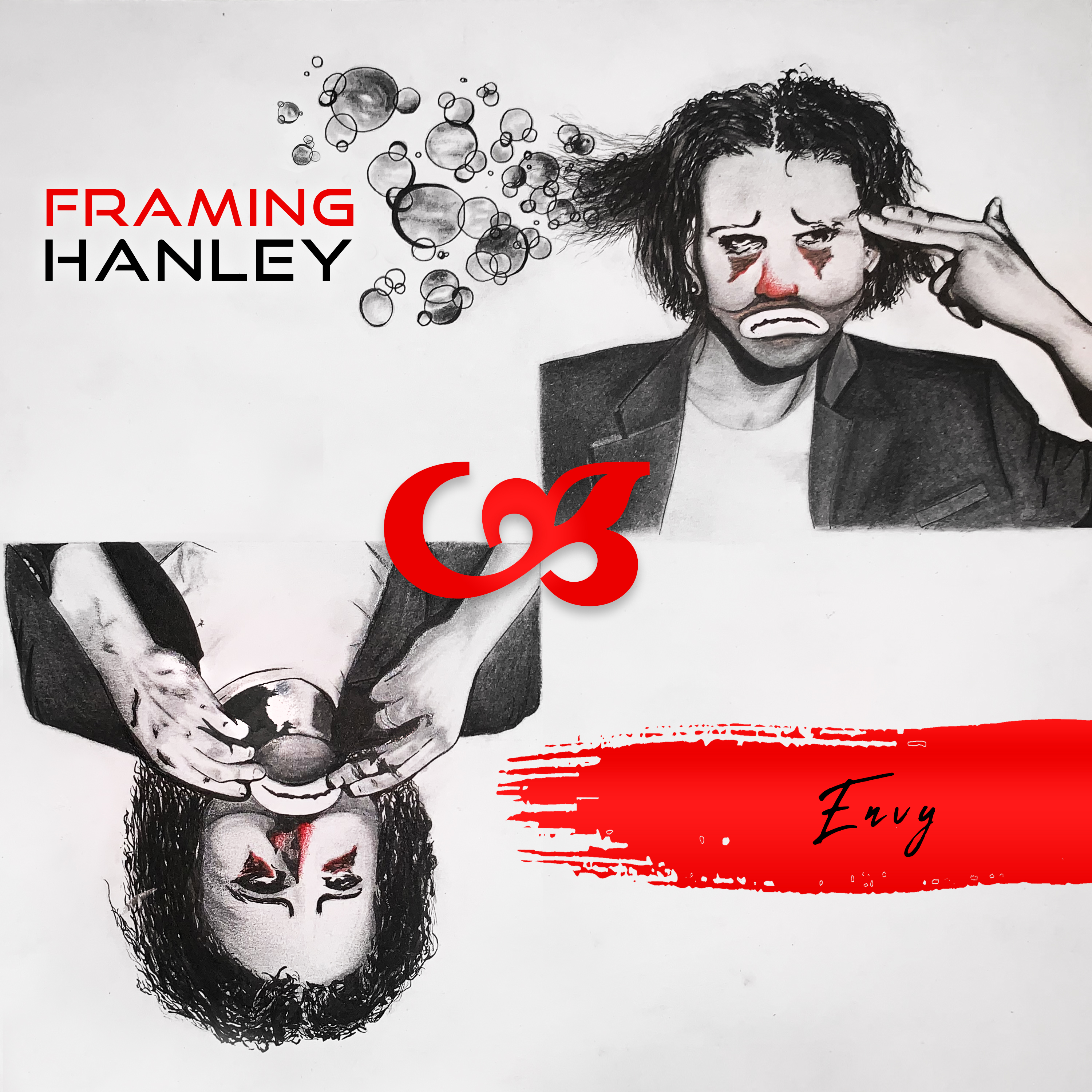 Framing Hanley are:

Kenneth Nixon (vocals)
Ryan Belcher (guitars)
Jonathan Stoye (bass)
Shad Teems (drums)
Nic Brooks (guitars)
1. Say You Ever
Interesting start to the album. Eerie strings and synth. Vocals in…oh boy, auto tune. It's a cool intro, but I'm not a fan of auto tune at all. Hopefully this is the only track with it. The drums are super cool. I like the idea.
2. Bubbles
Right into Bubbles. I don't hear any auto tune on this one. This track has a great guitar sound. Nice chorus, very sing-along-able. This dude has a great voice. This is good stuff. I sense a guitar solo coming up. Ryan and Nic play off each other very well. One with the chunky chords, the other with single note lines. No solo. Shad seems to be a beast on the drums. This is a good opener.
3. Misery
The first thing that jumps out at me is the sound. This is a well produced album. That's almost as important as the songs. I'm just learning how to play the drums, and Shad makes me want to practice. He's awesome. This tune is tight as hell. This is obviously a band that's developed some serious chemistry. Ohh, cool riff in the second verse. FH are masters of the catchy chorus. The verses are great, but when the chorus kicks in…damn. OK, another song without a guitar solo. I guess this is the way music is going…and that's fine. I just love guitar solos. Great song.
4. Joke's On Us
Ballad. There's a lot of keyboards on this one. Oooh, it just kicked in. Nice. This is very interesting music. So many levels, so many layers. It chugs and then it mellows with keyboards. It all works, though. Kenneth has one seriously powerful voice and Shad is starting to piss me off. I have so much to learn before I can call myself a decent drummer. WHAT??? A solo? Perfect fit to the song. Nothing flashy, but it adds another layer. This is cool shit.
5. Forgiveness Is An Art
Wow, that is some seriously down-tuned guitar. Super heavy guitar sound and then straight into keyboard/chill verse. Another great verse. Anthem kind of whoa-whoa-whoa. One thing I've noticed…they build up so well. Each verse seems to add something new to the proceedings. There's that down tuned guitar again. ANOTHER GUITAR SOLO?!?!?! Very simple line, I wouldn't even call it a solo. It's more of a layer, but it's nice. This could be a single. This might attract a bunch of music lovers who love other genres. It's got a lot of shit going on.
6. Puzzle Pieces
Moody intro. I might sound like a broken record here, but, again, there is so much happening. Keys, single note guitar, chorded guitar, massive drum sound. There's the single note again. I'm really digging this. Piano breakdown after the second chorus. Totally changes the mood. Strings/keys added to make it even more eerie. The guitar solos are perfect examples of how to add to a song without just trying to show off. THe solos are very much like Def Leppard in that regard. For the song, not the wanking. Another stellar tune.
7. Maeve
Gizmo hasn't left yet, which is always a good sign. Nice intro. I like the chunka-chunka and the harmonics. Very subtle awesomeness. Some nice bluesy guitar riffs in the chorus. HARMONICS RULE! I can't get over the drum sound. It's just massive. This song has cool, bluesy guitar solo written all over it. Missed a great opportunity for a rippin' solo, but at least it ends on those harmonics.
8. Carousel
FH definitely has a sound. Start slow, build up, kick it into overdrive for the chorus and then chill back out for the second verse. It's a great way to showcase the vocals, which are incredibly powerful. Another perfect solo for the song. I know I said the solos are about adding to the song, but I would love to hear one over the top, show off solo. I love that shit, too.
9. The Way Down
I guess I should mention Jonathan on bass. While I haven't heard any crazy Geddy runs, he is very solid. To me the sign of a good bass player, is someone who just holds down the fort. I love stuff like Geddy and Les Claypool, but there's something to be said for the stay-at-home bassist…Michael Anthony (Van Halen), or Cliff Williams (ACDC). They are a vital part to the overall sound. Awesome breakdown after the second chorus. Beautiful guitar sound. Great song, but no solo. Another missed opportunity. 😉
10. Throwing Knives
The tightness. My God, the tightness. I know it's studio, but if they can somehow pull this stuff off live, kudos to them. It'll be interesting to see how they do it. A solo. I've missed you for the past couple of songs. Again, nothing flashy. That is one crunchy sounding guitar. I like this song. They have a great ability of making a ballad not seem like a ballad, if that makes sense. The transitions from ultra-heavy to soft and relaxed are awesome. This is a powerhouse of a band.
11. Counterfeit
Another interesting intro. Lots of keys, awesome drums and then…band in. Nice guitar line during the chorus. They could change their name to Layering Hanley. Props to Kenneth and Josh Baker for the awesome production. This is a huge sounding album. Great songwriting is amplified with great sound.Sound Engineer Corey Callis deserves a hug from the band for this album.
12. Baggage Claim
Another 'kind of' ballad. I think I've figured it out. Shad's drums are making these ballads come to life. The drums don't sound like a ballad. Here we go. Baggage Claim picks up for a nice, tasty guitar solo. Still no shred, but that's OK. This is another example of great songwriting. Good lord, the drums are killing me. Teach me, Shad.
And just like that it's done.
Envy is a wonderful album. The songwriting is top-notch and everyone in the band is throwing down exactly what they should be throwing down. It definitely got better after the auto-tune. The drums (have I mentioned the drums?) stand out to me and it's not often that happens. Rush makes me listen to drums, Portnoy makes me listen to drums. Shad made me listen to drums on Envy.
Hopefully, Framing Hanley will become a household name with rock fans. Anybody out there who thinks there aren't any good, new rock bands coming out anymore hasn't been listening very well. Thermal Entertainment alone has three killer up and comers in Shallow Side, Silvertung and Framing Hanley.
Congratulations on a great disc. Here's to hoping the next album won't take 6 years.