Let's Rock's Celebration of Canadian Rock Music
To put it mildly: CANADA ROCKS!
Since the devastating loss of Neil Peart in January, I have been on a serious Canadian music bender, eh!. While Rush, Kim Mitchell and The Tragically Hip have always been on constant rotation in my cd player, it was so nice to check out all the other bands I grew up with or who have recently made a splash on the music scene in The Great White North. I could spend hours listing the bands and artists who have rocked this great nation. Neil Young, The Guess Who, Bryan Adams, April Wine, 54-40, Alanis Morissette, The Northern Pikes, The Barenaked Ladies, Anvil, Annihilator, The Pursuit Of Happiness, Sass Jordan, Sebastian Bach, Sloan and more recently Monster Truck, The Sheepdogs and Crown Lands. Good Lord, the list is endless. Sometimes I think that many of these bands are Canada's little secret. That bothers me. These bands should be required listening everywhere in the world.
THE INTERVIEW
PART 1: THE GRAPES OF WRATH
In the first instalment of our celebration, we speak with Kevin Kane, guitarist and vocalist with The Grapes of Wrath and The Northern Pikes. Grapes was formed in Kelowna, B.C. in 1983 and released a 4-song self-titled EP the next year. Their first full length album, September Bowl of Green was released in 1985 and featured the singles Misunderstanding and Love Comes Around.
1987's Treehouse, produced by Tom 'Life Is A Highway' Cochrane, spurned their first hit single with Peace of Mind. But it was 1989's Now and Again that solidified Grapes as a powerhouse, mainstay band in the country. With hit singles All The Things I Wasn't and Do You Want To Tell Me, Now and Again was the band's most successful album. (Personal note: All The Things I Wasn't ranks very high on my list of most beautiful songs ever)
The following album, These Days, released in 1991, featured the hits You May Be Right and I Am Here, but it would be their last recording together until 2000's Field Trip, as guitarist/vocalist Kevin Kane decided to leave the band.
The Grapes of Wrath, continue to perform throughout Canada to this day, and Kane is now also a member of another stellar Canuck band, The Northern Pikes.
In this interview, Kane speaks about the early days of the band, what the scene was like then, how hard it was to make it in the States, shaking hands with fans and much more.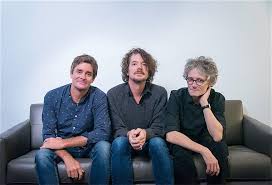 THE GRAPES OF WRATH
Kevin Kane – Guitars, vocals
Tom Hooper – Bass, vocals
Chris Hooper – Drums
ALBUMS
1984 The Grapes of Wrath
1985 September Bowl of Green
1987 Treehouse Gold
1989 Now and Again Platinum
1991 These Days Platinum
2000 Field Trip
2013 High Road
2017 Brave New Waves session
LINKS
Official Site: http://grapesofwrath.ca/
Facebook: https://www.facebook.com/grapesowrath
Twitter: https://twitter.com/TheGrapesoWrath
Youtube: https://www.youtube.com/user/koenig1999
Apple Music: https://itunes.apple.com/ca/artist/the-grapes-of-wrath/id70666816