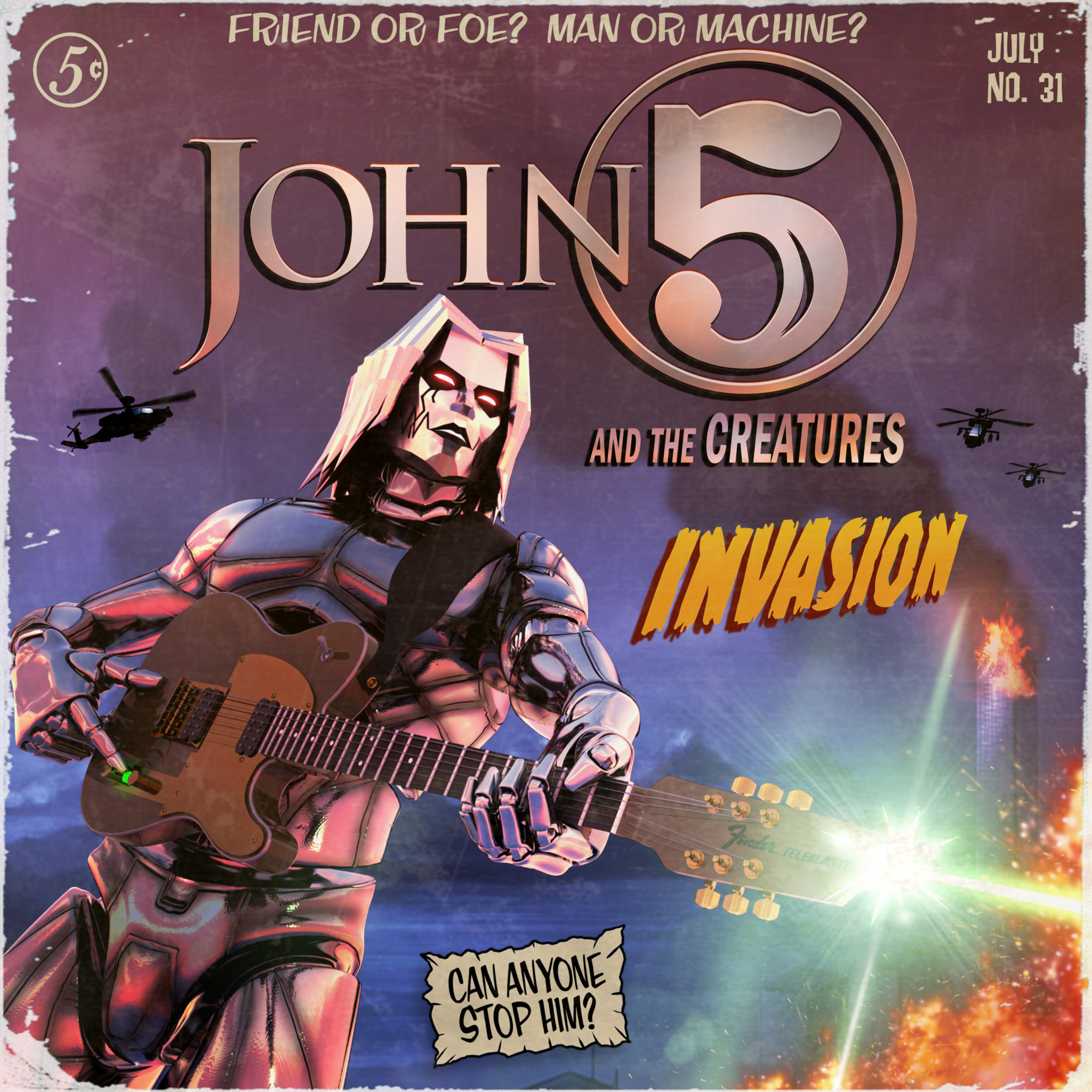 Ever since seeing John 5 and The Creatures in Ottawa a few months ago, I have been looking forward to his newest release, Invasion. John's 11th studio album comes on the heels of a lengthy North American tour and drops in the midst of his tour with Rob Zombie.
If this is your first time visiting Let's Rock, I do album reviews a little differently than other sites. I lay down with the family dog, Gizmo, and listen to the album straight through, typing comments as I go. It's a first reaction to the album. For me, as a music fan, there's nothing better than a first listen to an album I've been dying to hear.
1. Invasion
This is gonna be great. Love me some John 5. Right off the bat, with a slow build up from The Creatures, drummer Logan Nix and bassistIan Ross, Invasion kicks offexactly as you'd expect a John 5 album to kick off…Balls to the wall. John has such a distinct sound. Some eerie sounds lead straight into a killer riff that wouldn't be out of place on a Rob Zombie record. It's the lead that stands out: Controlled, menacing, haunting. That sound though…This is a nice little teaser to get things going. He is John 5.

2. I Am John 5
Ah, I remember this one from the concert at the Brass Monkey in Ottawa. This tune rocks. I make a point of not listening to singles before an album is released, so this may be the first time I've heard this song outside of the live gig.
It's a very techno intro. I like it. Very cool sound. Damn, when his soloing kicks in, you just have to shake your head. Where the hell does he come up with these ideas?
Holy crap, Ross on bass is killing it.  What a great riff. Then John comes back in with some tasty Telecaster sweetness. He likes his sweep picking, and there's nothing wrong with that! I used to think that all shred guitarists sounded the same, just a bunch of notes thrown together to make people gasp, "Wow!" In the last couple of years, having listened to and seen concerts by players like Bumblefoot, Tony MacAlpine, Guthrie Govan, Richie Kotzen and John5, I have come to realize that each of these dudes are completely unique. There is nobody who sounds like John 5. He is so bizarre in his playing (and I mean that in the most respectful way possible) that the music just sucks you right in. He truly is one of a kind.  He…Is…John 5.
3. Midnight Mass
Straight-ahead rocker off the top. I can't listen to John 5 anymore without the image of seeing him in concert. The visual of this guy ripping these songs live will always be in my head when I listen to him. He just has such a diverse style. There's techno, 80s shred, industrial, everything. As a guitar fan, what more can you ask for? Midnight Mass is a rip fest. Short and sweet. The sound of this album is great. Kudos to Barry pointer, who produced and mixed Invasion. Very well done.
4. Zoinks!
This one I know. Zoinks! starts off with a fantastic riff. With an amazing groove laid down by Nix and Ross, John has incredible freedom to just let his talents shine. But more than that, the song (and all songs so far) is so well constructed. Even without lyrics, you can spot the verse, chorus and bridge. With all the incredible chops he has, there's also a great songwriting skill, which is something most 'shredders; don't seem to have. This album is so fun!
5. Howdy
Country tune. Gizmo started paying attention after the first 'Howdy'. This is what sets J5 apart from the other. With a background in country, his ever present Fender Telecaster and a love for Hee Haw, it's always cool to hear one of his countrified rockers. I have visions of Roy Clark playing Malaguena on The Odd Couple. This is just great guitar playing. Ooooh, the banjo is out now. Another short and sweet mind boggler. Great stuff.
6. Crank It – Living With Ghosts
Crank It, Motherfucker! Crank It would fit nicely in any horror movie. He's so fluid. There is some great bass happening in this song. The haunting breakdown is a nice change. Very eerie. This is the most 'normal' guitar solo on the album so far. Oh, maybe not. Back into J5. Good Lord, he's good. It is becoming difficult to come up with new adjectives to describe this guy.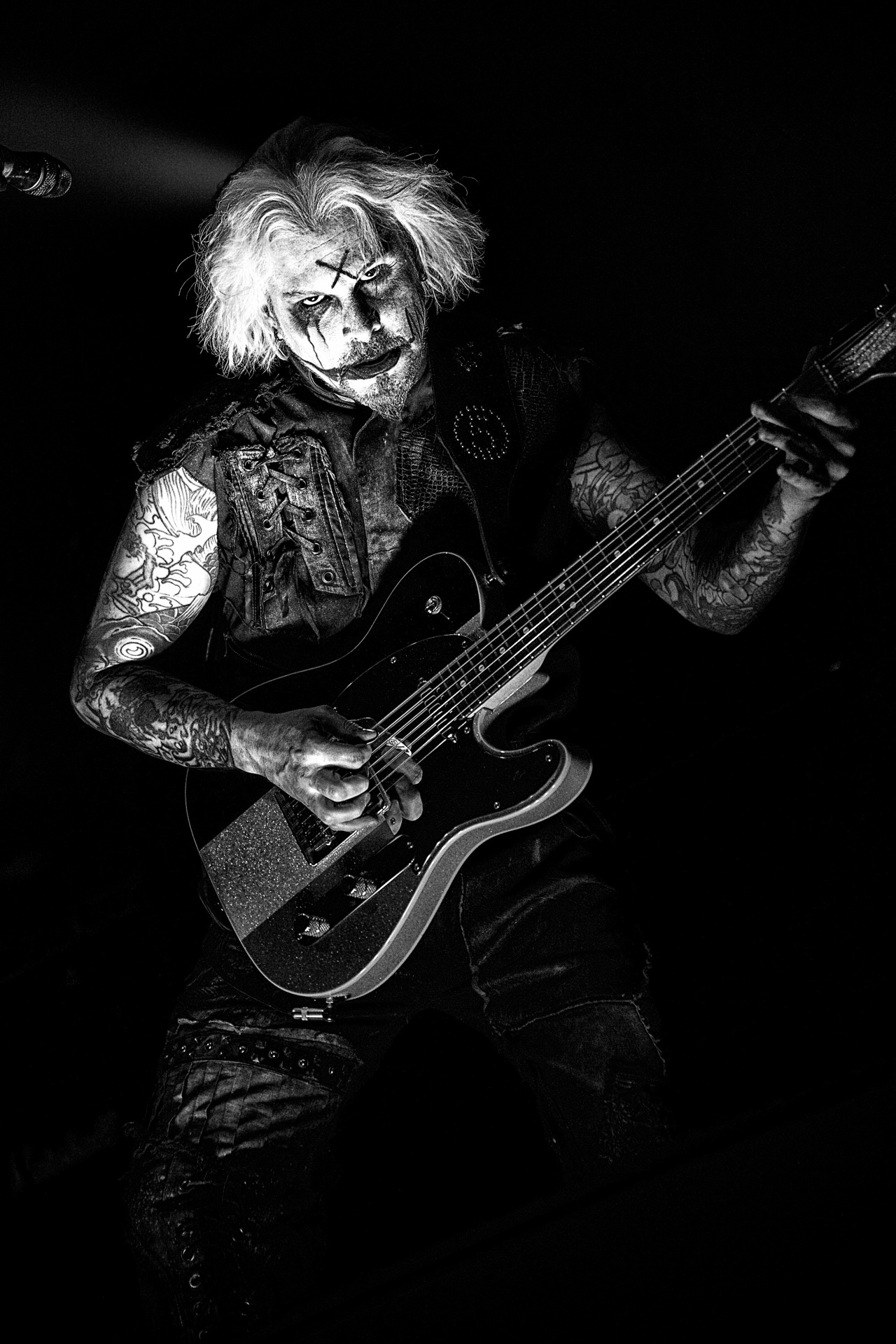 7. Cactus Flower
THE BENDY SONG! I've seen him do this before. Bending the string behind the nut. It's a very cool technique and something I had never seen before. Perhaps it's been done, but this is just a beautiful song and once again shows the diversity in J5's playing. Gorgeous tune.
8. I Want It All
Teach me your ways, Master! You know, he's coming back to Ottawa this month with Zombie. I have to get me a ticket. I Love This Freakin' Tune. I Want It All contains everything you want to hear from John 5. Unreal. Speed, feel, weirdness, chops to burn. It doesn't get any better than this.
9. I Like The Funk
Funk is good. Gizmo is still here, which is a good sign. More great guitar/bass interplay. I'm sitting in the Let's Rock office, looking at my guitars, and wondering why they don't make sounds like this. This is a cool tune. One thing I like about this album is the fact that the songs don't drone on for 6 or 7 minutes. The band knows when to cut it and that's a good thing. I find myself shaking my hands out after each song. I have no idea how this dude plays a full set of this stuff every night. I definitely like this funk.
10. Constant Sorrow
The album ender. I've always been a huge fan of the last song on an album. For some reason, I think it's like a test from musicians to see if the listener is still paying engaged. Constant sorrow is cool. Very chilled vibe. It certainly does have that Man Of Constant Sorrow from O Brother Where Art Thou! thing going through it. Another Short and sweet beauty. Is the album over already? Damn. I'll listen again…and again.
Final Thoughts
I'm not gonna sugar coat this. This is a great album by a great guitarist and a great rhythm section. John 5 is not for everybody and I think he knows that. His music is bizarre and haunting at times, beautiful and goose bump inducing at others. One thing that can't be disputed is the pure mastery and genius of the man. As a guitar fan, I look forward to listening and watching John 5 play every time I get a chance.
Invasion is a perfect example of what John 5 and The Creatures are all about. It's exactly what you'd expect from one of their albums. Solid rhythm, incredible riffs, masterful leads, oddness, chuckles. If you're already a fan of John 5, you will love this album. If you're new to John 5, you will love this album. Even Gizmo stuck around for the whole thing and Cat joined us for the last 3 songs. I imagine there's only one thing left to say…
CRANK IT, MOTHERFUCKERS