A glorious night of music. Three great bands. Great production and quick set changes. Tesla, Joan Jett and the Blackhearts and Styx put on a show to remember in Laval on Tuesday, July 3. All three of these bands have been around forever and the evening was filled with classic rock from start to finish. Reviewer Paul Eastwood reviews Joan Jett and Styx as he missed the Tesla show in order to find a parking spot. Ken Vantour reviews the Tesla show and supplies all photos.
TESLA
"On a slick trip and always ready to kick ass!"
Tesla kicked things off to a half empty arena. Sad that there were such incredible lineups to enter the building at 6:55 for a 7 PM start. The people waiting in the 40 degree heat missed a great band and a great performance. Tesla has been around for over 30 years and although their set was short (only 8 songs), they made the most of it with a spirited set that featured their biggest hits including Signs and Love Song.
Tesla Photos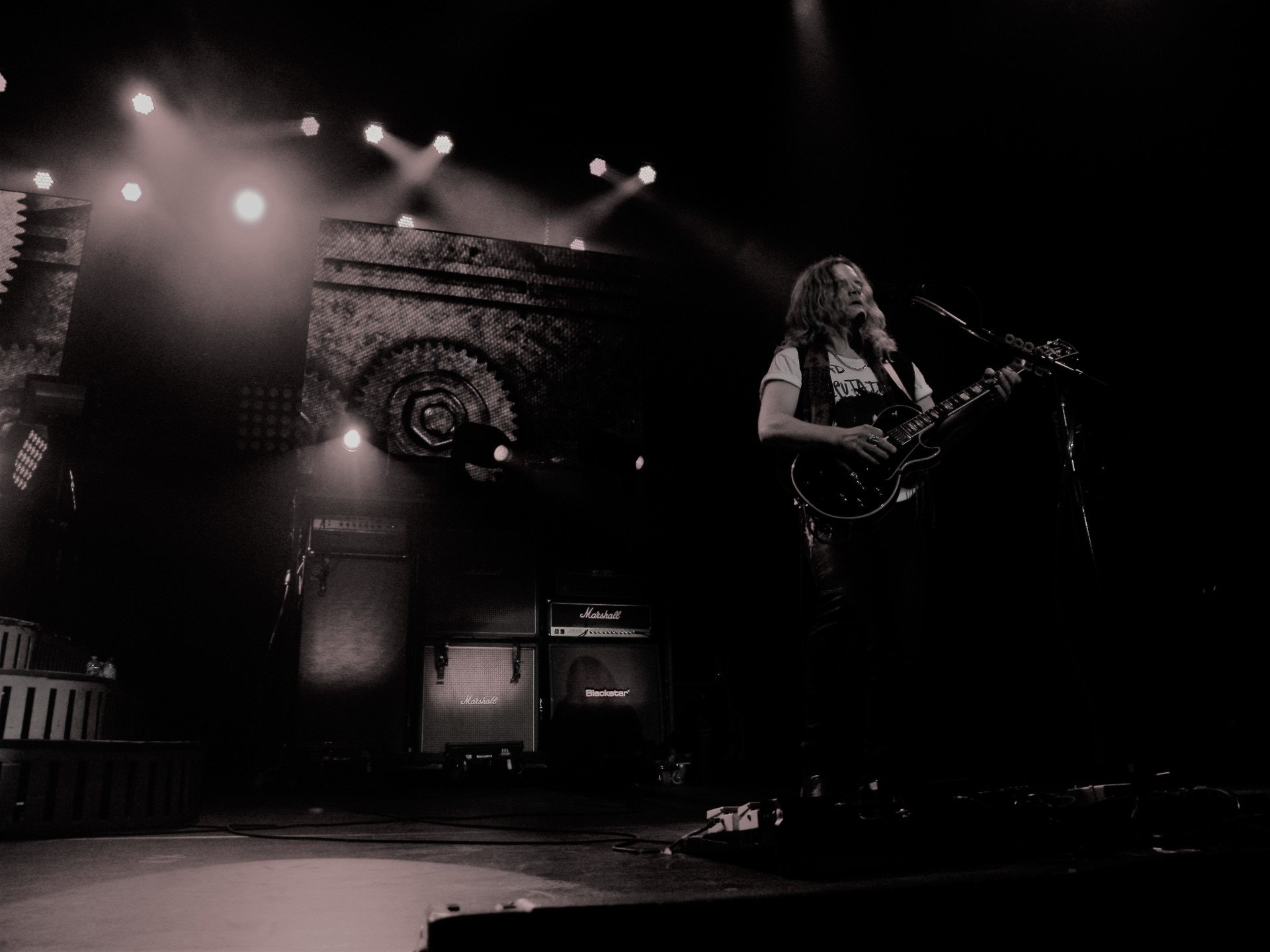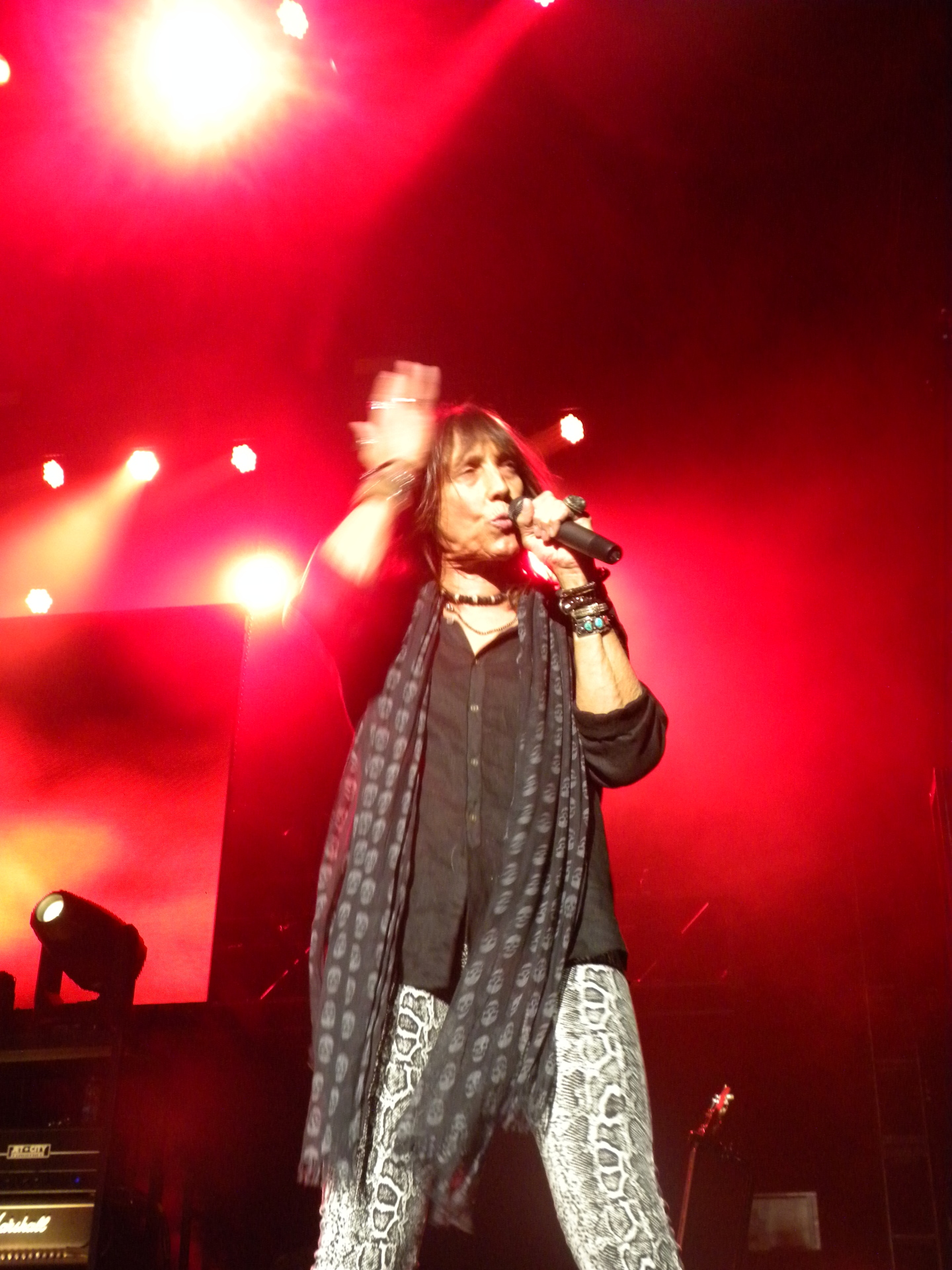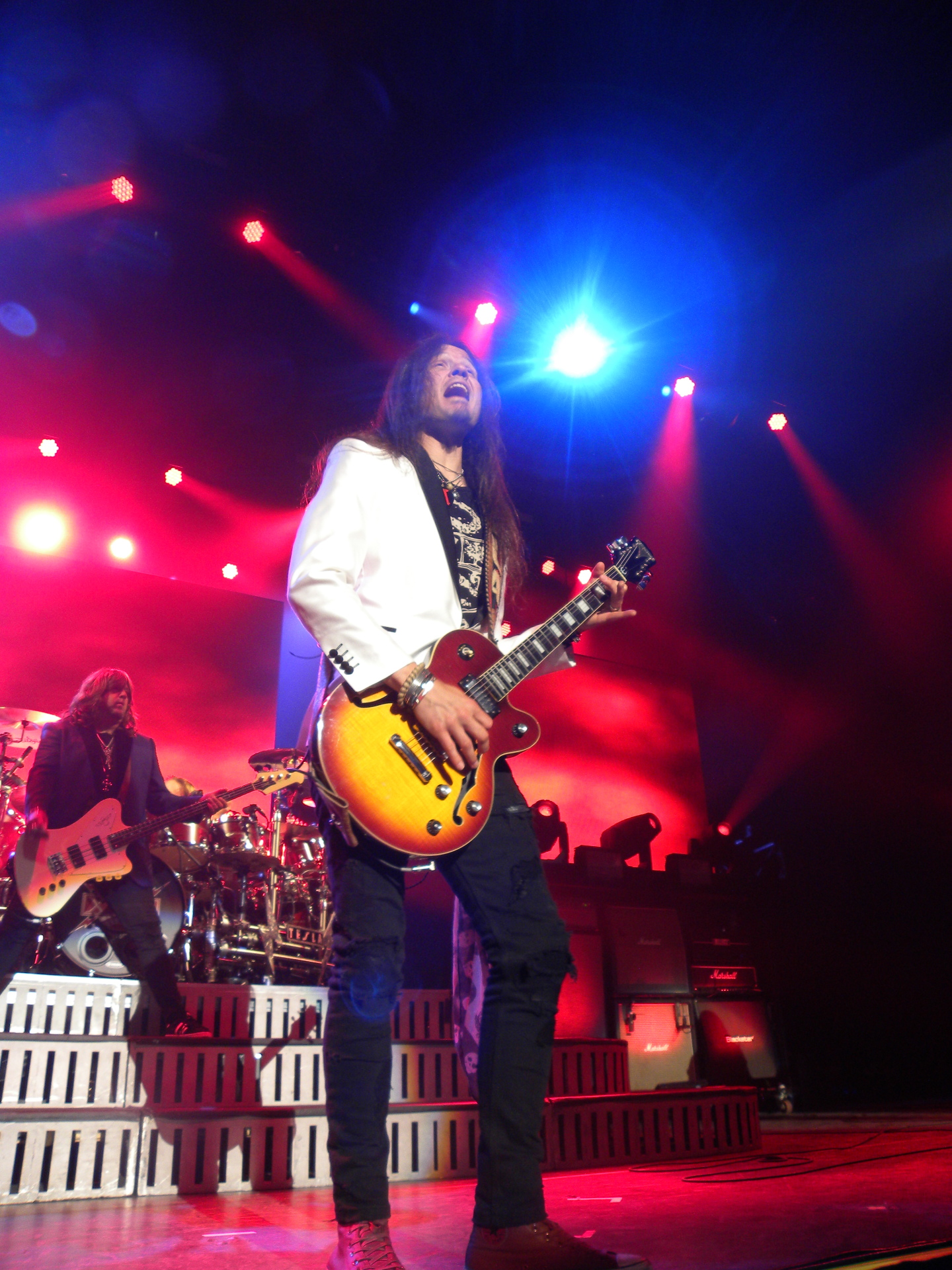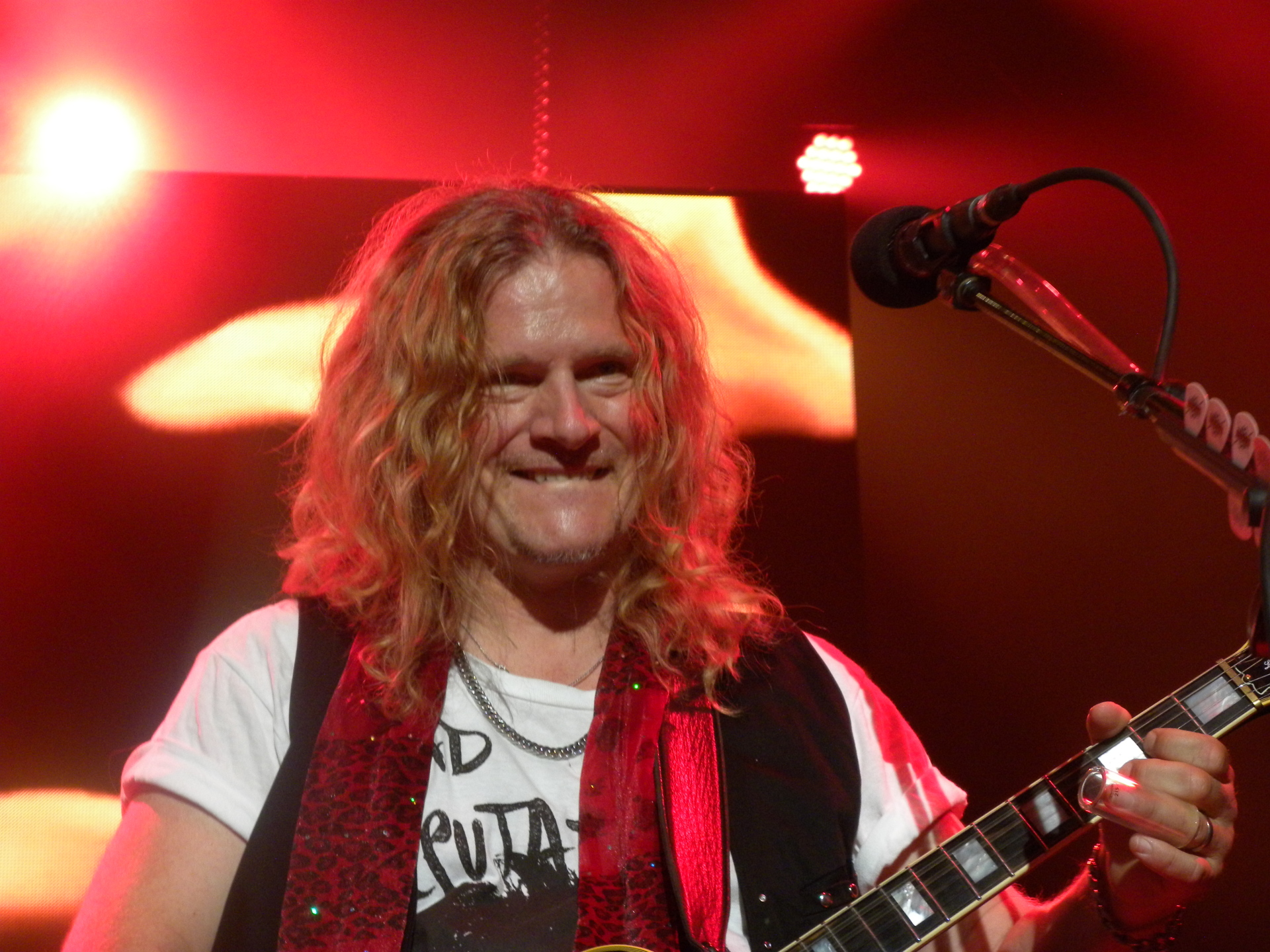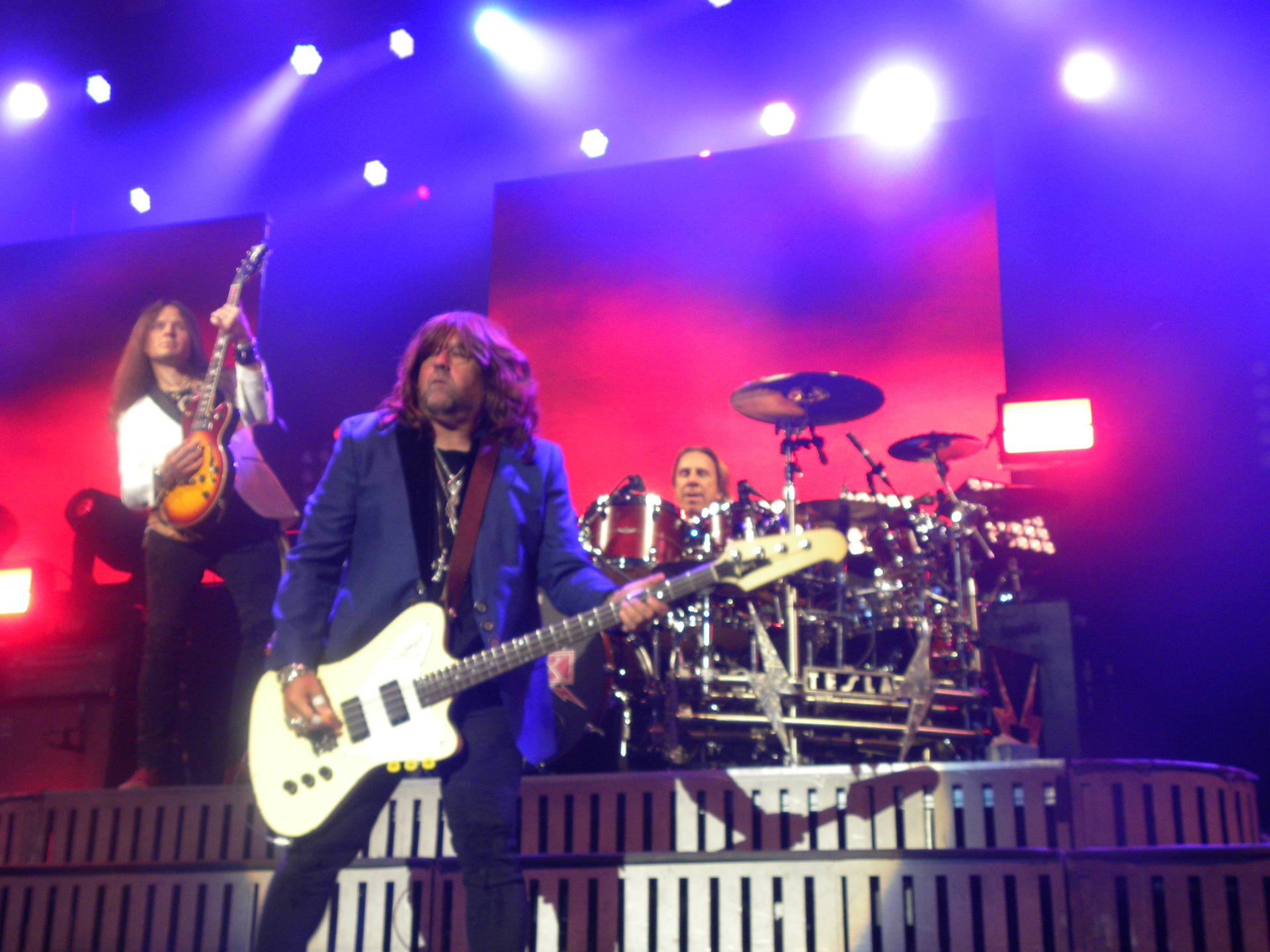 Tesla Setlist
I Wanna Live
Hang Tough
Heaven's Trail (No Way Out)
What You Give
Signs
Love Song
Little Suzi
Modern Day Cowboy
The set belonged to guitarist Frank Hannon. His fret mastery was nothing short of awesome. Playing a plethora of guitars including a gorgeous Gibson double-neck, he was flawless in very solo he played. Singer Jeff Keith strutted around the stage like a man half his age and although the vocals were a little too loud in the mix, sounded fantastic. Tesla was a great way to set up the rest of the night and their blistering show closer, Modern Day Cowboy proved that these gentlemen can rock as hard as anyone out there.
Joan Jett And The Blackhearts
Laval doesn't hate themselves for loving her
Joan Jett is the Queen rock/punk for good reason and her performance in Laval proved exactly why she's such a legend. She walked to center stage with little fanfare, sporting short black hair and wearing her trademark red and black, strapped on a guitar and blasted straight into Bad Reputation. Right away the audience was transported back to the early 80's. The energy was unabated, her voice flawless, and hit after hit kept the very appreciative audience hanging on every syllable.
She played all the classics including Cherry Bomb, Do You Wanna Touch Me, You Drive Me Wild and Light of Day. The songs sounded as fresh as ever. Banter was kept to a minimum with biographical info imparted by keyboardist Kenny Laguna regarding the struggle to land a label amidst skepticism of the ability of a girl to front a rock band. History has shown the folly of that notion.
Make no mistake. This was a punk rock show. It was aggressive, powerful, balls to the wall and in your face. Black clothes, low hung guitars, drummer on a high riser with a small kit. No screwing around with The Blackhearts. They are all business…and their business is good.
The seventeen-song set concluded with I Love Rock 'n'_Roll, Crimson and Clover (awesome as ever) and I Hate Myself For Loving You. A huge and well-earned standing ovation brought the band back for an encore featuring Real Wild Child (Wild One) and Sly and the Family Stone's Everyday People.
The set was just over an hour long, and left everyone satisfied. With the headliner yet to hit the stage it was already a successful evening. We had just seen a rock legend.
Joan Jett setlist
Bad Reputation
Cherry Bomb
Do You Wanna Touch Me (Oh Yeah)
Victim of Circumstance
Soulmates to Strangers
You Drive Me Wild
Light of Day
Fake Friends
Love Is Pain
The French Song
Fresh Start
Love Is All Around
I Love Rock 'n' Roll
Crimson & Clover
I Hate Myself for Loving You
Encore:
Real Wild Child (Wild One)
Everyday People
Styx
With a very quick turnaround, the lights dimmed and Styx dramatically entered the stage via a walkway above drummer Todd Sucherman. Bassist Ricky Phillips was joined by core members Tommy Shaw (electric and acoustic guitar, mandolin and vocals) and James 'JY' Young (guitar and vocals). Canadian Lawrence Gowan rounded out the line-up on vocals, keyboards and stage energy. They opened with Gone Gone Gone from their recent album The Mission and followed it up with a barrage of hits followed, including Blue Collar Man, The Grand Illusion, Lady (featuring a taste of Gowan's keyboard prowess), Rockin' The Paradise and Miss America among others. Playing just 2 songs (plus the piano solo Khedive which was followed by a really fun call and response of Queen's Bohemian Rhapsody) from The Mission it was a classic rock lovers dream. Although Radio Silence, another new song, fit in with the classic hits seamlessly.
There were several highlights for the Montreal crowd. JY delivered a heartfelt thanks to the province of Quebec, who eagerly supported Styx in their early days. A mammoth version of Suite Madame Blue showcased the absolute virtuosity of every member of this band. An absolute highlight of my concert-going history. Also, the afore-mentioned Gowan introduced and performed his huge Canadian 80's hit Criminal Mind prefaced by a nod to his band mates who he credited with turning his solo venture into a Styx song. Gowan, ever the gentleman we Canadians know him to be, spent the evening speaking in French, which made the French-Canadian crowd love him even more. Incredibly classy move by Larry.
If you haven't picked up their latest album, The Mission, do it. Do it now! You will not be disappointed. Think Styx in their heyday writing a concept album with Gowan providing his talents. Every song on it was worthy of inclusion in Laval, but who could complain about the setlist on this night.
The set ended with a powerful rendition of Come Sail Away, followed by an encore with a heavier and very energized Mr. Robot and Renegade founding out the show. On a side note, it was fantastic to see Styx founder Chuck Panozzo come out and play a couple songs with the band. His presence on Foolin' Yourself and Renegade were the icing on an already delicious cake.
How can I sum up the experience? As a huge Styx fan in the 70's, I felt that they had more energy than ever. The guitar interplay between Shaw and JY was astounding, the harmonies, four part at times, were perfect. In fact, in a band with three very capable front men, there wasn't a hint of ego or upstaging. They all proved equally adept at supporting each other, as attested by their chemistry on stage.
Definitely a night to remember.
Styx Pyx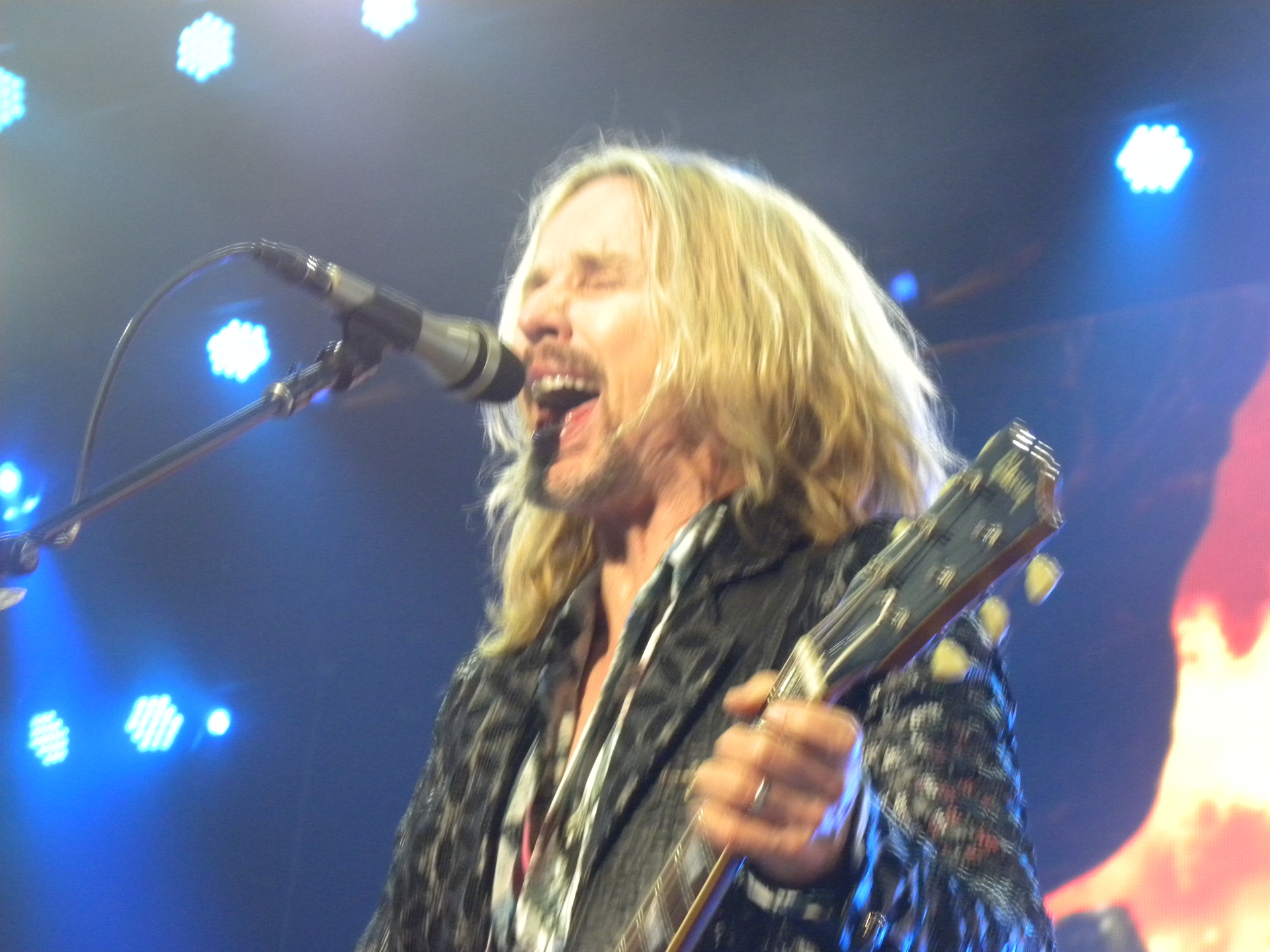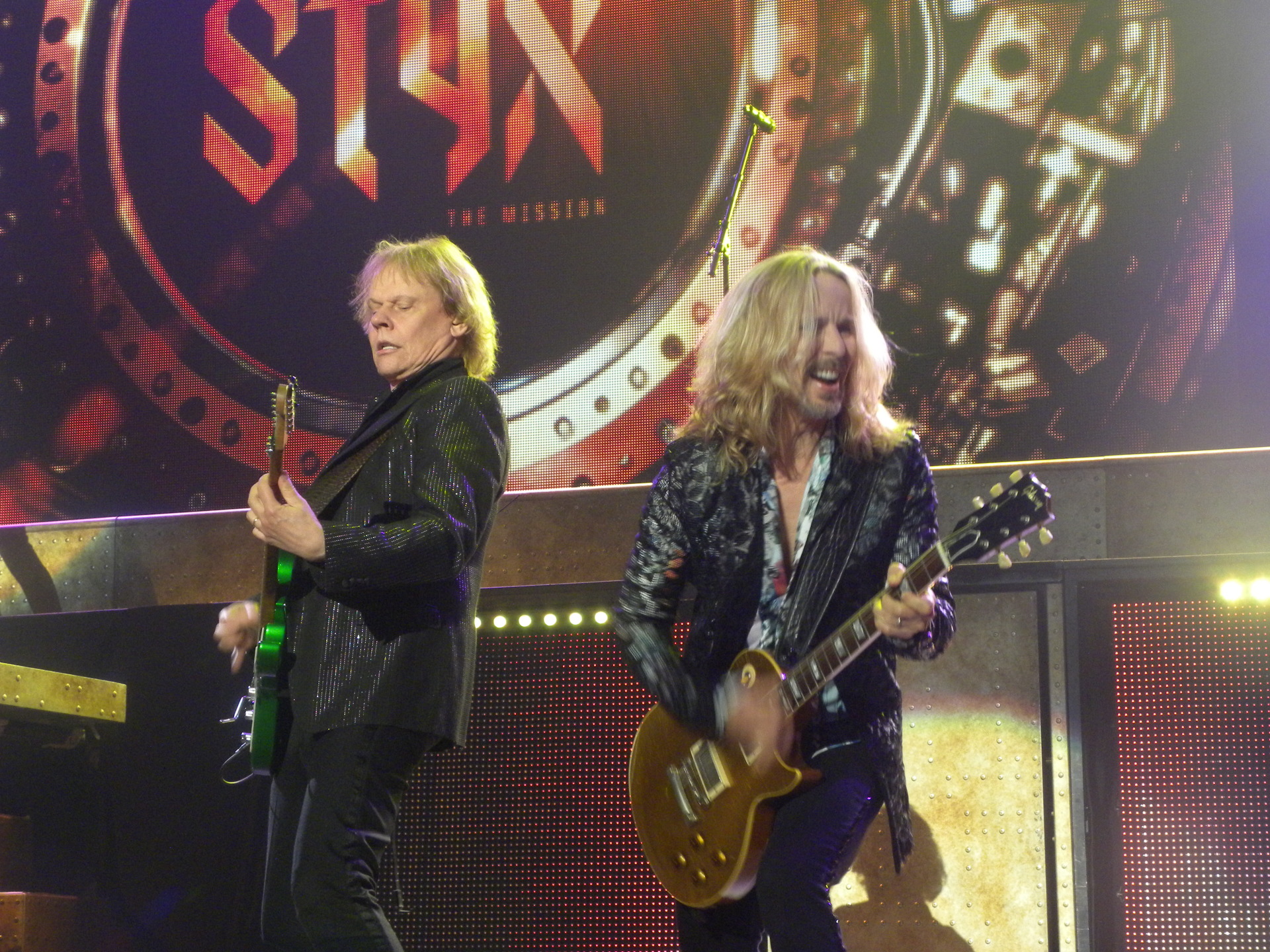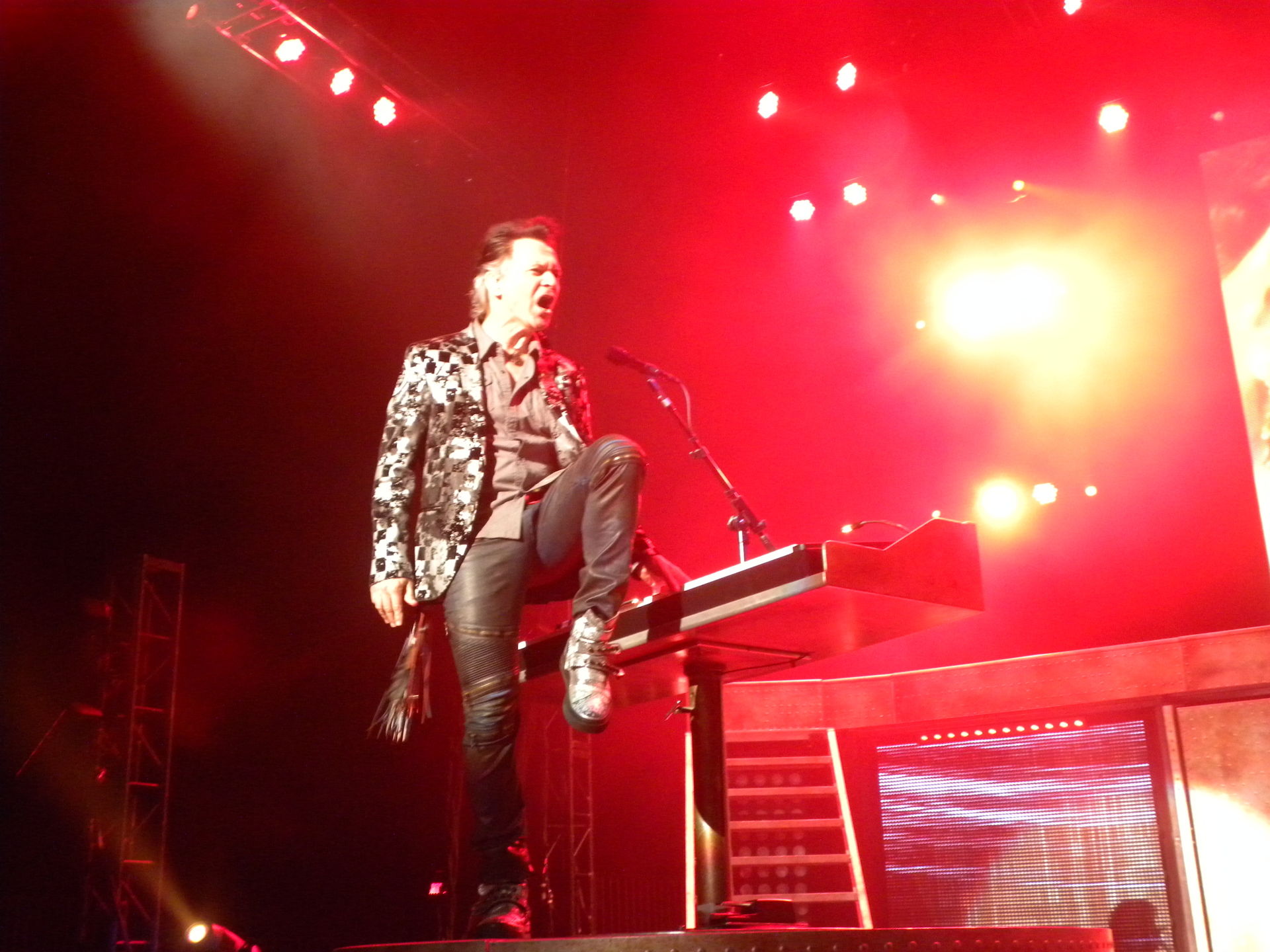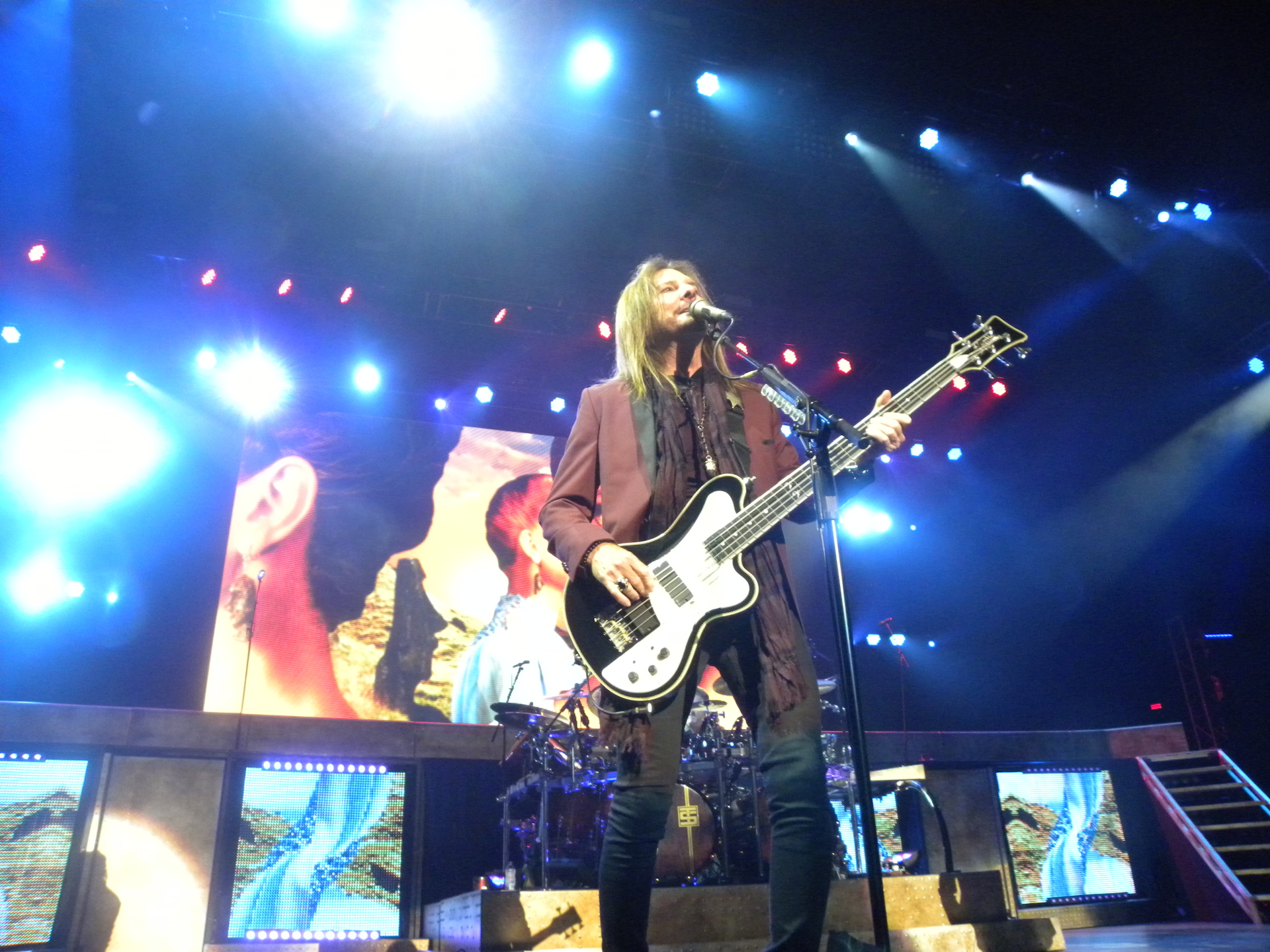 Styx Setlist
Overture
Gone Gone Gone
Blue Collar Man (Long Nights)
The Grand Illusion
Lady
Radio Silence
Rockin' the Paradise
A Criminal Mind
(Gowan song)
Miss America
Suite Madame Blue
Fooling Yourself (The Angry Young Man)
Too Much Time on My Hands
Khedive
Bohemian Rhapsody
Come Sail Away
Encore:
Mr. Roboto
Renegade
Were you there? Leave a comment and let us know how you liked it.