It's crazy to think that drummer Carmine Appice has been in the music business for 52 years, but here we are. After getting his start with Vanilla Fudge in the late 60s, he went on to play with such acts as Beck, Bogart and Appice, Cactus, Rod Stewart, King Cobra, Blue Murder and Ozzy Osbourne. In the mid 90s, he released a couple of incredible albums called Guitar Zeus everywhere in the world except America. That's about to change as the drum legend is set to release them in North America as a package in the near future. The albums feature some of the biggest guitar players in the world…Brian May, Steve Morse, Slash, Paul Gilbert, Edgar Winter, Ron 'Bumblefoot' Thal and the list goes on and on. It's a must have for any fan of good, solid drumming and rippin' guitar.
Carmine caught up with Let's Rock to chat about the albums, recording new Cactus material, jamming with Hendrix and much more.
THE FULL INTERVIEW

On what he's working on now
"I'm in the studio with Cactus the last three days. We're slowly doing another album. We have seven tracks down. We're going to put the bass down on the last three tracks we have, that we just wrote a couple of days ago. Yesterday we did some overdubs and our singer Jimmy KKunes came down and we're working on vocals…So I'm going to the studio today, cuz it's the last day…So, we're gonna have seven tracks down. Probably in a couple of months, we'll do more, next month, you know, we'll schedule three days, come in and we do it."
On being in the music business for over 50 years
"It is incredible. I mean, I've been in the business 52 years now. In July, it will be 52 years since I had my first hit single. And now, I haven't been on the charts in ages, really, but my career's still going. It's was July of 67 when we hit the charts with You Keep Me Hanging On with Vanilla Fudge. Was on the Ed Sullivan show in February of 68."
On Guitar Zeus
"The Guitar Zeus records, these records I'm just releasing, I actually released them everywhere around the world, except here (America) in 95 and 97…25 years ago, Grunge was king. In 82 I did a solo album. By the time 92 came, I was still trying to get a second solo album deal. I hadn't gotten it at that point and I was playing with Jeff Watson, Bob Daisley and Joe Lynn Turner. But in those days guys like that were just dinosaurs because the grunge thing was king. Nobody even wanted to know about us. So we were trying to find a name for the band. We used the name Zeus,we used this or that. We ended up with Mother's Army. and then I noticed that Jeff Watson came out of Night Ranger, and even in that climate, he got a solo deal. And I said, "Man, this is ridiculous. What do I gotta be, a guitar player to come out of a band?" You know, I was playing with Edgar Winter and I was doing Ted (Nugent) and Rod (Stewart) and Blue Murder…but I couldn't get a solo deal. I said, "Maybe I should be a guitar player." Maybe I should do a guitar album. I'll get some of my friends to play on it and I'll call it Guitar Gods. And I said, "No, I'll call it Guitar Zeus." I was kidding around, you know. Then when I went to bed that night, you know how you're laying in bed and your mind just won't shut off? I started thinking, this is a good idea. If I can get some big name friends of mine to play on my solo album, call it Guitar Zeus, write some really killer songs. I asked Tony Franklin to play on it, cuz I love playing with Tony. So the idea was implanted. Now, I had to focus and move along and get the deal or find somebody to put a deal together…
"My thoughts were, I'll get Brian (May) first, then I'll get Ted, then I'll get the two guys from King's X, cuz in the mid 90s, they were were very well respected by all of the other musicians. So, in order to lure in guitar players, if I got those guys on there, I thought it would draw people in. And it did. And then before I know it, Yngwie wanted to play on it He wanted to play on the track with Dug Pinnick (King's X). And then Slash heard about it. We called him and he wanted to do it. Then we got Paul Gilbert. On the first album we've got all those guys. Steve Morse, Neil Schon. And everybody in those days was not really happening. You know, Brian wasn't with Queen. Neil Schon wasn't with Journey. Steve Morse just joined Deep Purple. The guys in King's X were sorta happening, but they didn't become legendary until later. And even on the second album, Zakk Wylde was a sideman to Ozzy. Dweezil Zappa was just Frank's son. All these guys weren't happening, so I did really well around the world. Japan, Europe. Out of America, with the two albums, I sold maybe 150,000 units. But I never got it out here."
Listen to the interview for a much more in depth discussion on the making of Guitar Zeus.
On Jamming with legends in the 60s
"I jammed with Jack Bruce, jammed with Led Zeppelin, Jeff beck of course. I jammed with Santana, jammed with Hendrix. Jimi was Jimmy James in New York. He was playing all the clubs. We used to play clubs with him, opposite him, with my band. And then when he became Jimi Hendrix, we used to hang out at The Scene in New York. Everybody used to jam together and then we'd go to the Record Plant, and Jimi would always have the Record Plant time. It was around the corner and we go over there and continue jamming at the Record Plant. I definitely jammed with him as well."
CARMINE APPICE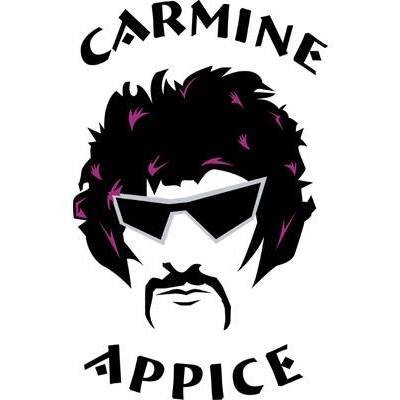 LINKS
Official Site: http://carmineappice.net/
Facebook: https://www.facebook.com/CarmineAppiceOfficial/
Twitter: https://twitter.com/carmineappice1
Instagram: https://www.instagram.com/carmineappice/
Guitar Zeus
Tracklisting:
• "Mothers Space" (feat. Ron "Bumblefoot" Thal)
• "Gonna Rain" (feat. Richie Sambora)
• "4 Miles High" (feat. Steve Morse)
• "Nobody Knew" (feat. Brian May)
• "Where You Belong (feat. Slash)
• "Out of Mind" (feat. Neal Schon)
• "This Time Around (feat. Yngwie Malmsteen & Dug Pinnick)
• "Nothing" (feat. John Norum)
• "Doin' Fine" (feat Vivian Campbell)
• "Under the Moon and Sun" (feat. Mick Mars / Edgar Winter)
• "Code 19" (feat. Zakk Wylde)
• "Days Are Nights" (feat. Ted Nugent)
• "Do Ya think I'm Sexy" (Sung by Carmine, feat. Pat Travers)
• "Angels" (feat. Char)
• "Guitar Zeus, Pt. 1" (feat Jennifer Batten)
• "Safe" (feat. Neal Schon)
• "Dead Wrong" (feat. Dweezil Zappa)
• "Trippin' Again" (feat. Ty Tabor)
• "Even Up the Score" (feat. Ted Nugent)
• "Dislocated" (feat. Paul Gilbert)
• "Stash" (feat. Stevie Salas / John McEnroe)
• "Perfect Day" (feat. Warren DeMartini)
• "Killing Time" (feat. Ty Tabor)
• "So Long" (feat. Doug Aldrich)
•"My Own Advice" (feat Kenji Kitajima)
• "Time to Set Alarms" (feat Elliot Easton / Bob Daisley)
• "GZ Blues" (feat. Seymour Duncan / Steven Seagal)
• "Guitar Zeus, Pt. 2" (feat. Leslie West / Jennifer Batten)
• "Where you Belong" (feat Paul Gilbert)
• "Cruzin" (feat. Denny Laine)
• "Couldn't Be Better" (Feat. RaiZi)
• "Snake" (feat. Bruce Kulick)