The Neal Morse Band is back with another monstrous double album featuring almost 2 hours of music. The Great Adventure is the follow up to 2016's The Similitude Of A Dream, another 2 hour double album. The band is set to hit the road in February to promote The Great Adventure. Neal was kind enough to spare thirty minutes of his time with Let's Rock, which probably means we've deprived him of writing 2 or 3 songs. He spoke about the writing process, Mike Portnoy, the state of Prog and much, much more. You can check out the full interview below.
NEAL MORSE FULL LET'S ROCK INTERVIEW
On his feelings about The Great Adventure
"I'm very happy about the new album. It wasn't until I got the last set of mixes from (producer) Rich (Mouser) that I thought, Oh Yes. Oh yes. God has come through one more time (laughs). One way to put it would be, it's like all the guys in the band got a certain piece of the puzzle, like there's this mosaic that God wants to create. There's this big picture thing. And none of us have all the pieces. We have some of them and we're trying to figure out what the big picture's supposed to be. And that's our great adventure! Our great adventure is discovering what this picture is supposed to be and no one is going to tell us and we don't always know while we're in the process what the right thing is. So we've got to kind of seek it out, we've got to deal with disagreements, we've all got to give."
On the writing process
"The first part of the process for me was, I had a couple little pieces. I had Vanity Fair, and I think another song called Talking that wasone of the pieces that got cut towards the end. I had a couple pieces that I thought 'Oh, this looks like it could be a follow up to Similitude. Vanity Fair is one of the places they go in The Pilgrim's Progress book. (Both Similitude and The Great Adventure are based on John Bunyan's book, The Pilgrim's Progress). That came out of me sometime in the Similitude tour, like in the Spring of that year.
So we got together in January, without Mike (Portnoy, drums). Mike couldn't make it, cuz he's probably the busiest of all of us. We wrote and sketched out about 4 or 5 pieces…in January of 2017.
In January of 2018, the five of us got together here in Nashville and we took those pieces and some other bits that I had written and worked on in December and some other bits that Eric (Gillette, guitar) and Bill (Hubauer, Keyboards) and Randy (George, bass) had brought in. Mike is really, I always call him the gleaner. He's the guy that kind of listens to everybody's stuff and picks out the best parts and he put them all on a dry erase board and then we try to figure out how to get from part to part, or what parts we really love and what parts we can do without.
On how he manages to create so much music
"Honestly, I love music. I love writing. I could do more. Over the Christmas season, I wrote like 5 Christmas songs.that I really, really liked. If all I was doing was composing, I really could put out an album every 4 or 5 months. If there was the desire for it, if all I was doing was music…I mean I do a lot of other stuff. I do a lot of business things. I'm also a leader in a local church, so I'm doing a lot of church things. If all I did was compose and write songs and record them, then you know…You can do a lot. Human beings are capable of a lot. Sometimes I feel that we put limitations on ourselves. We could produce a lot more if we were just free and creating."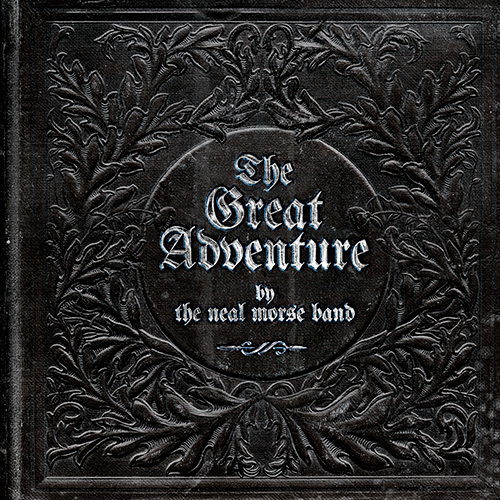 On the tour for The Great Adventure
"We are planning to play the entire album and then have an encore. That is the current plan. It's gonna be great. I mean the Simility tour was…it just delivered every night. I feel like I got kind of spoiled by the Simility tour cuz it was just so powerful every night. It was almost like the piece itself just worked every time and you didn't have try to make show or try to make anything happen. It felt like in a way, you could just relax and play the piece. People were just crying and cheering at the end every night. It was just so moving and everything you'd want in a concert and I think that The Great Adventure is going to be the same thing."
It's not gonna sound like the record, you know. It won't be as full.  We're not going to be able to do everything.  There's times when there's lots of layers and tambourine and timpani and all kinds of stuff. But that's OK. I don't really like it when I see bands and you see four guys on stage and you hear all this stuff. You hear this orchestra and all these background vocals and the drummer's wearing headphones and you're like, "Oh, well, half of this stuff is being triggered or they're playing to tracks essentially. Most modern audiences don't care or don't know.  It doesn't matter to them. I don't think it matters to the younger generation that much.  But it does to me, so we're gonna keep it pretty real. We will trigger some stuff of course, but we'll do the best we can to fill it out and it's going to be awesome."
On Mike Portnoy
"In the 90s, he was talking up my band, Spock's Beard like crazy. People were sending me interviews of his where it seemed he was talking about Spock's Beard more than he was talking about Dream Theater. (laughs) It was amazing. So, he called me and basically said, "Hey, I'm thinking of having this side project with Jim Matheos from Fates Warning and I'd like to do a side project band with you."
Jim Matheos, for some reason it didn't work out with him so I suggested Roine Stolt and Mike suggested Pete (Trewavas, bass guitar). The first time I met Mike physically was in the lobby of the studio where we recorded the first Transatlantic album. And our friendship and our musical relationship has just grown. I'm just so blessed to have him as a friend and collaborator. "
On the state of Prog Rock
"It seems like it's doing great. The prog cruises are doing really well. I'm just thankful there's people that care about music like the Prog fans do. It's such a blessing. You know, we have this thing, every year we've been having this festival here in Nashville called Morsefest. It's a time when you really get to hang out more and get to know some of the fans. I'm just always amazed at how kind almost all the Prog fans seem to be. Really kind people and they really care about the music. Their hearts are in the right place. It's not a fashion show. (laughs) It's not any kind of flash in the pan thing…it's a deep heart thing. I love that because that's what music is to me as well."
Check out the full interview at the top of the page.
THE NEAL MORSE BAND
NEAL MORSE: Lead Vocals, Keyboards, Guitars
MIKE PORTNOY: Drums, Vocals
RANDY GEORGE: Bass
ERIC GILLETTE: Guitar, Vocals
BILL HUBAUER: Keyboards, Vocals
Tour Dates
Sat 2/2 Nashville, TN City Winery
Sun 2/3 Tampa, FL The Ritz (Cruise To The Edge Pre-Cruise Party)
Mon 2/4 Tampa, FL Cruise To The Edge 2019 (through February 9)
Sun 2/10 Atlanta, GA City Winery
Mon 2/11 Charlotte, NC Neighborhood Theatre
Tue 2/12 Baltimore, MD Soundstage
Wed 2/13 Jersey City, NJ White Eagle Hall
Fri 2/15 Boston, MA The Sinclair
Sat 2/16 Philadelphia, PA Keswick Theatre
Sun 2/17 Westbury NY The Space at Westbury
Mon 2/18 Montréal, QUE. Club Soda
Tue 2/19 Quebec City, QUE. Salle Sylvain Lelievre
Thu 2/21 Toronto, ONT. Opera House
Fri 2/22 Pittsburgh, PA Mr. Smalls Theatre
Sat 2/23 Cleveland, OH Beachland Ballroom
Sun 2/24 Detroit, MI The Crofoot Ballroom
Tue 2/26 St. Charles, IL Arcada Theatre
Wed 2/27 St. Louis, MO Delmar Hall
Thu 2/28 Dallas, TX Gas Monkey Live
Fri 3/1 Lawrence, KS Granada Theatre
Sat 3/2 Denver, CO Summit Music Hall
Tue 3/5 Seattle, WA The Triple Door
Wed 3/6 Portland, OR Hawthorne Theatre
Thu 3/7 San Francisco, CA Slim's
Fri 3/8 Whittier, CA The Whittier Center Theatre
Sat 3/9 Chandler, AZ Bogle Theatre (Chandler Center For The Arts)
Sun 3/24 London, United Kingdom Islington Assembly Hall
Mon 3/25 Paris, France The Alhambra
Tue 3/26 Tilburg, Netherlands O13
Wed 3/27 Esch /Alzette, Luxembourg Rockhal Esch Sur Alzette
Fri 3/29 Koln, Germany Kantine
Sat 3/30 Copenhagen, Denmark Viften
Sun 3/31 Goteborg, Sweden Stora Teatern
Mon 4/1 Stockholm, Sweden Skandiascenen
Wed 4/3 Berlin, Germany Heimathafen
Thu 4/4 Hamburg, Germany Markthalle
Fri 4/5 Leipzig, Germany Halle d / Werk 2
Sat 4/6 Warsaw, Poland Progresja
Sun 4/7 Brno, Czech Republic SONO Music Club
Tue 4/9 Munich, Germany Technikum
Wed 4/10 Pratteln, Switzerland Z7 Konzertfabrik
Thu 4/11 Lyon, France C.C.O.
Fri 4/12 Trezzo sull'Adda MI, Italy Live Club
Sat 4/13 Barcelona, Spain Salamandra 1
Sun 4/14 Madrid, Spain Sala Mon
LINKS
Official Site: http://www.nealmorse.com/
Facebook: http://www.facebook.com/nealmorse
Twitter: http://twitter.com/nealmorse
Instagram: https://www.instagram.com/neal_morse_official/
Youtube: https://www.youtube.com/user/NealMorseMusic
While you're at it, throw Let's Rock a quick like and greeting on Facebook, Instagram and Twitter