Queensryche has a new album, The Verdict, coming out on March 1st.   This is their first album since 2015's Condition Human,  and marks the third album to feature Todd La Torre on vocals.  La Torre also played drums on this one, subbing for the always stellar Scott Rockenfield, who is away on paternity leave.  Guitarists Michael 'Whip' Wilton and Parker Lundgren and bassist Eddie Jackson are back to Ryche your face off.
I have just received the album and am ready for some serious Ryche and Roll. Here we go!
(For those of you who have never checked out Let's Rock before, our album reviews are a little different.  Basically, I hang with my dog Gizmo and write the review as we listen to the album for the first time.  Call it a first reaction rather than a review.)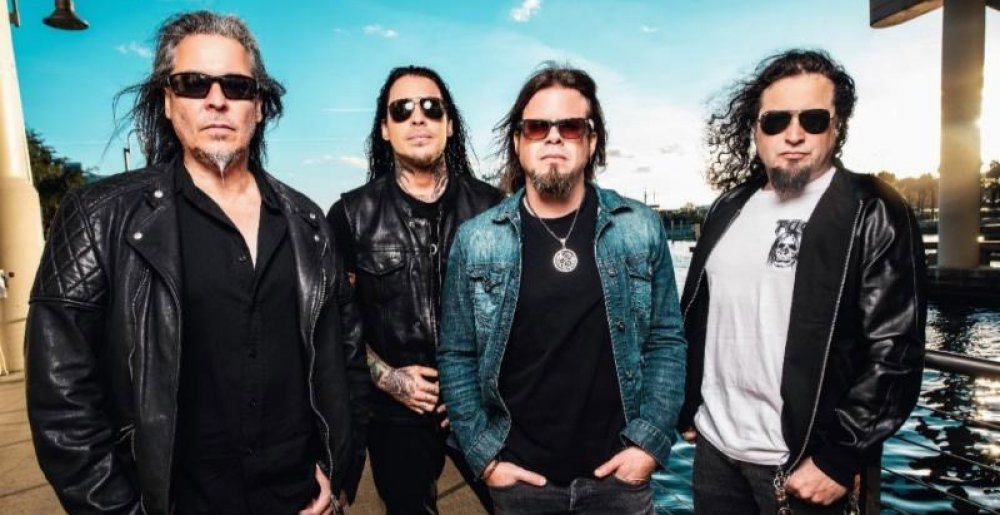 1. Blood of the Levant
Nice and driving to kick things off. La Torre is good. I'm tired of hearing about whether he should be there or Queensryche isn't Queensryche without Geoff Tate. Every band goes through some changes, but this dude has serious pipes. Great harmonies in this one. Whoa. Major scream. WOW! First little guitar solo. Nice and tasty. Love Whip. This song is great. Loving the drums. Pretty good for a singer. Haha. Fantastic ending. Excellent guitar sound. Great opener.
2. Man The Machine
This one I've heard before.  I try not to listen to the singles for any band before the album is released, or before I get a copy for review, but I did check out the 2 tunes QR released. I heard they wanted to try to go for a more classic QR sound.  this one has a kind of Walk In The Shadows type feel.  If you're reading this, you've probably heard this one before.  Just a solid Queensryche song.  As good as La Torre was on the two previous albums, he seems to be coming into his own on this one.  A little more personality in his voice.  I like this.  Gizmo doesn't seem to be a fan, but she usually isn't too responsive.  Dumb dog.
3. Light Years
Great riff to get this one going. This one is heavy. Slower than the previous 2, but heavy. Killer guitar sound. Eddie Jackson…solid. as. a. rock. Is that some wah on the bass? Cool. Harmony guitar solo. This is what I have always loved about Queensryche. Those harmony solos have always been there. Wonderful. The drums are definitely different than Rockenfield, but they fit the tunes. Light Years would fit nicely…Good Lord that was a scream produced from the belly of the Beast! Unreal. Anyway, it would fit well into their live set.
4. Inside Out
Slow beginning to this one. I don't listen to lyrics too much, so I couldn't tell you what these songs are about, but the melodies are very nice. This is another slower but heavy tune. Picking up now. TONS of vocal harmonies. Slowing down again. The tempo changes work so well. Slow solo, another QR trademark. It's something I've always loved about the solos, they always fit the song so perfectly. That was the best solo so far. QR fans are gonna love this album…so far at least. Cool tune
5. Propaganda Fashion
Cool name for a song. From the sounds of this one, it could fit on any QR album to date. This is the Queensryche I remember. I haven't seen them live since the Empire tour. I lived in Korea for almost 20 years and as far as I know, they never played there. But Propaganda Fashion has a bit of Hear In The Now Frontier feel to it. Short and sweet.
6. Dark Reverie
I've heard this one as well.  Beautiful intro guitar.  Kind of haunting.  The guitar sound…I can't get over how heavy they sound when they kick in the overdrive on this song.  Great bass line.  I'm a big Jackson fan.  The dude has always impressed me.  Keyboards?  I don't remember that from the first time I listened to it.  Nice touch. I imagine we'll be hearing this on the upcoming tour.  I wish I knew who was playing each guitar part.  Maybe I'll ask when I chat with them on Wednesday.  Whip has always had so much feel.  His guitar work on Operation: Mindcrime is some of my favorite ever.  
7. Bent
Another harmony lead gets this one going. The vocals seemed a little buried at the beginning of this one. Todd is unreal. What a voice. He gets way up there on this song. He's so aggressive. Tasty solo. Nothing too flashy, just a guitar player who knows how to play for the song. There's absolutely nothing to not like about this album so far. If this was the 80s, this would make a perfect single. Amazing harmonies on the vocals during the "As we all fall down" section at the end. Please come to Ottawa. I want to see this live. I would definitely add Bent to the setlist. Might be tough with the harmonies, but would certainly be worth a try.
8. Inner Unrest
This seems to be a straight-ahead rocker. Empire-ish vocal melodies. Heavier sounding guitars though. Gizmo left. (She grew up in Korea…More of a K-Pop fan unfortunately) This isn't my favorite. It's not a bad tune at all, but it doesn't, in my humble, opinion stack up to the others.
9. Launder The Conscience
Classic QR intro riff. That, right there, is how you do an song intro. That was sexy. DAMN! This one is back on track. I'm gonna guess that's Parker with the little fill. Yeah, this track is cool. Great drumming…for a singer. Nice breakdown. Harmony guitars again. Nice solo. That's the first shredder solo I've heard on this album. Creepy breakdown after the solo, and right back into the power. How many voices do they have singing on this chorus? That rocked…Ryched? Whoa, there's more. Piano? Sweet. This has the makings of an epic ending. Wow, it's is seriously building up. Oh, maybe not. This is all over the place. That was weird. It worked though. Very cool.
10. Portrait
Slow and brooding. The last song on Queensryche albums are always great. This is very different for this band. It's neat. I don't really know how to describe this…I really like it. Very cool vibe, but unlike anything I've heard on any of their albums in the past. The guitar sound is nice…sounds like a little bit of slide in there. Very relaxed. Too bad Gizmo left. She would have dug this one.
Bottom Line
Yeah, I know Geoff Tate isn't here anymore. I'm tired of hearing about that. Don't get me wrong, I liked Queensryche with Tate, but let's move on. This new kid is pretty darn good. He owns this album. Bands go through changes. Sometimes it works, sometimes it doesn't. Just because a member or two have left the band doesn't mean that the band can't write good music. This album is a perfect example.
I really enjoyed the previous two albums with Todd La Torre. This one is an amazing progression from those. There's seems to be a new confidence in both his songwriting and his vocal delivery. He's more aggressive, more powerful and he's added drummer to his resume.
The instrumentation is spot on. Whip is Whip. He has such a cool style and amazing feel. Eddie Jackson is a steady as ever. Parker, the new guy, is laying down some great rhythm and riffage.
This is a great album…simple as that. This band is still a force in the hard rock world. Get this album. You won't be disappointed. Screw Gizmo, she just doesn't know good music from a hole in the ground.
I'm looking forward to checking them out live if they come anywhere near Ottawa. It's been far too long. Good work gentlemen, The Verdict will be on repeat for quite some time.